by Daniel Fusch and Sarah Seigle, Academic Impressions
As we start the new calendar year, it's an excellent time to step back and read ahead. What is the newest data on college enrollment and student demographic trends? On financial aid? On retention? On international students? Because we know you're busy, we've taken a moment to curate a quick list of five of the most impactful reports we've seen recently. If you only have time to glance at a few, we recommend these:
1. Knocking at the College Door: Projections of High School Graduates
WICHE
The sharp decline in births during the great recession will result in a fall-off in the number of students graduating from U.S. high schools starting around 2024, and the percentage of lower-income and nonwhite students will increase. This report, published in December 2016, provides a 47-page executive summary of findings followed by a series of highly useful high school graduation projection tables—broken down by region, state, and ethnicity--through the year 2032.
2. Yield Rates are Declining--Why?
Academic Impressions
Colleges nationwide are suffering from declining yield rates, and everyone wants to know why. Here, Jon Boeckenstedt provides an interactive dashboard that gives a different and deeper view into our enrollment data. The dashboard looks not only at yield rate and admit rate but also draw rate, an underused but very powerful indicator of market position (draw rate = yield rate/admit rate).
Faced with a decline in yield, institutional leaders often pressure enrollment managers to "do a better job of marketing," assuming that more (or better) marketing will mean greater demand and increased selectivity, allowing the institution to move up the food chain. But focusing just on yield—without considering other critical measures—can lead to unfulfilled and unreasonable expectations about enrollment. For example, if your draw rate is also going down, you don't just have a marketing problem; you probably have a situation where you are losing admits to other institutions that are doing better at defining and delivering value.
Use Boeckenstedt's dashboard to look at your institution's rates in comparison to your peers both above and below you, and to your aspiration institutions.
3. The 2016 US Chief Admissions Officer Career Profile
AACRAO
Especially worth noting in this report:
When asked what they would like to do for their next career move, the highest response at 34% was "Don't know/undecided." There have been a lot of conversations in the Enrollment Management industry recently about the lack of a defined professional career trajectory for EM professionals—you can count the number of advanced degree programs in Enrollment Management on one hand—so the fact that the majority of Chief Admissions Officers surveyed are uncertain as to whether they want to stay in the profession points to the need for better definition and support of career trajectories within the Enrollment Management field.
We found the most important skills and the most challenging aspects (below) interesting. Chief Admissions Officers overwhelmingly cited "Time to get things done" as the number one most challenging aspect of their position, and cited "Communication" as the number one most important skill to possess to be successful in the role. Other soft skills (such as leadership development, negotiation, personnel management, and relationship-building) featured prominently in both the "most important skills" and "most challenging aspects" responses, too, so this should have implications for the way that institutions hire EM/Admissions professionals (i.e., they should look for people that possess those soft skills).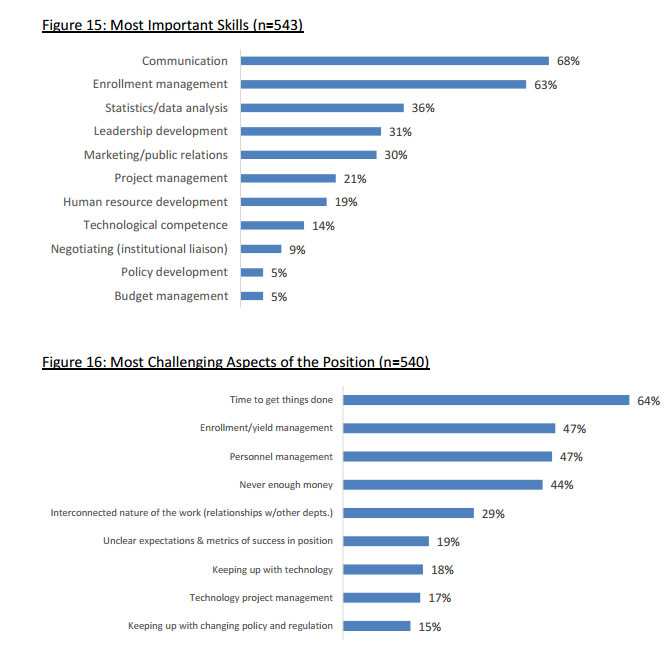 4. Further Correlations Between Financial Aid, Retention
EAB
This study of 40,000 students at 3 universities has documented how specific levels of decrease or increase in financial aid impact likelihood of student persistence. This intersection of financial aid and student success is an important puzzle piece in the comprehensive view of Strategic Enrollment Management, so it is particularly important for Enrollment Managers to understand, and also provides some useful direction for institutions that are looking to improve student success on a budget.
5. The International Student Experience: A Crucial Domain of Recruitment and Retention
WES
This October 2016 report from World Education Services shares findings from a survey of over 4,600 current and former international students studying in the United States. The report, which focuses on the international student experience, provides an interesting breakdown of what's working well and what needs more attention when it comes to international student satisfaction at US institutions. It pairs well with the IIE Open Doors report: the two combined provide a wealth of valuable information on international student recruitment and retention. Also helpful: this interactive dashboard from Jon Boeckenstedt allows you to benchmark your own international enrollment against regional/national data and provides some deeper analysis of international student enrollment trends.