Series: Managing the Student Lifecycle
This new series convenes expert perspectives on student success and predictive analytics. We hope to empower enrollment managers, student affairs professionals, deans, and faculty to think deeper about their student data, predictors of success, and managing the student lifecycle holistically from recruitment to retention to completion.
Earlier in this series:
Improving Student Success Can't Be a One-Office Effort
by Paul Marthers at Emory University (previously the Associate Vice Chancellor/Vice Provost for Enrollment Management and Student Success, SUNY)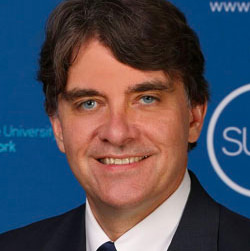 Metrics-driven student affairs: Can it be done? Why is it difficult? How do we get there?
Enrollment management and student affairs offices tend to agree that managing the student lifecycle to promote greater levels of student success requires collaborative effort. Yet as enrollment and student affairs offices move to work more closely together, there can be cultural disconnects over the extent to which those offices rely on data and analysis in their day-to-day work. Managing the student lifecycle intentionally and effectively will require bridging that gap and adopting a more metrics-driven approach in student affairs.
Closing the Gap
For enrollment managers, metrics are already a part of their daily work. Enrollment management has been a data-driven culture for more than a decade. In fact, sometimes enrollment managers feel like coaches whose success gets measured by wins and losses. For enrollment managers, those highly visible "wins and losses" can consist of application volumes, admit and yield percentages, tuition discount rates, size of the class in relation to the target, and percentages of priority populations enrolled, such as underrepresented students, first generation students, women in STEM disciplines, full-pay students, high impact athletes, and perhaps even bassoon, oboe, or French horn players. Chief enrollment officers are keenly aware that those incoming class metrics are as important to presidents and trustees as wins and losses by the basketball, football, or hockey coaches are to athletic directors and boosters.
Student affairs offices, on the other hand, have traditionally operated in a less numbers-driven culture, one largely focused on different facets of student development, identity, and engagement. Much of that work has seemed to defy quantification. As a result, the chief student affairs officer has often been the analog cousin to the now fully digital enrollment manager. But the situation is changing. In this data-driven age, student affairs offices are becoming more analytically-focused and more assessment-oriented—in no small part because boards and funders increasingly want accountability and return on investment (ROI) for the resources they allocate.
Certainly there are metrics of success well known to student affairs offices, such as retention rates, graduation rates, and levels of engagement with co-curricular offerings. But a deeper look at each of these metrics reveals a need for greater specificity.  Consider retention rates. Many institutions point to their first to second year retention without examining subsequent year-to-year retention. But is high first-year retention a true mark of success at institutions where significant numbers of students leak out or get off track following the beginning of the sophomore year?
---
We hope you're enjoying this read. The full text of this article or report is complimentary for Academic Impressions members. Please login to your member account to read it!
If you're signed up to receive our Daily Pulse, but your institution does not have an active membership, you won't have access to this article.
FIND OUT ABOUT MEMBERSHIP:
An Academic Impressions membership provides multiple users on your campus with unlimited access to exclusive reports, research briefs, hundreds of free webcasts and online trainings, and discounts on conferences. Learn more about membership and get unlimited training and reading for you and your team today.