Learn new ways for building resilience through your "inner coach" to better manage conflict, change, and work-life balance.
Overview
Our current working conditions mean we are juggling rapidly changing directives from work while also trying to manage a new normal at home. How do you maintain your professional resilience when faced with surmounting challenges or, even worse, layoffs? How do we keep these setbacks from becoming defeating messages we internalize? These 90-minute virtual sessions will give you an opportunity to delve deeper into the content and workshop ways to integrate what you're learning into your practice.
Session 1: Creating an Inner Coach Stronger than Your Inner Critic
Join us online to learn how you can start developing your alternative voice – your inner coach – in order to silence your inner critic and become a more effective leader. You will learn the multiple origins of the inner critic, learn techniques for counteracting its effect and how to shift from negative thought patterns to thoughts of greater self-support, resilience and self-confidence."
Session 2: Professional Resilience
Resilience is not something you're born with; it's a skill you can build. Join us virtually to discover how to break negative patterns of behavior and reset the way you respond to roadblocks. Our expert will introduce you to the three-step ABC Model, which will invite you to reflect on how you can approach adversity more constructively.
Who Should Attend
This virtual training is ideal for higher education professionals, especially women, who are looking to better use their strengths to tap their leadership potential.
The Academic Impressions Virtual Workshop Experience
There is no one-size-fits-all when it comes to exploring responsive issues in higher education. Our virtual workshops provide you with an active learning environment and an online space where you can explore ideas, get inspired by what your peers are doing, and understand the range of possibilities around a certain topic. Depending on what you need to solve a specific challenge at your institution, you will have the chance to gain ideas, plans, refinements, or connections with those undergoing the same challenges as you. You will leave these sessions with practical solutions that you can take back to your team or task force.
What you will get:
Learn from what your peers are doing across the nation
Gather unique and creative approaches that you may not have thought about
Validate and vet plans and priorities
Contribute your ideas and help shape the conversation
Get work done in a space that's designed to help you reflect, be creative, and maintain focus on the issue
Connect with subject matter experts who steer the conversation and add value
Experience expert facilitation to ensure practical outcomes and takeaways
As the coronavirus pandemic unfolds nationally, it is so important to keep connecting and networking with your peers - at a "social distance" - and to keep learning and developing as higher-ed leaders and professionals. Don't let social distancing and quarantines prevent you from setting aside time for professional development. Everything is changing so fast; more than ever, we need to be pooling our resources and knowledge and finding the best ways to develop our capacity, connect and share with each other, and move forward during a challenging time.
December 2, 2020
12:00 - 3:30 p.m. Eastern
Session 1: Creating an Inner Coach Stronger than your Inner Critic (12:00 – 1:30 p.m. Eastern)
To help you recognize and develop your inner coach, you'll learn the following:
The four types of inner voices that undermine courage, confidence, and resilience, as well as how your inner critic enters your personal and professional lives
A technique that will help you track your negative thoughts and patterns and help you craft a constructive inner-coaching message
---
Break (1:30 – 2:00 p.m. Eastern)
---
Session 2: Professional Resilience (2:00 – 3:30 p.m. Eastern)
Defining Resilience: The importance of building your resilience to navigate life's challenges
Being Compassionate: Three strategies to help you be kind to yourself
The ABC Model: You'll practice this model to see how you can develop more constructive patterns of behavior when faced with obstacles, including how to:

A – ADVERSITIES - Identify adversities that most impact you, such as conflict, work environment, work-life balance, and change.
B – BELIEFS - Identify and adapt your beliefs and reactions to help you overcome adversities.
C – CONSEQUENCES - Identify the consequences of your beliefs and behaviors.
Dr. Therese Lask
Talent Development Specialist, Colorado State University
Dr. Therese Lask has held a variety of leadership positions in higher education throughout her 27-year career. Her experience ranges from working in private, public and community college with roles in Student Affairs, Academic Affairs, Development, and Operations. From a variety of roles and experiences, Therese has followed her purpose of helping individuals to grow and develop.
Dr. Beth Weinstock
Psychologist, Leadership Coach and Co-Founder of The Resilience Group
Beth is a leadership coach and licensed clinical psychologist, who balances a private psychotherapy practice and a leadership development consultancy in Narberth, PA. With her colleague, Dr. Jane Shure, she founded The Resilience Group which trains leaders to develop skills that expand their capacity to manage adversity, increase confidence when transitioning into new roles, maintain a grounded presence in the face of stress and promote a positive influence over those who work with and for them. Beth is also the founder of the non-profit Women's Leadership Works, committed to leadership training for college women before they graduate.
ACADEMIC IMPRESSIONS MEMBERS
Get access to THIS virtual training only.
Get this + 100s more FREE with membership!
Questions About the Event?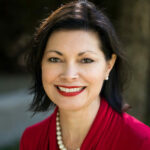 Elizabeth Hubbell
Senior Program Manager, Academic Impressions
*There are limited spots available for All-Inclusive Members to register for virtual trainings for free in 2020. Each virtual training has a registration cap in order to ensure a high-quality learning experience. If the cap has been met, All-Inclusive Members can register with a $250 discount if space is available.