Connect with women chairs from across the country to discover commonalities and develop individualized, sustainable paths forward.
Overview
As a woman chair, you are navigating a complex landscape. You're working within a system that still skews overwhelmingly white and male. You're trying to support faculty who are often crumbling under the strain of new online teaching demands and other uncertainties. Not to mention, you're likely shouldering increased responsibilities at home and managing additional personal stressors.
If you poured yourself into addressing all these areas fully, you'd quickly burn out. As you approach the spring semester, which of these problem areas should receive your attention, and why?
Join us online for this two-hour online workshop to explore how your work as a female chair is influenced by personal, departmental, and larger systemic demands. We will build awareness around the areas that are energizing and challenging you, and you'll leave with an individual action plan that will include strategies to help move your leadership forward in a sustainable way.
Who Should Attend
This training is designed for women chairs and program directors at all levels of experience.
Follow Through With Success Coaching
Have you ever gone to a training only to find that you came back with great ideas but don't have the time, support, or skills needed to make the changes?
Academic Impressions has produced thousands of trainings and we have learned that utilizing a coach after attending a conference helps provide accountability and bridges the training with the on-the-ground work of getting the job done.
As a result, we are now offering success coaching on select conferences.
Purchase this

training + 3 one hour follow up success coaching calls

Work with an assigned coach who has extensive experience in higher ed.

Get individualized support to help you follow through on what you've learned.

Workshop your plans, run your ideas by someone and get additional help/practice.
To learn more, contact Patricia Sandler at patricia@academicimpressions.com or purchase success coaching below.
January 19, 2021
1:00 – 2:30 p.m. Eastern
This virtual training is designed to be engaging and interactive. We will focus on:
Building awareness of how the three (3) areas of focus — your personal life, the department, and the larger system — impact your academic leadership
Selecting the areas to place your energy and attention
Defining what you can realistically accomplish within the areas you've selected
Michelle Brown
Dean of the Macricostas School of Arts and Sciences, Western Connecticut State University
Michelle oversees the largest School on campus, with nearly half of the university's academic departments, students, and full-time faculty. As Dean, she publicly branded the recently-named Macricostas School through "Macricostas Experience" – free events celebrating hands-on learning and open to the public. She led her faculty to identify and invest in shared goals across 13 departments in STEM, Humanities, and Social Sciences. She also created donor-funded scholarships for underrepresented students in STEM and donor-funded grants for faculty-student collaborative projects that merge tech and artistry.
ACADEMIC IMPRESSIONS MEMBERS
Get access to THIS virtual training only.
Get this + 100s more FREE with membership!
Questions About the Event?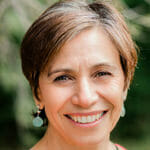 Patricia Sandler
Director of Integrated Professional Development, Academic Impressions