Learn how to engage your toughest critics to build a culture of cross-campus dialogue and belonging.
Overview
The current Black Lives Matter movement and the fallout from COVID-19 have higher ed leaders searching for constructive ways to engage students, faculty, and staff in dialogue about difficult issues. Listening to underrepresented voices and creating space for healthy exchange is critical for building an engaged community and maintaining a positive campus climate. There are no easy answers, but campus dialogue is a tool to help start the conversation.
Join us online for this two-hour workshop to learn what it means to have a culture of campus dialogue. Our experts from Case Western Reserve University will share insights and lessons learned from their experience building such a culture at their institution. You will learn how they went about increasing leadership buy-in, enhancing cross-campus collaboration, educating others about the benefits of open dialogue, and creating a formal program. We will close with an exercise to help you craft a message and align it with various stakeholder priorities so you can begin building a culture of dialogue on your own campus.
Who Should Attend
This virtual workshop is recommended for anyone in higher education looking to create open dialogue on campus. If you want to start or accelerate an open dialogue initiative on your campus and/or if you think your institution could benefit from an initiative that increases student belonging, this workshop is ideal for you.
We highly encourage campus teams or units to attend together to support shared learning and the collaborative nature of this initiative.
The Academic Impressions Online Learning Experience
Intentionally Designed
Online Learning
Our virtual trainings go far beyond just replicating PowerPoint presentations online: these experiences are intentionally designed to give you the kind of robust and dynamic learning experience you've come to expect from Academic Impressions. These trainings provide you with an active learning environment and an online space where you can explore ideas, get inspired by what your peers are doing, and understand the range of possibilities around a certain topic. You will leave these sessions with practical solutions that you can take back to your team or task force.
What you will get:
A dynamic, interactive, and high-touch virtual learning experience designed to engage and set you up for growth
Seamless online face-time, networking, group work, and Q&A opportunities from the comfort of your own workspace
Practical takeaways and hands-on knowledge
Guidance from vetted subject matter experts
Unlimited access to all recorded online sessions
October 13, 2020
2:00 - 4:00 p.m. Eastern
Our expert instructors will guide you through the following discussions and activities. You will walk away with tips for how to get started on your own campus in each of the following areas:
Learn what campus dialogue looks and feels like and how it can impact you and your students.
---
Creating a Culture of Campus Dialogue
Our presenters will share tips and strategies for how they capitalized on timing, gained leadership buy-in, and built cross-campus collaboration.
---
Group Activity and Debrief
You will have an opportunity to practice how to identify your stakeholder needs and craft a customized message that aligns with their priorities.
---
You will have the opportunity to connect more informally and share reflections about the current climate and open dialogue on your campuses.
Edwin Mayes
Director, First-Year Experience & Family Programs, Case Western Reserve University
As director, Edwin is responsible for the leadership and vision of programs for first year and transfer students and parents and families. He works closely with the student success initiative, enrollment management, residence life, and other internal and external partners to support students' successful transition from high school through their first year at the university.
Naomi Sigg
Director, Office of Multicultural Affairs, Case Western Reserve University
Naomi plays a major role in the development of diversity, equity, and inclusion initiatives on campus. She serves as the Co-Chair of the Dr. Martin Luther King Jr. Celebration Board, Think Forum Advisory Board, and is a member of several university committees including the Diversity Leadership Council, the President's Advisory Council on Minorities, and Alianza Latina/Latino Alliance, the Latinx employee resource group. Naomi is a certified Green Dot Facilitator and Sustained Dialogue Moderator.
ACADEMIC IMPRESSIONS MEMBERS
Get access to THIS virtual training only.
Get this + 100s more FREE with membership!
Questions About the Event?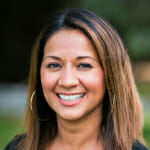 Rabia Khan Harvey
Senior Program Manager, Academic Impressions