Learn how to utilize a wellness intervention plan to help you overcome social justice fatigue.
The unique pressures and demands that diversity and inclusion professionals experience often lead to burnout, exhaustion, and decreased organizational productivity. Many feel the pressure to manage this stress alone, fearing that they'll lose their professional credibility and reputation otherwise. But what is the best way to support our staff who champion diversity, equity, and inclusion efforts on our campuses?
It is essential that Diversity, Equity and Inclusion (DEI) staff are supported properly, but care and support in this area often falls short. Join our expert instructor Sara Furr to learn about social justice fatigue, why and how this physical and emotional toll occurs, and also strategies for innovative but sustainable and impactful healing.
Who Should Attend
DEI professionals, both frontline and those who oversee DEI staff, who are interested in learning how to combat social justice fatigue and to better support administrators in this area will benefit from this content.
Agenda
During this webcast, our instructor will cover:
Primary Causes of Social Justice Fatigue

How to Use and Create Your Own Wellness Intervention Plans and Tools

Benefits to Your Institution's Productivity

Overall productivity and advocacy for professionals

Improved campus climate for staff and students
Sara Furr
Dean of Students, School of Social Service Administration
University of Chicago

In her current role, Sara is responsible for creating and facilitating diversity and social justice education initiatives for students, faculty, staff, and community partners. She has presented on topics such as identity development, leadership development theory, and power, privilege, and oppression.  Her dissertation studied wellness interventions for social justice fatigue among student affairs professionals.
Read Sara's full bio.

$525 through Nov 30
$600
Live Webcast + Recording
Access to the live webcast: Invite your team!
Links to all presentation materials and resources
Permanent recording of the live webcast
FREE for Members
This webcast is included for free with our Business Office and Student Affairs memberships.
Not a Member? Learn More
$350 through Nov 30
$425
Webcast registration
Presentation materials and resources
Access to webcast recording for 60 days (available 10 days after webcast)
$350
Presentation materials and resources
Permanent recording link delivered 10 days after webcast
Questions About the Event?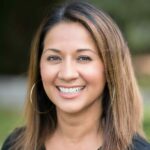 Rabia Khan Harvey
Senior Program Manager, Academic Impressions