Get certified in service excellence to boost student satisfaction on your campus.
As competition in higher education intensifies, so do prospective students' appetites to shop for institutions that provide the best education, experience, and amenities for their tuition dollars. Embedding a culture of service excellence at all levels of an institution can directly enhance enrollment and improve student retention. More and more institutions are responding to the implicit connection between the quality of customer service and the success of the larger institutional mission.
Join us for this one-of-a-kind learning experience, unique to the higher education training space, specifically developed for both frontline customer service professionals and those who supervise them. Through numerous interactive, hands-on sessions and small-group activities, you will dive deep into:
Critical competencies of good customer service in higher education

Maintaining consistency across service channels

The conversation cycle and scripting

Assisting difficult customers

Understanding the full spectrum of customer relationships - from students and their parents to internal stakeholders

Measuring and assessing your customer service culture
You will leave this training with increased confidence in your customer service skills and a heightened ability to handle a wide variety of service scenarios.
Get Your Team Certified
This event culminates in a final, written exam. Upon demonstrating your mastery of the subject matter discussed throughout the conference, you will receive a certificate of completion for your time spent and knowledge gained at this event. Show that your campus is a leader in customer service by getting your entire frontline staff certified!
Unlock savings by bringing your team!
Save over 15% on registration when you register three or more colleagues.
Post-Conference Workshop: Leading Culture Change to Enhance Service Excellence
This optional post-conference workshop will focus on how to lead a culture shift towards service excellence at your institution. Our expert facilitator will help those interested in starting a Service Excellence Initiative at their institution identify where to start, how to sustainably roll it out, and how to get buy-in to truly change the culture. You will also discuss how to leverage data to implement and lead new service excellence initiatives and on your campus.
Who Should Attend
This conference has been specifically designed for both managers and frontline staff across enrollment and student services in higher education. The program will especially benefit you if:
You are a

frontline service provider

looking to enhance your customer service skills.

You are a

manager or director supervising frontline service providers

and looking to bring training ideas back to your institution.

You are a

campus leader

looking to lead culture change and implement a service excellence program on your campus.

Agenda
Your registration for the event includes full access to all conference sessions and materials, the networking reception on Monday, breakfast and lunch on Tuesday, breakfast on Wednesday, as well as refreshments and snacks throughout the conference.
Post-conference attendees will also be provided lunch on Wednesday.
Day 1: The Service Paradigm
12:30 to 6:00 p.m.
Defining Service: How Does Customer Service Impact Higher Education?
What defines good vs. bad customer service? We'll dive into customer service models and research that will enhance your understanding of the role customer service plays within higher education. This interactive session will set the stage for the rest of this event and provide strategies to educate, lead, and empower others shift towards a culture of service excellence at your institution.
---
Visioning Exercise: Moving the Needle at Your Institution
This exercise will help you start the conversation about what makes good customer service and root it firmly within your specific higher education service environment. You will be guided through an activity that will prompt you to think about what service currently looks like at your institution, what you would like it to look like, and what is most important to those to whom you currently serve. You will be asked to share your results with your tables and with the larger group.
---
Competencies for Service Excellence
This session will provide an in-depth, example-based overview of the various kinds of competencies that are needed to provide high-quality customer service to students in today's higher education environment. Types of competencies to be discussed are physical, emotional, knowledge-based, environmental, and cross-cultural.
---
Self-Assessment Activity
You will have the opportunity to conduct a self-assessment of your own customer service skills based on the service competencies presented. You will be able to be more effective in your role through understanding your own areas of strengths and opportunities for growth.
---
Networking Reception
This informal reception is your chance to decompress, have some refreshments on us, and expand your network of connections. Our programs are intentionally designed for smaller groups, so this is a great time to catch-up with attendees and speakers whom you may not have connected with yet.
---
Day Two: Foundational Skills for High-Quality Service
8:00 a.m. to 4:45 p.m.
Enhancing Communications through Scripting
Our second day will open with a session focused on the art of scripting as a means of ensuring consistency across service channels. You will be given time at the end of the session to write your own scripts for phone conversations including greetings, closings, and apologies.
---
The Conversation Cycle
You will build upon your knowledge of scripting to look more holistically at the four key phases of the conversation cycle. You'll learn how to help navigate through unclear student requests and questions, as well as how to avoid using jargon in your interactions with students.
---
Practice: Role Playing
During this role-playing activity, you will break into groups based upon your role as a manager or frontline employee at your institution. You will then work with a partner to practice and apply the scripting and conversation cycle techniques you learned in the previous session.
---
Policies and Practices that Impact Service
Higher education is a place where policies (both formal and informal) proliferate. This presentation will provide examples of formal policies you need to be aware of that have implications for the way you provide service. It will also challenge you to think about informal policies or practices that may be creating service barriers.
---
Accounting for Diversity in Higher Ed Customer Service
Diversity must be taken into account in the service you provide. You will learn how to adjust your service practices and style based on the specific characteristics of the students you encounter. The importance of cultural sensitivity, awareness, empathy, and listening will be emphasized.
---
Measuring and Assessing Your Customer Service Culture
We will explore a variety of measurement and assessment tools and techniques that can be used to gauge the quality of customer service your department, unit, or campus currently provides. You'll be given time during the workshop to begin to formulate and adapt some of these tools to your own context.
---
Your Service Excellence Action Plan (Working Session)
Whether you are a frontline professional or a campus leader, it is critical to build out an action plan to maintain momentum when you return to your institution. This interactive working session will provide space for you to identify barriers you will likely encounter, champions to get buy-in from, and your next steps when you return to campus. Our expert instructors will be on-hand to help you build out your plans.
---
Time for Q&A and Handing out Final Exam Study Guides
As we close Day 2 of the conference, we will have time to debrief about what we have learned so far. You will also receive a study guide for the final exam during this time.
---
Day Three: "The Tricky Stuff"
8:00 a.m. to 1:00 p.m.
Lunch and post-conference workshop from 1:00 to 5:00 p.m.
Stress Management in the Frontline Service Environment
In this interactive session, we will share tips and techniques for managing stress in the higher education frontline service environment. You will gain insights into your stress-handling personality and will think about ways you could improve your own stress management techniques.
---
Delivering No and Other Bad News
As much as we might like to always deliver good news to our students, sometimes the answer is just not what they will want to hear. We will teach you how to properly say no and deliver bad news by managing emotions, moderating expectations, and maintaining control over the situation. You will be given time at the end of the session to role-play with a partner and practice the techniques you learned.
---
Assisting with Difficult Customers
From students to colleagues, to parents and alumni, you are likely to come across a variety of stakeholders that can be challenging to assist. Our final instructional session will focus on how to manage the occasional difficult and/or potentially volatile situations that you may find yourself in within your institution. Best practices for ensuring safety, escalating the situation and asking for help, and adhering to your service standards will be discussed.
---
Conference Close: Final Exam and Evaluations
In order to receive your service excellence certification, you must successfully complete a written exam that will help you solidify and demonstrate everything you have learned. The exam should only take about 30 minutes to complete, but you will have the full hour to work on it.
---
Post-Conference Workshop: Leading Culture Change to Enhance Service Excellence
Customer Service is still a new concept for many within the realm of higher education. This post-conference workshop will focus on how to lead a culture shift towards service excellence at your institution. Our expert facilitator will help those interested in starting a Service Excellence Initiative at their institution identify where to start, how to sustainably roll it out, and how to get buy-in to truly change the culture. You will also discuss how to leverage data to implement and lead new service excellence initiatives and on your campus.

Speakers
Dr. Heath Boice-Pardee
Associate Vice President for Student Affairs, Rochester Institute of Technology
Heath has worked as an administrator in higher education for nearly twenty-five years in a variety of administrative and teaching roles. He has served as Interim Senior Vice President for Student Affairs, at Rochester Institute of Technology and also is an Instructor in the College of Applied Science and Technology at RIT where he has developed a higher education administration Master's concentration focusing on service leadership, customer service, and the student experience.

Emily Richardson
Adjunct Faculty, Queens University of Charlotte and Widener University
Between 2014 and December 2018, Emily Richardson was responsible for the Hayworth Center for Online Learning at Queens University of Charlotte, focused on five fully online programs at the graduate level. Prior to this position, she was the associate vice president for Boundless Learning at Stetson University for two years. She is currently working as an adjunct faculty teaching online for two of her previous institutions.
Eileen Soisson
Executive Director of Training, Development and Service Excellence, Coastal Carolina
University
Since July 2011, Eileen has been leading Coastal Carolina University's service excellence initiative, Feel the Teal®, created to enhance the university's culture and become more service-oriented and focused on student success. She designed the service excellence program into eight training modules and oversees all operations within the initiative. Eileen teaches university employees and others how to deliver better service within higher education.
$295
Purchase the conference binder, which includes all presentation slides, worksheets, action plans, and additional resources.
Note: Conference attendees do not need to purchase materials separately.
Questions About the Event?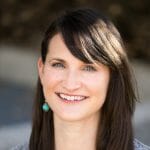 Kate Poisson
Program Manager, Academic Impressions
*All-inclusive members receive $250 off of conference registrations (in addition to the early bird discount if applicable). Academic Affairs, Advancement/Alumni Relations, Business Office, Enrollment Management, Student Affairs, and Leadership members will continue to receive $100 off conference registrations. Upgrade your membership to qualify for a higher discount. Please note this discount is not applicable on pre- or post-conference workshops or conference binders.