Think beyond cuts and identify new revenue streams to offset shortfalls.
Overview
Due to the pandemic, you're likely confronting a budget shortfall this summer and have been considering cuts and furloughs, but are you also pursuing new streams of revenue? Join this two-hour virtual session to hear and generate ideas for developing new products, like face masks, ventilators, and using equipment already available on campus. You will also learn novel ways you can use your facilities, such as using recreation centers for open classroom space or leasing student residences to hospitals. You will find new ways of connecting students, staff, and faculty to corporate partners, local schools, and non-profits.
Who Should Attend
Higher education leaders who are pursuing new partnerships or revenue streams will benefit from this session. Professionals such as executive leaders, CFOs, deans, directors from corporate and foundation relations, development officers, building services staff, and representatives of centers for innovation and entrepreneurship will find this training valuable.
The Academic Impressions Virtual Workshop Experience
There is no one-size-fits-all when it comes to exploring responsive issues in higher education. Our virtual workshops provide you with an active learning environment and an online space where you can explore ideas, get inspired by what your peers are doing, and understand the range of possibilities around a certain topic. Depending on what you need to solve a specific challenge at your institution, you will have the chance to gain ideas, plans, refinements, or connections with those undergoing the same challenges as you. You will leave these sessions with practical solutions that you can take back to your team or task force.
What you will get:
Learn from what your peers are doing across the nation
Gather unique and creative approaches that you may not have thought about
Validate and vet plans and priorities
Contribute your ideas and help shape the conversation
Get work done in a space that's designed to help you reflect, be creative, and maintain focus on the issue
Connect with subject matter experts who steer the conversation and add value
Experience expert facilitation to ensure practical outcomes and takeaways
As the coronavirus pandemic unfolds nationally, it is so important to keep connecting and networking with your peers - at a "social distance" - and to keep learning and developing as higher-ed leaders and professionals. Don't let social distancing and quarantines prevent you from setting aside time for professional development. Everything is changing so fast; more than ever, we need to be pooling our resources and knowledge and finding the best ways to develop our capacity, connect and share with each other, and move forward during a challenging time.
July 9, 2020
2:00 - 4:00 p.m. Eastern Time
During this online training, we will cover the following considerations:
1. Opportunity Analysis Overview
The speakers will briefly introduce themselves, then unpack the following question:
How can you drive new revenue this year at your institution, considering the following avenues:
New uses of personnel
Using department spaces differently
Developing external partnerships
Producing new products
---
2. Opportunity Generation Sessions
You will break into small groups and brainstorm ideas for each of the four categories of new revenue with the help of our speakers. Afterward, you will reconvene and share the ideas that came up in each group.
---
3. Conclusions and Next Steps
The speakers will highlight some of the best ideas that have surfaced and discuss next steps for implementing them on your campus.
Robert Manasier
Entrepreneur-in-Residence/New Venture Manager – Innovate 518
Robert Manasier is a serial entrepreneur and brand builder, with experience in over 130 international startups and over 400 products/services commercialized, 1000s of acceleration/commercialization campaigns, as the CEO of In Focus Brands (a branded go-to-market acceleration firm).
Garret Westlake
Executive Director of the da Vinci Center, Virginia Commonwealth University
Dr. Garret Westlake is heading the transformation of VCU into one of the nation's leading universities for cross-disciplinary collaboration, innovation, and the inclusion of entrepreneurial thinking as a requisite skill for the innovation economy. As executive director, Dr. Westlake advances university-wide student innovation and entrepreneurship through curriculum as well as through curated experiential education opportunities.
ACADEMIC IMPRESSIONS MEMBERS
Get access to THIS virtual training only.
Get this + 100s more FREE with membership!
NOT A MEMBER YET? VIEW PRICING OPTIONS BELOW
Questions About the Event?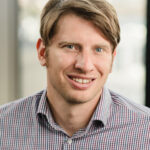 Mark Pleiss
Program Manager, Academic Impressions
*There are limited spots available for All-Inclusive Members to register for virtual trainings for free in 2020. Each virtual training has a registration cap in order to ensure a high-quality learning experience. If the cap has been met, All-Inclusive Members can register with a $250 discount if space is available.