Learn how a research study of successful women college presidents in California can help you cultivate your emotional intelligence skills.
Overview
Women who rise to top leadership positions in higher ed possess a unique skillset that helps them overcome adversity, build resilience, and lead authentically. Kas Metzler studied and interviewed 26 women presidents in California and found some interesting commonalities in how they rose into their roles. Not surprisingly, the link is how they used and honed their emotional intelligence as leaders.
Join us online in this two-hour session and learn more about what emotional intelligence skillsets these California presidents have found most helpful in their career advancement. You'll begin by taking a personal assessment that will help you identify your strengths and potential blind spots as a leader. You'll then have the opportunity to brainstorm and discuss with other participants how these research findings can be applied to your own leadership journey, so that you walk away with at least two things you can start doing differently to nurture your emotional intelligence.
Who Should Attend
This virtual training is designed for women at any level who are interested in growing their leadership skills by learning about the successes of other female leaders within higher ed. This online training will help you reflect on where you are currently in your leadership journey and where you want to go – and how your emotional intelligence can guide you on that path.
The Academic Impressions Virtual Workshop Experience
There is no one-size-fits-all when it comes to exploring responsive issues in higher education. Our virtual workshops provide you with an active learning environment and an online space where you can explore ideas, get inspired by what your peers are doing, and understand the range of possibilities around a certain topic. Depending on what you need to solve a specific challenge at your institution, you will have the chance to gain ideas, plans, refinements, or connections with those undergoing the same challenges as you. You will leave these sessions with practical solutions that you can take back to your team or task force.
What you will get:
Learn from what your peers are doing across the nation
Gather unique and creative approaches that you may not have thought about
Validate and vet plans and priorities
Contribute your ideas and help shape the conversation
Get work done in a space that's designed to help you reflect, be creative, and maintain focus on the issue
Connect with subject matter experts who steer the conversation and add value
Experience expert facilitation to ensure practical outcomes and takeaways
As the coronavirus pandemic unfolds nationally, it is so important to keep connecting and networking with your peers - at a "social distance" - and to keep learning and developing as higher-ed leaders and professionals. Don't let social distancing and quarantines prevent you from setting aside time for professional development. Everything is changing so fast; more than ever, we need to be pooling our resources and knowledge and finding the best ways to develop our capacity, connect and share with each other, and move forward during a challenging time.
August 4, 2020
1:00 - 3:00 p.m. Eastern Time

Pre-work: Prior to attending this training, you will have the opportunity to take a 5 Paths Self-Assessment to determine how you lead under normal conditions and how you lead under stress.
Icebreaker: Discuss Your 5 Paths Assessment Results
---
Section 1: The Research Findings
You'll hear from the speaker about her research findings on how California has a higher rate of women presidents and why that's the case. Specifically, you'll learn how these presidents have used their emotional intelligence to ascend into their role and build a successful career.

---
Section 2: Small Group Breakouts
Using your self-assessment and the research findings from Section 1, you will break out into small groups and discuss the following:
Contributions: What has contributed to your own leadership journey and how can you continue to leverage those contributions?
Challenges: What challenges have you experienced or are you experiencing in your leadership journey and how can you overcome them?
Strategies: What can you learn from the Presidents and other participants to support your optimal growth?
Emotional Intelligence: How can this event nurture your emotional intelligence and support your leadership advancement?
---
Section 3: Large Group Discussion
When you return from the breakouts, you will share out the key takeaways and lessons learned from each group.
---
Final Q&A and Wrap up
Kas Metzler
Kinesiology, FT Faculty, Santa Monica College
Kas is a life-long educator and practitioner with a dynamic background in exercise science and integrative health and wellness. She has served as a faculty member in the fields of exercise science, health and kinesiology at both 2-year and 4-year institutions for 20 years.
ACADEMIC IMPRESSIONS MEMBERS
Get access to THIS virtual training only.
Get this + 100s more FREE with membership!
Questions About the Event?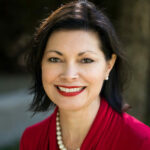 Elizabeth Ross Hubbell
Senior Program Manager, Academic Impressions
*There are limited spots available for All-Inclusive Members to register for virtual trainings for free in 2020. Each virtual training has a registration cap in order to ensure a high-quality learning experience. If the cap has been met, All-Inclusive Members can register with a $250 discount if space is available.