You have implemented state and federal guidelines for social distancing on your campus, but what do you do when students and the community don't follow the rules?
Overview
Higher education institutions can be as prepared as possible to reopen their campuses in terms of putting policies and procedures in place, but what they cannot completely account for is how people will respond to and comply with the rules they set out. Planning for and enforcing social distancing guidelines is perhaps one of the trickiest aspects of reopening campus, as there are many variables which will necessitate institutions to hold people accountable.
Join us for this highly interactive session where our speaker will guide the discussion around these issues and help the group determine the most pressing questions and challenges to collectively unpack.
Who Should Attend
This training will primarily benefit Student Affairs leaders. Other institutional leaders who are serving on task forces or planning committees related to the fall 2020 reopening of campus may also find this discussion valuable.
The Academic Impressions Virtual Workshop Experience
There is no one-size-fits-all when it comes to exploring responsive issues in higher education. Our virtual workshops provide you with an active learning environment and an online space where you can explore ideas, get inspired by what your peers are doing, and understand the range of possibilities around a certain topic. Depending on what you need to solve a specific challenge at your institution, you will have the chance to gain ideas, plans, refinements, or connections with those undergoing the same challenges as you. You will leave these sessions with practical solutions that you can take back to your team or task force.
What you will get:
Learn from what your peers are doing across the nation
Gather unique and creative approaches that you may not have thought about
Validate and vet plans and priorities
Contribute your ideas and help shape the conversation
Get work done in a space that's designed to help you reflect, be creative, and maintain focus on the issue
Connect with subject matter experts who steer the conversation and add value
Experience expert facilitation to ensure practical outcomes and takeaways
As the coronavirus pandemic unfolds nationally, it is so important to keep connecting and networking with your peers - at a "social distance" - and to keep learning and developing as higher-ed leaders and professionals. Don't let social distancing and quarantines prevent you from setting aside time for professional development. Everything is changing so fast; more than ever, we need to be pooling our resources and knowledge and finding the best ways to develop our capacity, connect and share with each other, and move forward during a challenging time.
July 22, 2020
11:30 a.m. - 2:30 p.m. Eastern Time

First, our expert will present how they're implementing social distancing requirements on their campuses, especially in classrooms and heavily trafficked spaces and buildings. Then you will break into small groups to discuss these major issues:
Building your enforcement team – How do you train your faculty, staff, and campus community to communicate expectations? How can they de-escalate or confront social distancing-related issues that may crop up in the classroom? What kind of training do residence life staff or other frontline staff need on how to confront breaches of social distancing rules?

---

Holding community members and students accountable – How can you ensure students and the community follow the rules on and off campus? What does the disciplinary process look like for students? Are institutions modifying their honor codes or codes of conduct around mask-wearing or social distancing? What happens if they don't want to wear a mask—how do you approach them?
Romando Nash
AVP for Student Life Services, University of Nevada Reno
Romando brings a strong portfolio of experience that helps him succeed in leading division and institutional initiatives around student success for an increasingly diverse student body.
Smita Ruzicka
Dean of Student Life, Johns Hopkins University
Dr. Smita Ruzicka serves as Dean of Student Life at Johns Hopkins University, where she provides leadership for a wide portfolio of services and programs aimed to enhance the overall student experience. Her portfolio includes student leadership and involvement, diversity and inclusion, health and wellness, residential life, crisis management and support services.
ACADEMIC IMPRESSIONS MEMBERS
Get access to THIS virtual training only.
Get this + 100s more FREE with membership!
Questions About the Event?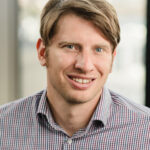 Mark Pleiss
Program Manager, Academic Impressions
*There are limited spots available for All-Inclusive Members to register for virtual trainings for free in 2020. Each virtual training has a registration cap in order to ensure a high-quality learning experience. If the cap has been met, All-Inclusive Members can register with a $250 discount if space is available.