Boost your enrollments and transform student success by building strong transfer pipelines between 2- and 4-year institutions.
Overview
Students and families across the nation are considering enrolling in community college instead of moving forward with a traditional, on-campus university experience due to the COVID-19 pandemic. This shift could have major financial and recruitment implications for both community colleges and 4-year institutions. Both 2-year and 4-year institutions have an opportunity to adapt by creating new partnerships that facilitate a smooth transfer pipeline to:
Recruit more students and build a guaranteed enrollment pipeline by promoting student transfer
Create clear programmatic pathways and provide advising that makes the transfer process a smoother experience for students
Remain competitive by offering students more courses and services at more affordable rates
Improve student success and persistence by increasing preparedness and creating a sense of student belonging before transfer
Join us online for this three-hour virtual workshop to learn tactics for developing successful partnerships between community colleges and universities, auditing your current positioning to identify opportunities for your institution, and creating an action plan to move your work forward. During the first hour, our expert instructors will showcase examples of successful partnerships, their key components, and the tactics needed to create them. In the second hour, you'll discuss and analyze as a group how those models can be adapted post-COVID-19 and complete an individual SWOT analysis to help identify areas of strength and opportunity for your institution. In the final hour, you'll create an action plan that allows you to walk away with confidence in how to begin designing your new partnership.
Who Should Attend
This virtual workshop was created to bring together both 2-year and 4-year institutions who are looking to hear from the other side to help them design a partnership that encourages student transfer and success.
2-year institutions will benefit by learning how to design a meaningful partnership that makes transfer a priority and that can be utilized as a recruitment tool.
4-year institutions will benefit by learning how they can shape their partnership to bolster their enrollment pipeline and improve transfer student success.
If you're a Vice President, Provost, Dean, Director or Assistant/Associate Director who is focused on improving the transfer student experience and/or interested in creating a transfer student enrollment pipeline for the future, this workshop is for you!
The Academic Impressions Virtual Workshop Experience
There is no one-size-fits-all when it comes to exploring responsive issues in higher education. Our virtual workshops provide you with an active learning environment and an online space where you can explore ideas, get inspired by what your peers are doing, and understand the range of possibilities around a certain topic. Depending on what you need to solve a specific challenge at your institution, you will have the chance to gain ideas, plans, refinements, or connections with those undergoing the same challenges as you. You will leave these sessions with practical solutions that you can take back to your team or task force.
What you will get:
Learn from what your peers are doing across the nation
Gather unique and creative approaches that you may not have thought about
Validate and vet plans and priorities
Contribute your ideas and help shape the conversation
Get work done in a space that's designed to help you reflect, be creative, and maintain focus on the issue
Connect with subject matter experts who steer the conversation and add value
Experience expert facilitation to ensure practical outcomes and takeaways
As the coronavirus pandemic unfolds nationally, it is so important to keep connecting and networking with your peers - at a "social distance" - and to keep learning and developing as higher-ed leaders and professionals. Don't let social distancing and quarantines prevent you from setting aside time for professional development. Everything is changing so fast; more than ever, we need to be pooling our resources and knowledge and finding the best ways to develop our capacity, connect and share with each other, and move forward during a challenging time.
June 8, 2020
1:00 – 4:00 p.m. Eastern Time
During this three-hour virtual workshop, your expert instructors will guide you through the following:
A Success Showcase – You'll hear about a variety of successful partnership models from across the country and learn tactics to develop partnerships that create a guaranteed student pipeline, while also increasing student success by fostering a greater sense of belonging.

Audit Your Institutional Strengths and Opportunities – Through group discussion and self-reflection, you'll conduct a SWOT analysis to identify opportunities for partnership on your campus, and you'll examine how the case studies from above can serve as inspiration. You'll also discuss how COVID-19 requires you to adapt those models to meet the changing needs of your students while remaining competitive.

Plan for the Future – You'll write an action plan for how to get started on creating a partnership on your campus, so that you walk away from this workshop feeling empowered to take the next steps.
Holly Herrera
Associate Provost for Transfer Initiatives and Academic Partnerships, Columbia College Chicago
Prior to joining Columbia, Holly was at the University of Illinois at Urbana-Champaign for over 14 years where she coordinated admissions partnerships between the university and several community colleges in order to increase access to higher education for transfer students.
Julie Marlatt
Consultant, Educator, Researcher
Julie Marlatt is an educator and national speaker with nearly 20 years of experience in higher education. She has served in enrollment management leadership roles at a state higher education system, as well as at community college and private, 4-year college campuses ranging from small to mid-size to large student populations.
ACADEMIC IMPRESSIONS MEMBERS
Get access to THIS virtual training only.
Get this + 100s more FREE with membership!
Questions About the Event?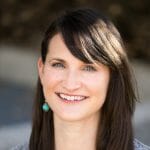 Kate Poisson
Program Manager, Academic Impressions