Learn how to be more nimble with your annual giving strategy amid uncertainty.
Overview
With decreases projected in giving for fiscal year 2020-2021 due to COVID-19 and economic conditions, annual giving shops are facing turbulent months ahead. With additional cuts to budgets and staff, in addition to losses in revenue throughout higher education, being agile and nimble to create the best odds is key to a successful year in annual giving.
Our expert speaker, Tyrell Warren-Burnett will provide you with a framework to help you identify when it's time to pivot your strategy so that you can remain nimble in the face of uncertainty. You will have the chance to work in small groups and apply the framework to pinpoint the most critical threats to your shop, as well as how to best respond to those obsticles in the most agile way possible.
Who Should Attend
This training is ideal for those annual giving directors, managers, and team members who are looking for new ways to:
Respond to the uncertainty in the marketplace
Ensure their shops can weather the expected volatility in giving over the next year
If you're looking for ways to become more agile and nimble in the way your shop responds to the ever-changing world in which we live, this training is for you.
The Academic Impressions Virtual Workshop Experience
There is no one-size-fits-all when it comes to exploring responsive issues in higher education. Our virtual workshops provide you with an active learning environment and an online space where you can explore ideas, get inspired by what your peers are doing, and understand the range of possibilities around a certain topic. Depending on what you need to solve a specific challenge at your institution, you will have the chance to gain ideas, plans, refinements, or connections with those undergoing the same challenges as you. You will leave these sessions with practical solutions that you can take back to your team or task force.
What you will get:
Learn from what your peers are doing across the nation
Gather unique and creative approaches that you may not have thought about
Validate and vet plans and priorities
Contribute your ideas and help shape the conversation
Get work done in a space that's designed to help you reflect, be creative, and maintain focus on the issue
Connect with subject matter experts who steer the conversation and add value
Experience expert facilitation to ensure practical outcomes and takeaways
As the coronavirus pandemic unfolds nationally, it is so important to keep connecting and networking with your peers - at a "social distance" - and to keep learning and developing as higher-ed leaders and professionals. Don't let social distancing and quarantines prevent you from setting aside time for professional development. Everything is changing so fast; more than ever, we need to be pooling our resources and knowledge and finding the best ways to develop our capacity, connect and share with each other, and move forward during a challenging time.
August 26, 2020
1:00 - 4:00 p.m. Eastern
Welcome and Introductions
1:00 – 1:15 p.m.
---
The Landscape of Annual Giving
1:15 – 1:30 p.m.
The challenges you are facing this year related to meeting your goals may feel daunting. Tyrell Warren-Burnett will preview how you can start preparing for the unprecedented year that lies ahead.
---
Breakout 1 - Critical Knowns and Unknowns
1:30 – 2:05 p.m.
Working in small groups with your peers, you will identify what you perceive to be the most critical knowns and unknowns that threaten your shop's annual giving strategy for the 2020-2021 fiscal year. You will then assess the most likely knowns and unknowns that will require an agile approach.
---
Break
2:05 – 2:20 p.m.
---
Formulating an Agile Strategy
2:20 – 2:45 p.m.
Being prepared to pivot when needed, especially in the face of challenging economic conditions, will allow your annual giving team to push forward in accomplishing your strategic goals. Our expert speaker will provide a framework for implementing an agile and nimble approach to the known and unknown obstacles you have identified.
---
Breakout 2 - Formulating Your Agile Strategy
2:45 – 3:45 p.m.
Using the framework provided, you will reconvene with your group to formulate an agile strategy to help you overcome the known and unknown scenarios you have identified. You will then present the agile strategy your group developed and receive critical feedback on how it may be improved, adjusted, or reconsidered from a different angle in order to be even more successful.
---
Summarizing the Best Agile Strategies
3:45 – 4:00 p.m.
After our closing remarks, you will walk away with a summary of the best possible agile strategies for your shop.
Tyrell Warren-Burnett
Senior Director of Annual Giving, Oregon State University Foundation
Tyrell has served in his current role since August 2017. At OSU Foundation, he provides the strategic execution and management of a comprehensive annual giving program focused on acquisition and pipeline development, which oversees a team of eight.
ACADEMIC IMPRESSIONS MEMBERS
Get access to THIS virtual training only.
Get this + 100s more FREE with membership!
Questions About the Event?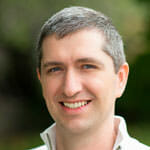 Nick Pettet
Program Manager, Academic Impressions
*There are limited spots available for All-Inclusive Members to register for virtual trainings for free in 2020. Each virtual training has a registration cap in order to ensure a high-quality learning experience. If the cap has been met, All-Inclusive Members can register with a $250 discount if space is available.
Academic Affairs, Advancement/Alumni Relations, Enrollment Management, and Student Affairs members will continue to receive $100 off training registrations, if applicable. Upgrade your membership to qualify for a higher discount.