What you need to know before you begin: How to implement virtual and remote labs in fall courses.
Overview
Virtual labs and remote lab kits will become a reality for many faculty and instructors in the fall. Implementing these can be key to ensuring quality online education and retaining students. However, you may be new to online formats and searching for resources on how to begin. You may be asking:
What types of remote or virtual labs are available?
What are the pros and cons of each?
What is the process for implementing each type of lab into my courses?
What are some pitfalls to look out for?
Should I create them myself or use a vendor?
What are some tips for working with vendors?
Join us for a virtual training and dialogue on what you need to know before you begin, as well as tips and strategies for seamless implementation. Dr. Heather Taft from Colorado State University Global will use examples from the sciences to reveal the process of incorporating virtual labs, simulations, and lab kits into your courses. She will also offer individual consulting to those who have further questions and want to address the unique context of their own courses.
Though the considerations in this workshop apply to course planning across various disciplines, we will dive deep into considerations for science labs.
Who Should Attend
If you are looking to explore implementing virtual labs or lab kits in your courses, this training is for you. Faculty and instructors, as well as leaders in centers for teaching & learning, faculty affairs, and online education, will benefit the most from this training. Leaders who support faculty and instructors in implementing labs may also be interested in the content.
Limited Attendance
In order to ensure a high-quality learning experience, we have intentionally designed this Virtual Training to have a limited number of total attendees. To ensure access from both paying participants and also from those who have an All-Inclusive membership, when the membership cap is reached, only paying participants can register after that point (while spaces are still available). If you have questions about whether this program is right for you, please contact us.
The Academic Impressions Virtual Workshop Experience
There is no one-size-fits-all when it comes to exploring responsive issues in higher education. Our virtual workshops provide you with an active learning environment and an online space where you can explore ideas, get inspired by what your peers are doing, and understand the range of possibilities around a certain topic. Depending on what you need to solve a specific challenge at your institution, you will have the chance to gain ideas, plans, refinements, or connections with those undergoing the same challenges as you. You will leave these sessions with practical solutions that you can take back to your team or task force.
What you will get:
Learn from what your peers are doing across the nation
Gather unique and creative approaches that you may not have thought about
Validate and vet plans and priorities
Contribute your ideas and help shape the conversation
Get work done in a space that's designed to help you reflect, be creative, and maintain focus on the issue
Connect with subject matter experts who steer the conversation and add value
Experience expert facilitation to ensure practical outcomes and takeaways
As the coronavirus pandemic unfolds nationally, it is so important to keep connecting and networking with your peers - at a "social distance" - and to keep learning and developing as higher-ed leaders and professionals. Don't let social distancing and quarantines prevent you from setting aside time for professional development. Everything is changing so fast; more than ever, we need to be pooling our resources and knowledge and finding the best ways to develop our capacity, connect and share with each other, and move forward during a challenging time.
August 10, 2020
1:00 - 4:00 p.m. Eastern Time
Preparing for Your Lab Course
1:00 – 2:00 p.m.
Learn what information you need to collect before you begin the process of incorporating virtual and remote labs into your courses:
Gathering necessary information from your department chair
Outlining your course and lab learning objectives
What to know about your LMS
---
Implementing Virtual and Remote Labs
2:00 – 2:30 p.m.
Our faculty will dive deeper into the pros and cons and specific considerations for each type of lab option:
Instructor-created labs
Lab kits
Virtual labs and simulations
---
Practice Planning Your Labs
2:30 – 3:15 p.m.
You will choose a course and lab type, divide into small groups, and practice the process of planning your labs using a detailed worksheet. At the end of our practice, we will gather as a group for a debrief and Q&A.
---
Individual Consulting
3:15 – 4:00 p.m.
We invite you to sign up for a brief individual consulting session with Dr. Heather Taft to answer any remaining questions and address the unique context of your own courses.
Heather Taft, Ph.D.
Former Lead Faculty of Natural and Physical Sciences, Colorado State University Global Campus
She has been creating and teaching entirely online biology courses since 2015. As Lead Faculty she oversaw the creation, revision, and maintenance of biology, geology, physics, and chemistry courses, many of which incorporate laboratory components. She also helped oversee the design of courses in CSU Global's new pre-nursing program. Dr. Taft holds a Master's degree in Education focused on online science education, and a Graduate Certificate in E-learning and Online Teaching.
ACADEMIC IMPRESSIONS MEMBERS
Get access to THIS virtual training only.
Get this + 100s more FREE with membership!
Questions About the Event?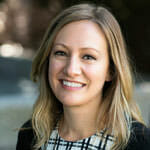 Whitney Egstad
Program Manager, Academic Impressions
*There are limited spots available for All-Inclusive Members to register for virtual trainings for free in 2020. Each virtual training has a registration cap in order to ensure a high-quality learning experience. If the cap has been met, All-Inclusive Members can register with a $250 discount if space is available.