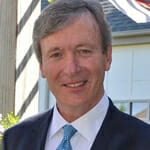 President and Founder of Langley Innovations
Before forming his own comprehensive advancement consulting firm, Jim served as vice president for advancement at Georgetown University. At Georgetown, he led the institution's offices of alumni affairs, strategic communications and marketing, development, medical center development, and advancement services. During his tenure, he produced record numbers in new commitments and dollars. He also launched a number of innovative programs, including the acclaimed Student Discovery Initiative.
Jim arrived at Georgetown after spending eight years as the vice president for advancement at the University of California, San Diego. At UCSD, he led the planning and execution of the institution's seven-year $1 billion campaign, then raised almost half the target amount in three years. Jim also previously served as vice president for external affairs at Georgia Institute of Technology, increasing annual gift income from $26 million to $76 million and more than tripling the institution's endowment to well over $500 million. Operations under his management have won awards in virtually every area of university advancement.