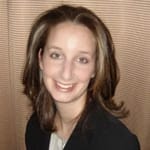 Brittany Williams-Goldstein, Ed.D.
Chief of Staff & Board Liaison, Ramapo College
Dr. Williams-Goldstein serves as the President's primary liaison to the Senior Cabinet and the Board of Trustees. She is responsible for the strategic development, implementation, and coordination of Cabinet and Board activities as well as the coordination of the Office of the President. She chairs the Space Management and Allocation Committee and also leads the College's Administrative Assessment Committee. During her tenure at Ramapo, she has served as a member of the Campus Facilities Master Plan Steering Committee, Accreditation Steering Committee, Position Review Committee, and two Strategic Planning Task Forces.
Dr. Williams-Goldstein began her professional career as a journalist and later transitioned into higher education as an instructor of Spanish and English as a Second Language. She has also fulfilled roles as Designated School Official, chief human resources officer, and executive assistant to the president. She has presented nationally on board of trustees development and was awarded the Professional Board Staff Member Award (Northeast) by the Association of Community College Trustees.
She earned her Ed.D. in Educational Leadership with a focus on Public Policy from Rowan University, her M.S.Ed. in Higher Education Management from the University of Pennsylvania, and her B.A. in Communications/Journalism from William Paterson University. She is a graduate of the Chair Academy for Leadership, is certified in Affirmative Action Complaint Processing, and is a trained Title IX investigator. She is a member of the Public Relations Society of America and the Board Professionals Network of the Association of Governing Boards.