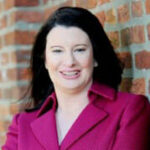 Kathleen Diemer
Associate Vice President, Advancement Relations, George Mason University
Kathleen Diemer, CFRE, currently serves as Associate Vice President of Advancement Relations at George Mason University. In her role at Mason, she oversees the donor relations, advancement communications, prospect research and management, and information technology and reporting teams. In addition, she played a key role in helping to steer the success of the university's $500 million Faster Farther campaign.
Prior to her work at Mason, Kathleen helped guide the University of Maryland's central donor relations unit through two comprehensive fundraising campaigns. During her tenure at Maryland, she helped design and implement the university's Celebration of Scholarships website and Online Endowment Donor Portal, which are widely-recognized as the first applications of their kind. These award-winning projects set industry standards and served as models for donor relations and stewardship programs at other organizations.
Kathleen has proudly served as both Secretary-Treasurer and President of the Association of Donor Relations Professionals (ADRP). During her term as President, she helped strengthen association policy related to partnerships and conflict of interest, and also led the association through a strategic visual identity and re-branding process.
During her two decades in the field of higher education fundraising she has written or reviewed approximately 2,000 gift agreements.