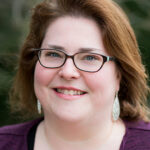 Lisa Lafflam
Senior Learning and Development Manager
As a child, Lisa was fascinated with the art of storytelling just as much as understanding how the world worked. She was that curious kid who would ask "why" a million times to understand the root cause of everything and then tell you an epic tale about what she had just learned. Flash forward, not much has changed. Having spent most of her career in leadership positions focused on operations and training within the education and healthcare industries, she carved a career path that allowed her to ask "why" to solve business problems and train others to do the same. She's a proud alumnus of the University of California, San Diego (UCSD) two times over, having received both a Bachelor of Science, Biology and Master of Business Administration (MBA) degree. She also holds a Project Management Professional (PMP) certification.
Now at Academic Impressions, she enjoys sharing her passion for learning with others by creating exciting training opportunities for leaders in higher ed. A focus of her work includes working with Department Chairs and Academic Deans.
When she is not designing and facilitating professional development programs, Lisa can be found wandering with her camera, photographing the world. Her number one bucket list item is to snorkel the world. Her favorite downtime activity is cuddling on the couch with her husband and kitty.