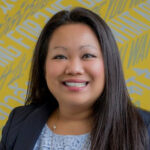 Naomi Sigg
Director, Office of Multicultural Affairs, Case Western Reserve University
Naomi plays a major role in the development of diversity, equity, and inclusion initiatives on campus. She serves as the Co-Chair of the Student Life Diversity, Equity, and Inclusion Committee, founding member of the APIDA Task Force, and serves on several university committees including the Diversity Leadership Council, the President's Advisory Council on Minorities, and Alianza Latina/Latino Alliance, the Latinx employee resource group. Naomi is a certified Green Dot Facilitator, Sustained Dialogue Moderator, and recently completed a Certificate in Diversity, Equity, and Inclusion in the Workplace. 
During her tenure at CWRU, Naomi, along with her team, developed the three-hour Diversity 360 educational module for undergraduate and graduate students which serves as a common experience, setting a foundation for key identity, diversity, equity, and inclusion concepts. The program is facilitated by over 150 trained faculty, staff, and students. To date, over 10,000 students have been through the program. 
As a strong advocate for underrepresented and marginalized communities, Naomi collaborated with students in the creation of several new organizations including, the Undergraduate Diversity Collaborative, the Black Student Union, Voices: A Women of Color Collaborative and the Indigenous Alliance for Native American and Indigenous communities on campus. She often presents her work at regional and national conferences, including the International Conference on Conflict Resolution and Education, the National Conference on Race and Ethnicity (NCORE), the American College Personnel Association (ACPA), the Midwest Asian American Students Union (MAASU), and the Ohio Consortium for Multicultural Centers in Higher Education (OCMCHE). In 2015, she was the recipient of the Mather Spotlight Award presented by the Flora Stone Mather Center for Women, the awardee of the 2017-2018 Ohio College Personnel Association's Equity and Inclusion Award, and along with colleagues from Case Western Reserve University she received the National Dialogue Award presented by the Sustained Dialogue International Institute. 
Naomi earned both her undergraduate and graduate degrees at Miami University in Oxford, Ohio. Outside of work, she is a mother of three brilliant and curious children who continue to keep her occupied as they discover the world through books, adventures at local parks and museums, and various foodie destinations.