Grow your skillset in managing the difficult people who can make leadership so hard.  
Overview
Join us online for a 4-week bootcamp where you will learn how to intervene and correct the most problematic performance and behavior within your team.  You will be introduced to the EM & EM model, which includes four increasingly authoritative steps intended to engage, set expectations for behavioral change, communicate consequences for non-compliance and minimize the ill effects of bad behaviors on others.  We will also address the unique aspects of higher-education culture that complicate employee oversight, including tenure, union contracts, and ill-defined leadership structures.
This bootcamp will provide multiple opportunities to apply this model to your unique context and allow you to practice these difficult conversations with other leaders experiencing similar challenges.  You'll be encouraged to bring your most difficult personnel scenarios to the group for practice and feedback.  Throughout the bootcamp, you'll also develop an intervention plan specific to the challenging people you're managing. It documents how the EM & EM model can help you customize your approach to your toughest situation.  You'll walk away from this bootcamp feeling more comfortable, confident, and ready to take on your most difficult conversations.
A Highly Personalized Experience
Your registration for this bootcamp includes a small group session with Dr. Jeanne Hey, who has extensive experience in higher education leadership. A hallmark of the Academic Impressions bootcamp experience, the individual attention in this meeting will allow you time to dig deeper into specific challenges you may be facing. To preserve the intimate and interactive nature of this training, the bootcamp is limited to 24 participants. Register early to reserve your spot! 
This online bootcamp consists of
Four live online sessions, happening weekly. Each session is facilitated by our expert instructor to help you understand each step of this management model.
Short assignments that you may be asked to complete between meetings to practice and prepare for the next session (approximately 30 minutes to one hour per week).
A small-group feedback session as an opportunity to share one of the toughest challenges you face, and to workshop solutions with your instructor and peers.
A unique intervention plan that you'll create during the bootcamp as a way to provide you direction on how to implement the model moving forward.
Who Should Attend
This program is aimed at supervisors, managers, and leaders from all levels in higher education. These include but are not limited to associate directors, directors, department chairs, deans, associate deans, vice presidents, and associate vice presidents. Perhaps you are a(n):
Department chair with an assistant professor trying to make tenure who's fully focused on research and neglecting their teaching duties
Dean facing a faculty member who disrupts meetings to vent about a policy which they encourage others to disregard.
Director or AVP with a long-standing team member who consistently undermines efforts to innovate or change.
Vice President with a direct report who is bullying others, though not necessarily violating policy.
No matter where you work on campus, if you're looking for new strategies to help you gain confidence in communicating with your most challenging team members, this bootcamp is for you.
Follow Through With Success Coaching
Have you ever gone to a training only to find that you came back with great ideas but don't have the time, support, or skills needed to make the changes?
Academic Impressions has produced thousands of trainings and we have learned that utilizing a coach after attending a program helps provide accountability and bridges the training with the on-the-ground work of getting the job done.
As a result, we are now offering success coaching on select programs.
Purchase this training + 3 one hour follow up success coaching calls
Work with an assigned coach who has extensive experience in higher ed.
Get individualized support to help you follow through on what you've learned.
Workshop your plans, run your ideas by someone and get additional help/practice.
To get success coaching, simply purchase the Bootcamp and add Success Coaching during registration.
Hear About the Bootcamp Experience
November 17 – December 15, 2021
Individual Dates: November 17, December 1, 8, and 15
Each session of the bootcamp maps to one of the four steps of the EM & EM Model:
Engagement
Management
Enforcement
Marginalization
---
Session 1 | Engagement
November 17, 2021 | 1:00 – 3:00 p.m. ET  
During the first session of this course, we'll introduce the EM&EM model for supervising challenging individuals on your team.  We'll then dive deep into the first step of the model: engagement. In this step you'll practice how to:
Clearly articulate the problem
Actively listen
Acknowledge others' perspectives
Set standards and expectations for behavioral change
Schedule follow-up and offer support
---
Session 2 | Management
December 1, 2021 | 1:00 – 3:00 p.m. ET 
When handled thoughtfully, many situations can be resolved at the engagement stage. However, when this proves ineffective, the next step is management. During this second session, you'll strategize how to rearticulate the problem with a stronger emphasis on expectations, building upon the methods employed during engagement.
---
Session 3 | Enforcement
December 8, 2021 | 1:00 – 3:00 p.m. ET 
If engagement and management fail to address performance or conduct, the final chance for behavior change is the third step: enforcement. Enforcement requires you to establish expectations and consequences for non-compliance. These are the thorniest aspects of the process and so easy to get wrong, so we will engage in plenty of practice.
During this session we'll spend time discussing when and how to:
Involve Human Resources
Develop a behavior modification plan
Facilitate a formal meeting to address the concerns
Document the process
---
Session 4 | Marginalization
December 15, 2021 | 1:00 – 3:00 p.m. ET 
In the event circumstances make it impossible for you to take effective disciplinary action or that's not the appropriate next step, your last resort is to minimize or remove the impact of the negative conduct on others. We'll discuss when this is appropriate and strategies to support your community.
Jeanne A.K. Hey, Ph.D.
Leadership Development Specialist
Jeanne has over thirty years' experience in academia. She specializes in developing materials and programs for emerging and experienced leaders in higher education. At the University of New England in southern Maine, she served as Dean of the College of Arts and Sciences for eight years before finishing her university service as Associate Provost for Student Success. Before that, Jeanne served Miami University (Oxford, OH) for 19 years. There she served in roles including Interim Dean and Executive Director of Miami's Middletown Campus, Director of International Studies, and Professor of Political Science and International Studies.
Questions About the Event?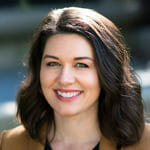 Jess Landis
Learning & Development Manager,
Academic Impressions