Join your peers and our experts for an engaged dialogue about personnel considerations and employee policies for fall reopening.
Overview
Many colleges and universities are grappling with how best to handle personnel-related decisions in connection with fall semester plans. Human resources, finance, and administration professionals are constantly balancing employees' fears and concerns about returning to campus with institutional obligations and liabilities. At the same time, these teams must also craft new policies that reflect current realities. Add in considerations around cross-training, reallocation of staff time, and support for managers, and it is quite a heavy lift.
This training will help you work through the many employee-related decisions you have to make by connecting you with peers to discuss, brainstorm, and share your best current thinking. You will hear from two experts about their plans and work in small groups to discover what your colleagues are doing to tackle questions around working in a hybrid in-person/remote environment, how to handle childcare challenges, and how to best support managers.
Who Should Attend
This training will benefit human resources, finance, and administration professionals. Institutional leaders who are serving on task forces or planning committees related to the fall 2020 reopening of campus may also benefit.
The Academic Impressions Virtual Workshop Experience
There is no one-size-fits-all when it comes to exploring responsive issues in higher education. Our virtual workshops provide you with an active learning environment and an online space where you can explore ideas, get inspired by what your peers are doing, and understand the range of possibilities around a certain topic. Depending on what you need to solve a specific challenge at your institution, you will have the chance to gain ideas, plans, refinements, or connections with those undergoing the same challenges as you. You will leave these sessions with practical solutions that you can take back to your team or task force.
What you will get:
Learn from what your peers are doing across the nation
Gather unique and creative approaches that you may not have thought about
Validate and vet plans and priorities
Contribute your ideas and help shape the conversation
Get work done in a space that's designed to help you reflect, be creative, and maintain focus on the issue
Connect with subject matter experts who steer the conversation and add value
Experience expert facilitation to ensure practical outcomes and takeaways
As the coronavirus pandemic unfolds nationally, it is so important to keep connecting and networking with your peers - at a "social distance" - and to keep learning and developing as higher-ed leaders and professionals. Don't let social distancing and quarantines prevent you from setting aside time for professional development. Everything is changing so fast; more than ever, we need to be pooling our resources and knowledge and finding the best ways to develop our capacity, connect and share with each other, and move forward during a challenging time.
June 15, 2020
12:30 - 3:30 p.m. Eastern Time
In this three-hour virtual session, you will have an opportunity to vet your plans around the following considerations:
Composition of the Workforce
Decision-making about which employees will work on campus vs. remotely
Balancing employee fears about returning to work with current realities and institutional liabilities
The role and influence of collective bargaining agreements in the decision-making process
---
Roles and Productivity
Creating or revising policies around things like childcare and childcare-related absences
Cross-training of staff
Reallocation of employee time for positions that become less relevant or not needed come fall
---
Support for Managers
Strategies for supporting the emotional health and well-being of managers
Increased guidance and training to help managers continue to navigate the increased complexity of people management during this time
Stacey Deboise Luster
Assistant Vice President for Human Resources, Payroll, and Affirmative Action and Equal Opportunity, Worcester State University
Stacey Luster is 3rd generation Worcesterite, who secured her place in Worcester's history by becoming the only African-American woman to be elected to the Worcester City Council. Stacey is a proud graduate of the Worcester Public Schools. She went on to graduate from St. John's University in New York, Boston University School of Law, and she is admitted to practice law in the Commonwealth of Massachusetts.
Adrienne D. Harrell
Learning & Talent Development Manager, University of California, Santa Cruz
In her current role, Adrienne creates avenues for people to learn and grow. She believes that education transforms lives and throughout her 30 years of service primarily in Higher Education, her professional expertise and personal commitment to creating educational access and opportunity, especially for those from underrepresented communities continues to be realized. Adrienne carries a light of hope that shines as she works, so that the path is visible to those who follow in the pursuit of excellence. 
ACADEMIC IMPRESSIONS MEMBERS
Get access to THIS virtual training only.
Get this + 100s more FREE with membership!
Questions About the Event?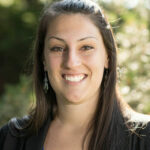 Sarah Seigle Peatman
Director of Research, Academic Impressions