Learn a collaborative way to measure and support your corporate engagement efforts.
Effective corporate engagement efforts are hard to quantify, especially because the cycle of relationship development can take a long time. Measuring success by dollars in the door is clear-cut but also not representative of the relationship as a whole. Fairleigh Dickinson University has developed an approach to their metrics that are needed to motivate, track, and monitor corporate engagement.
Join us for this webcast and learn how FDU has established and used team metrics in a collaborative way to support their corporate engagement goals. You'll gain insights into how this structure promotes accountability as well as motivates and enables their team to progress and move forward. You will leave this webcast with tools and ideas that you can adapt for defining and measuring your own efforts.
Who Should Attend
Leaders and decision makers in corporate engagement and foundation relations will benefit from this content. Stakeholders interested in creating a more productive process for corporate engagement and who are responsible for communicating progress and metrics to institutional leaders will also benefit.
Agenda
Step 1: Your Guiding Strategy
What are you trying to accomplish and what are some ways you can define your strategy to inform your success metrics?
Step 2:  Cultivating Ownership for Success  
Who is responsible for meeting the objectives of your strategic plan? How does accountability drive performance? How do you consistently monitor progress?
Step 3: Your Data Landscape
What qualitative and quantitative data is worth tracking and reporting, and what are the best practices to do this?
Step 4: Monitoring Progress
What kind of support do you and your staff need to ensure you're doing what you need to do to reach your goals?
Instructor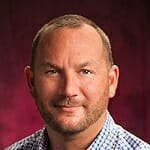 Christopher S. Groff
Assistant Vice President, Corporate and Foundation Relations, Office of University Advancement, Fairleigh Dickinson University
Chris manages the CFR philanthropic planning, research, and stewardship process for all Fairleigh Dickinson campuses. His work and leadership have successfully led to an increase in the number of strategic corporate partnerships and grants dollars at FDU since 2004. Chris previously held the position of Director of Corporate and Foundation Relations at Rutgers, The State University of New Jersey, and has a background in public policy, public relations, and marketing. A frequent regional and national speaker, Chris is also a lecturer in communications.
Questions about this webcast? Email us.
Product Information
For the live webcast, login instructions for the webcast will be sent twice via email – in the registration confirmation email, and again the day before the webcast. Please whitelist webcasts@academicimpressions.com to ensure you receive these communications.
For webcast recordings, your recording is sent via email upon receipt of payment and within 10 business days following the live webcast. You will also be able to access your recording through your My Account section.