Strengthen the strategy behind your impact reports.
Impact reports can be one of your most valuable donor stewardship and cultivation tools, but often shops lack an overall strategy to implement them correctly.
No matter the size of your shop, you will leave this webcast with strategies for planning and scaling the work of impact reports in order to more effectively steward donors' gifts and see how you're helping propel them to their next giving level.
A Training for Any Shop, No Matter Your Size or Resources
If you are a one-person shop trying to create impact reports, you will learn how to streamline your information gathering and distribution of your broad-based impact reports. If you are a part of a larger shop, you will learn how to effectively build your infrastructure to take your reports to the next level of impact. We will talk through how to strategize your impact reporting process: how you can develop effective, baseline reports and take them to the next level.
Agenda
Building Infrastructure and Refining Process
Tiering and Scaling Your Effort
Metrics to Demonstrate ROI
Instructor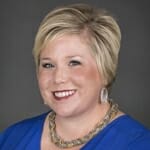 Sarah E. Sims, CFRE
Executive Director of Donor Relations, University of Florida
Sarah has been responsible for building new and innovative donor relations programs from the ground up at three different higher education institutions and now heads the donor relations team at the University of Florida as they embark on the University's first $3B capital campaign. Read Sarah's full bio here.
Questions About the Event? Email this event's Program Manager, Christine Murphy.
Product Information
What's included in your purchase?
Live webcast session – a live presentation where you have the chance to ask questions and get personalized answers from our expert speakers. You must purchase the product prior to the live date in order to attend the live session.
Webcast recording – a recording of our live session that you can access anywhere, anytime.
For more details about this product, please visit our Product FAQs.