Academic Impressions prepares and empowers higher education administrators and faculty to lead meaningful change at their institutions.
---
We Live and Breathe Higher Ed.
Academic Impressions serves colleges and universities through conferences, webcasts, publications, and membership. Each year we conduct thousands of hours of research and network with hundreds of experts to uncover the most innovative and impactful practices in areas like student enrollment and learning, faculty support and engagement, alumni and donor support, and increasing organizational productivity. Our highly focused and practical training sessions prepare and empower higher education administrators and faculty to effect meaningful change at their institutions.
Check out our featured case studies to see how institutions of every size put our training into action and positively impact higher education.
---
What Makes Academic Impressions Different?
Academic Impressions offers professional development opportunities that are rooted in practical application and delivered by vetted experts. The topics are needs driven and based on research with practitioners in the field. By attending a webcast or conference you will walk away with practical, hands on knowledge that will make a direct impact in your role and institution.
Don't just take our word for it, listen to past attendees.
Nine out of ten participants recommend Academic Impressions webcasts to their colleagues.
96% of past attendees would recommend an AI conference to a colleague.
---
What can you do with Academic Impressions?
Designed as work and learn events with a combination of presentations and working sessions, you will leave armed with plans, checklists, and other tools you can put into play as soon as you return to your campus. Most events are designed to support attendance of all of your stakeholders. Bring your team to ensure integration of ideas and implementation when you return to campus.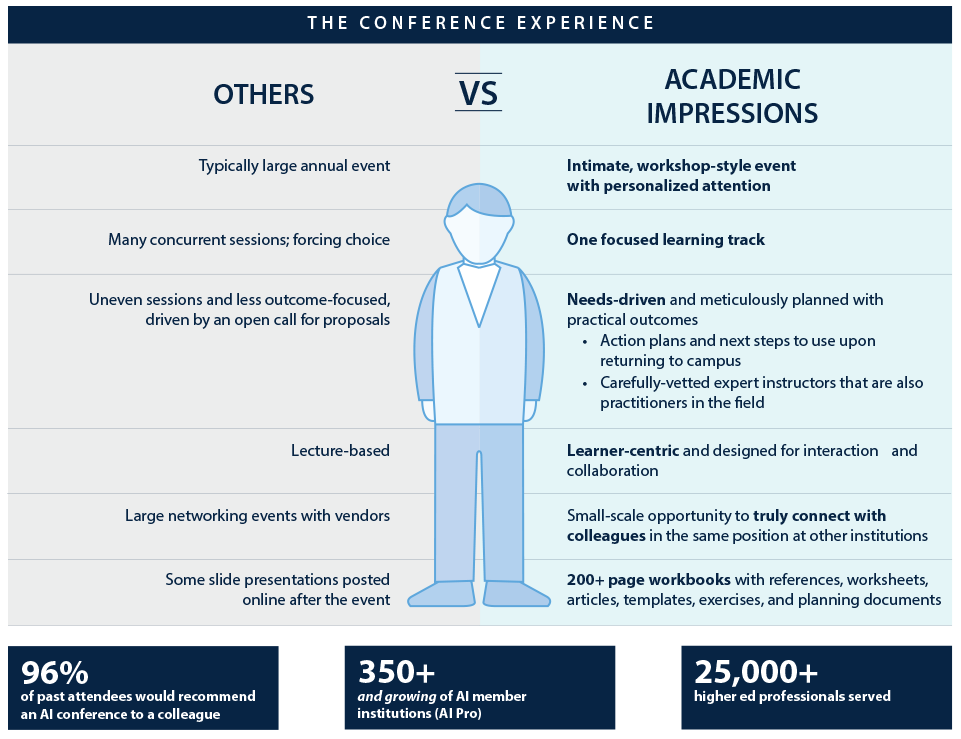 Get practical advice and strategies from vetted experts. All online trainings are research-based and needs-driven with practitioners in the field. Get your questions answered. During our online training, all of your questions will be answered.If time doesn't allow, we will follow up with you. Getting immediate impact and answers make our trainings a smart investment.
Get your team on the same page and moving in the same direction quickly. We have a network of over 500 higher ed experts and facilitators to ensure your institutional/departmental workshop will be delivered and facilitated by the best.Your workshop will be customized to your unique training needs and will be facilitated to ensure the outcome is highly practical, actionable, and owned by key stakeholders. Bringing a training to your campus is a great solution for a shared experience with a larger team.
Become a member and access hundreds of exclusive samples, tools, templates, planning guides, articles, papers and case studies we've curated from hundreds of institutions. Depending on level of membership (in-person, online-only, or a custom combination), you can get exactly the combination of training, resources, and support you need to move your team and your priorities forward.