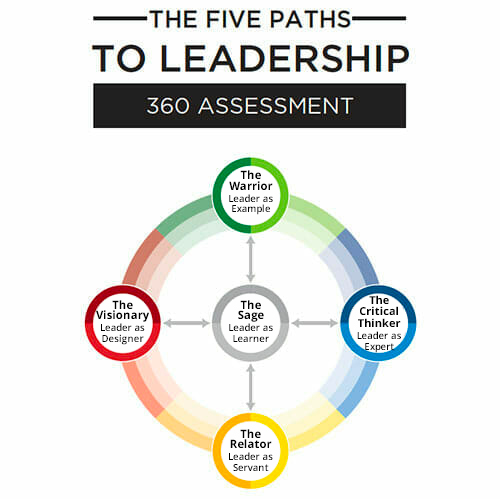 The Five Paths of Leadership 360 is designed to be a tool that you can use to improve your leadership effectiveness.
Leaders vary widely in style and approach, and The Five Paths of Leadership 360 incorporates multiple measures to ensure that you receive a comprehensive assessment.
This assessment is a unique and highly-individualized experience and is done in consultation with our experts. It is important that a 360 assessment be conducted with an experienced practitioner. This can be someone on your campus, or through consultation with one of our experts. You will receive the assessment, personalized guidance on how to complete the it, and consultation on how to best interpret your results.
The Five Paths of Leadership 360 includes 78 items that measure leadership skills based on your self-assessment, and the respondent scores. As a feedback instrument, this report is designed to clarify how the people around you perceive your behavior and skills. For this reason, your self-scores and respondent scores are displayed in the report separately, allowing you to compare your perception of your behavior to your respondents' perceptions.
The 5 The Five Paths of Leadership 360 is based on research at Cornell University's Johnson School and measures your leadership skills and behaviors along five dimensions comprised of twenty-two competencies.
This 360 assessment is an important investment and commitment for interested leaders.
Participation and purchase requires an information session
to discuss the assessment process and implications for completion.