by Jim Langley (Langley Innovations)
Quickly establishing a rapport with a new president is of immense importance to an advancement leader. If a shared sense of purpose and a framework of collaboration are established between the two of you in the first month of a new presidency, the institution can soar to new heights.
But if this groundwork isn't established, missteps and misunderstandings can accrue and result in heightened tension, mistrust, and, ultimately, turnover in advancement leadership.
Advancement leaders can help establish that rapport by asking their new presidents some very strategic questions.
The Right Questions to Ask
These questions include:
1. Who were your mentors or the leaders who inspired you? What in particular did you admire most about them?
Why this is the right question:
The answer will provide you real insight into the president's leadership style and allow you to mesh your style with his or hers.
2. What information would be most helpful for my staff and I to bring back as we interact with alumni, parents and other key constituents? Are there questions that you would like us to be asking these constituents on your behalf?
Why this is the right question:
This question will help the new president understand that advancement can be an effective disseminator of critical information – if kept informed – and that development officers can serve as gleaners of strategic information as to how the new administration is being received and perceived.
3. Is there a particular time of day that you reserve for "thinking time"?
Why this is the right question:
The circadian rhythms of every leader are different. Don't expect your new president to be like the last one – or to be like you. When you show respect for their need to reflect and recharge, this is likely to be greatly appreciated.
4. How often would you like to receive progress reports or briefings from my office? What's the ideal length for such a report? Are there models that you have used before?
Why this is the right question:
Many advancement leaders inundate their presidents with information, some of which may constitute "inside baseball" and not be as strategic or concise as some presidents may want. Making sure that presidents get what they want, when they want it, in the form they want it, is key to cementing a trusting relationship.
5. Do you have a good memory for names or bios, or both?
Why this is the right question:
Find out the best way you can help your president in social settings and in meetings with key constituents. For example:
If your president struggles with names, be the first one to greet the constituent by name (as in, "Ken, so nice to see you").
If your president remembers names but struggles to recall the person's line of work or connection to the institution, find a way to introduce biographical tidbits early in the conversation (as in "Delores, we miss your participation on the Foundation board" or "Wanda, how's your daughter's freshman experience so far?")
Tossing your president timely clues will allow him or her to gracefully pick up on the conversation.
6. Are there particular goals that you would like to reach in your first 100 days? Your first six months? Your first year?
Why this is the right question:
Position yourself as committed to helping the president achieve his or her goals. Demonstrate that you have them always in mind. Demonstrate how you are lending your support and that of your office to their achievement. These demonstrations of support will assure the president that you are working from a common agenda.
Asking these six questions early will  ensure that you and your new president start your relationship on sound footing, and will help you reach the most productive outcomes quickly.
More from Jim Langley
Jim Langley is the author of a series of powerful fundraising guides for campus leaders: Fundraising for Presidents, Fundraising for Deans, Fundraising for Boards, and Comprehensive Fundraising Campaigns.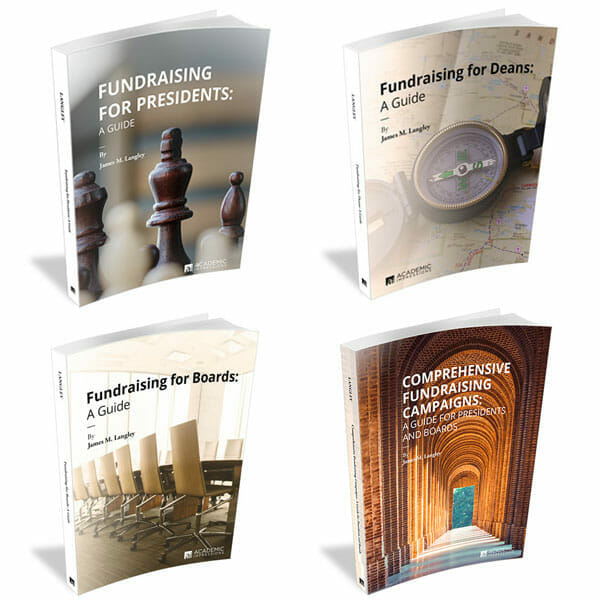 "This is is a treasure trove of great advice, forward-thinking reflections, and the tough, but much needed questions that presidents, boards, vice presidents and deans need to ask one another before embarking on a fundraising campaign."
Matthew T. Lambert, Vice President for University Advancement, William & Mary