Take a 360° assessment of your leadership and prepare yourself to better lead at your institution.
Overview
Join us for an intensive online leadership development bootcamp designed specifically for higher education. This comprehensive, robust, and practical training is facilitated by a leadership development expert. As a part of this unique leadership training, you will:
Complete a 360° assessment and will work in peer-to-peer coaching teams
Receive one-on-one coaching with the program facilitators
Master skills in four areas of leadership: personal, interpersonal, team, and systems
Learn alongside peers from across the enterprise of higher education
Participate in interactive and experiential sessions to assess and develop your leadership style
Build a toolkit of leadership techniques and frameworks that you can use immediately
Develop a leadership portfolio with your strengths and challenges, goals, values, and reflections
This virtual bootcamp will consist of four online modules:
Discovering Leadership and Self Awareness, Wednesday, September 30, 1:00 – 4:00 p.m. EST
Achieving Agreements: Interpersonal Mastery, Wednesday, October 14, 1:00 – 4:00 p.m. EST
Expanding Interpersonal Influence: Team Building and Leading Change, Wednesday, October 21, 1:00 – 4:00 p.m. EST
Developing Your Personal Leadership Development Plan, Wednesday, October 28, 1:00 – 4:00 p.m. EST
Between each of online module, you will meet with your peer-to-peer coaching teams at a mutually agreed time.
Overview
Given the intensive nature of the program, middle and senior managers who have experience leading teams or units will benefit from attending. We have intentionally designed this program for administrators across the institution including those on the academic side, such as deans and provosts.
If you have questions about this online program, please contact:
360-Degree Assessment
One of the highlights of this program is the opportunity to complete a 360° evaluation. Once you register, we will email you with detailed instructions on how to complete the assessment. Your results will be delivered to you during the workshop, and you'll have an opportunity for a personalized coaching session with one of the program facilitators.
Hear From Past Participants
Over 350 professionals in higher education have gone through this leadership training. It is consistently one of our highest-rated programs and participants tell us that it is intense, illuminating, humbling, and changes the way they think about themselves as leaders. See how this program has helped others become better leaders for their institution.
The Academic Impressions Bootcamp Experience
WEEKLY VIDEO TRAININGS
You will get access to short videos that train you on key concepts each week. Watch these on your schedule.
INDIVIDUAL REFLECTION AND PRACTICE
Each video training will prompt you to practice and reflect on the skills you've learned. You will complete this practice on your own time and receive coaching and feedback from one of our instructors.
REGULAR SMALL-GROUP MEETINGS FOR ACCOUNTABILITY
In these TIP sessions (Team Up-Inform-Practice), you will discuss the weekly trainings with instructors and other participants. You'll share lessons learned and have additional opportunities for practice through guided role-plays, case studies, and activities.
NETWORK AND COMMUNITY
You'll receive access to a social media group where you can regularly ask questions, share challenges, and exchange resources.
Your registration fee includes full access to all online sessions and materials.
Module 1: Discovering Leadership and Self Awareness
Wednesday, September 30, 1:00 – 4:00 p.m. EST
Purposes and Principles
We will begin by reviewing the program's outcomes and underlying principles.
---
Five Steps of Leadership Development
Drawing on an action learning perspective, we will explore an overview of how leadership is developed and define the difference between leadership and management. As an initial contribution to your leadership portfolio, you will prepare a personal definition of leadership and a preliminary assessment of your strengths and challenges relative to that definition.
---
Accountability vs. Empowerment
We will explore the situational, motivational, and influential differences between accountability and empowerment. We will then draw distinctions between transactional and transformational leadership.
---
Thinking Styles Inventory
Understanding the diverse thinking styles of others provides insight into how to lead them effectively. Using a validated assessment that identifies four primary thinking styles, you will uncover your dominant style of thinking and problem solving, and discuss how this can and should influence your leadership style.
---
Leadership Derailment
Research by the Center for Creative Leadership has identified several factors that can derail leaders and limit their effectiveness. Our facilitators will share these factors and strategies for mitigating them.
---
5 Paths to Leadership
In addition to understanding the way you think and solve problems, as a leader, you must understand how your own behaviors impact those around you. During this session, you'll take an assessment that will divulge your operating style and its impact on others. Our facilitators will offer suggestions for mitigating the effects of overused strengths and for overcoming challenges created by shortfalls in other areas.
---
360° Assessment
Receiving feedback from others is a critical aspect of continually improving your effectiveness as a leader. Prior to the program, you will complete an online 360° assessment. In this session, the facilitators will share these assessments and help you interpret your results. After some time to review results, the facilitators will divide your cohort into small groups and facilitate a discussion on how to identify goals and strategies based on the feedback received.
---
Overview to Peer Coaching Teams
At the close of our 1st module, we will set up the peer coaching teams. You will have the opportunity to meet with your team to establish a mutually convenient time to meet between the online modules.
---
Module 2: Achieving Agreements: Interpersonal Mastery
Wednesday, October 14, 1:00 – 4:00 p.m. EST
Dialogue: A Tool for Conducting Difficult Conversations
When delivering feedback, entering a negotiation, or whenever there is conflict, the stakes are usually high. You will explore common pitfalls and learn principles for conducting difficult conversations.
---
Listening and Leading
We will practice the essential skills of listening and advocacy and apply these principles to leading up (managing your boss), leading down (supervising your direct reports), and leading sideways and across (influencing peers).
---
Developing Emotional Intelligence
Drawing on a framework for emotional intelligence, we will re-examine feedback from your 360° assessment in relation to self-management and being aware of and managing triggers.
---
Your Leadership Portfolio
You will continue to integrate your learning to further develop and refine your leadership portfolio.
---
Module 3: Expanding Interpersonal Influence: Team Building and Leading Change
Wednesday, October 21, 1:00 – 4:00 p.m. EST
Analyzing Effective Teams
Using a published assessment tool, you will diagnose the effectiveness of your teams in several critical areas of performance including leadership, results orientation, group climate, communication, and assessment. You will identify areas of needed development along with principles and strategies you can employ when returning to campus and working with new and existing teams.
---
Adopting a Systems-Thinking Approach
The ability to adopt a systems-thinking approach is an important skill for leading any team or organization. We will explore the distinctions between a defensive and adaptive organization, and the leadership skills needed to effectively navigate systems-wide challenges and opportunities.
---
Principles for Leading Change
Building on a systems-wide approach, we explore the principles and pitfalls of leading change with a team or an organization. Change is hard under the best of circumstances but engaging and mobilizing others is essential. We'll explore ways to engage large groups of people in meetings to gather data, diagnose challenges, and develop shared goals.
---
Your Leadership Portfolio
You will continue to integrate your learning to further develop and refine your leadership portfolio.
---
Module 4: Developing your Personal Development Leadership Plan
Wednesday, October 28, 1:00 – 4:00 p.m. EST
Personal Empowerment
We will explore the distinctions between victor and victim, as well as how this affects your leadership engagement in teams and organizations.
---
Mastery: The Foundation of an Authentic Leader
In this session, building on your personal definition of leadership, you will develop a personal mission and vision statement to articulate your personal values. These ideas provide an anchor for leaders and enable authentic actions and decisions across your personal and professional domains.
---
Reflective Space: Learning Plan Development
As the program draws to a close, you will reflect on your 360° and explore ways to integrate your feedback into personal and professional leadership goals. You will also have the opportunity to reflect on the last three modules and distill the most important lessons and takeaways about leadership of self, others, and organizations.
---
Reflective Space: Peer Coaching Teams
You will work in your peer coaching teams to create personal developmental plans. The teams will also learn how to work together following the program and make their initial commitments to one another.
---
Final Q&A and Program Wrap-up
Clint Sidle
Lecturer, Cornell University
In addition to his current position at Cornell, Clint Sidle is the Immediate Past Director, Roy H. Park Leadership Fellows Program, Johnson Graduate School of Management. He is widely sought as a keynote speaker and consultant in leadership development, executive coaching, and managing strategic change. He has worked with Fortune 500 companies, state and local educational systems, and some of the nation's leading universities and nonprofit organizations.
His leadership program in the Johnson School at Cornell has earned national recognition as a unique and powerful contribution to management education. His developmental approach is based on a unique experiential learning model that is the topic of his book The Leadership Wheel: Five Steps to Achieving Individual and Organizational Greatness released in September 2005. He elaborates on the inner aspect of leadership development in his most recent book, This Hungry Spirit: Your Need for Basic Goodness, published in December 2009.
The cap for this event has been reached and registration is now closed. Check back later for future training dates.
Questions About the Event?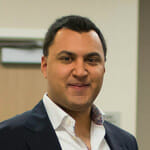 Amit Mrig
President, Academic Impressions
*All-inclusive members receive $250 off of conference registrations (in addition to the early bird discount if applicable). Academic Affairs, Advancement/Alumni Relations, Business Office, Enrollment Management, Student Affairs, and Leadership members will continue to receive $100 off conference registrations. Upgrade your membership to qualify for a higher discount. Please note this discount is not applicable on pre- or post-conference workshops or conference binders.