Meet the women leading higher education.
While women have consistently earned the majority of advanced degrees, they remain underrepresented and underpaid in higher education leadership positions. The pandemic exacerbated work and personal demands on many women who are caretakers, stress has increased, job satisfaction has decreased, advancement opportunities are limited, and harassment and microaggressions are on the rise. Being a woman is not easy—let alone being a woman leader in higher education navigating the challenges of leadership and the ever-evolving landscape of higher education. Yet there are extraordinary women doing it every day. This series will pull back the curtain and provide the opportunity to meet these women in conversation to learn how they've navigated leadership and provide space for discussion and community building.
Whether you are looking to develop your own leadership skills, plan for career growth, or create equitable and inclusive environments where women leaders can thrive, this series is for you. Through interviews with current women leaders in higher education, we'll explore how you can:
Increase the representation and advancement of women in leadership by hiring inclusively.
Enhance your own leadership skills to help you strengthen your self-awareness.
Influence others and navigate politics.
Create lasting change across campus.
Carve out an intentional path for what's next in your career.
We'll also explore the more personal and challenging sides of leadership that don't always fit nicely onto PowerPoint slides. You'll walk away from these conversations with meaningful takeaways and a greater understanding of the human side of leadership.
This series consists of one-hour discussions with women who are leaders in higher education. Each discussion will highlight a different leader and topic. You may choose to attend some or all of the discussion sessions.
Building and Sustaining Key Relationships: A Conversation with Executive Women Leaders
December 11, 2023 | 1:00 pm - 2:00 pm ET
A President and CFO reflect on what made their partnership successful and sustaining.
Questions About the Event?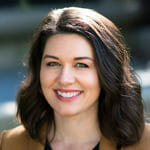 Jess Landis
Senior Learning & Development Manager, Academic Impressions