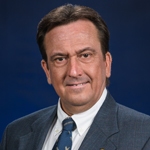 by Len Brazis, Director of Strategic Planning and Analysis,
Embry-Riddle Aeronautical University
Here at Embry-Riddle, the adoption of Activity Based Costing (ABC) principles has been an evolutionary process that began on one of our residential campuses in the Fall of 2010. That campus had just finished a fiscal year with a negative operating margin of $3.3 million. A new Chancellor was installed and had been charged by the President to cut about 100 positions, eliminate at least 5 unprofitable degree programs, and cut costs operationally wherever he could to turn the campus around.  He tapped me immediately to fly out and provide him with guidance that would enable him to accomplish his charge and return to our President at the time with a strategy to turn the campus around.
Understanding that I could never overcome in short order our established accrual-based accounting process, I immediately set out developing a standalone model that was grounded in ABC principles. After three days of nearly around-the-clock work, we had a new model that provided so much clarity for the new Chancellor that he immediately saw flaws in his charge. What resulted was: no program closures, only about 50 positions eliminated, expansion of student services programs intended to improve quality of life for students on the campus, investment in faculty and staff development, and a self-sustaining financial performance that ended that fiscal year with a positive $500K operating margin.
The philosophy, of course, is only one piece of the puzzle, but its continued practice has resulted in operating margins for the campus that have increased every year since. That campus finished FY16 with a positive operating margin of $13.8 million. This success would not have been possible without ABC at the foundation of our model. That approach has now spread to our main residential campus and our Worldwide Campus operations.
---
We hope you're enjoying this read. The full text of this article or report is complimentary for our Daily Pulse subscribers. Please login to read it!
ARE YOU A NEW READER?
Get hundreds of articles and reports like this one — Please sign up to have your Daily Pulse and other updates from Academic Impressions delivered to your inbox.
Daily Pulse is a curated email digest of practical strategies, timely research reports, and current events in higher ed. You'll also get periodic updates about our upcoming events and other services, as well as free access to hundreds of articles on this site.
We are excited to bring you the most critical updates and reports in higher education. Thank you for your interest!