by Michelle Sponholz (Academic Impressions) and Mary Bohlig (University of Utah)
As institutions strive for new enrollment and increased retention, it is no surprise that many institutions are focusing on recreational facilities in their immediate capital plans. If designed well, a new recreation and wellness facility will serve as more than an immediate invitation for prospective students and families. The physical, social, and communal aspects of the facility can help to boost student enrollment and improve the overall engagement across the campus community.
Recreation facilities have transformed from just places to work out to facilities that cater to the whole student. Institutions across the country are adding in wellness aspects, such as health services, counseling services, and demonstration kitchens. As institutions look at the design and construction of these facilities, some key considerations come to mind:
Institutions are designing for today's student, but also the wants and needs of future students. Facilities should be designed with flexibility and multiuse space to extend the life of the building.
Don't neglect the importance of creating a space that promotes diversity and inclusion.
It's critical to working across the institution to determine what services students will want to see in this space.
The University of Utah's new Recreation and Wellness building is an excellent example of this kind of inclusive design and comprehensive thinking. To get an inside look at the facility and its design process, we reached out to Mary Bohlig, the university's director of campus recreation services, for an interview.
Interview with Mary Bohlig
Michelle Sponholz. Mary, thanks for joining me. Can you talk a little about how to move beyond just a "space is at a premium" mindset, and design with programming and staff retention in mind?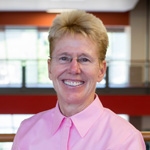 Mary Bohlig. During design, it's vital to use the feedback provided by your constituency, who will be the end users and the markers of your success. Without their contributions as a guiding principle all the best that money can buy will only provide a facility that, although spectacular in form, is devoid of meaning and provides no sense of connection for your guests.
A successful design includes not only recreation spaces that serve the varied interests of your guests, but also has an eye on fluidity between active and social exchange areas. It is often those interactions outside of the classroom or work environment that are the cornerstones to a sense of belonging. At their best, recreation centers are not simply fitness delivery buildings. Instead, through intentional design and forethought, effective facilities provide those opportunities that engage guests and develop a true and enduring community.
Michelle Sponholz. Mary, we are fascinated by the University of Utah's new Recreation and Wellness facility. What do you think is the most innovative feature of the facility?
Mary Bohlig. Although a simple concept, the application of colors materials provides even the most industrial activity areas with a sense of warmth and comfort. For example, our natatorium has multi-colored, vertically hung acoustical ceiling baffles, a floor deck of stained concrete, and a wood design feature on one wall. These elements both bring color and shrink the size of what can typically be a large and drab space. The introduction of unique finishes has created an environment that is welcoming even to those who are often intimidated by aquatic districts.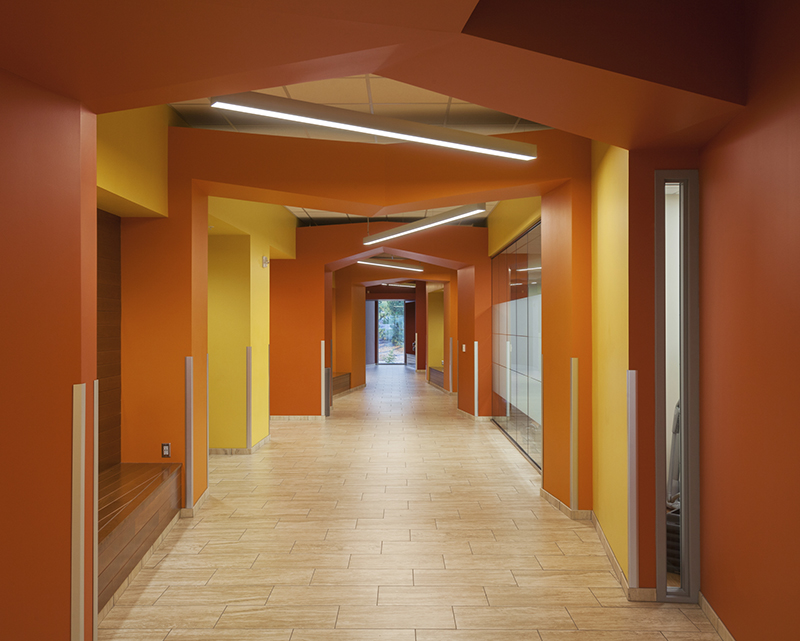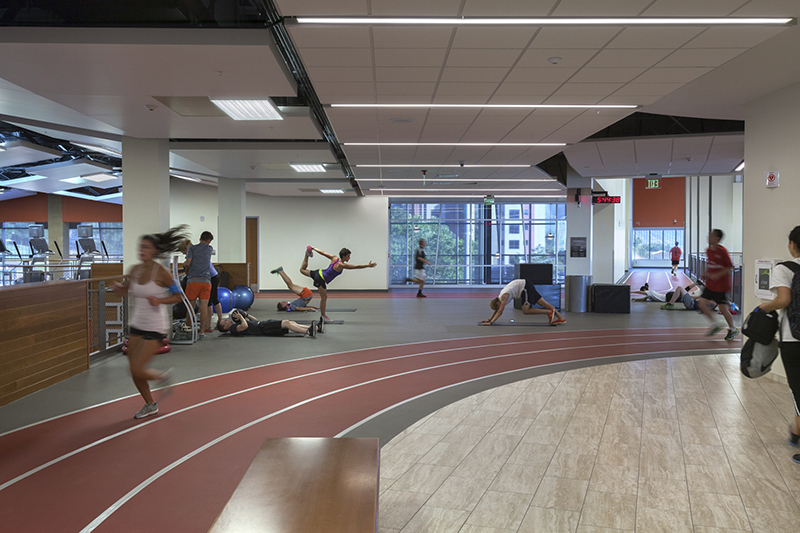 Additionally, a decision was made during design to remove two of the four racquetball courts that had been recommended in the programming phase. Not only has interest in racquetball been in decline for years, but we have a high number of student staff that are commuter students. These two courts were repurposed into a combative room for guests and a prep room, Base Camp, for our student staff. Base Camp provides student staff a space to prepare for start/end of assignments and secure storage for their personal affects, as well as a comfortable retreat while not on shift -- a place to have a meal, watch TV, study, or freshen up after a workout.
Michelle Sponholz. Could you tell us about the process of bringing other departments into the facility?
Mary Bohlig. Due to the enthusiasm generated by the George S. Eccles Student Life Center, there were multiple campus organizations that expressed interest in relocating their operations into our facility. Some were relevant, many were not. Of the selected tenants, each was evaluated on an individual basis:
Athletic Training was a natural fit since this was a service we already provided to our Sport Club athletes. This service is offered primarily in the afternoons and provides basic services such as taping, icing, assessments, rehabilitation, and referrals.
Both the Credit Union and Freshens were a nod to the concept that rather than simply a recreation center, our facility was the new center for campus life. Freshens was the selected food service, based on healthy menu selection and user feedback.
The Credit Union includes full service for loans and video tellers for financial transactions.
The Center for Student Wellness is able to backfill those services not offered by our department. Some of these include HIV/STD testing, wellness coaching, sexual assault support advocates, alcohol and substance abuse referrals, wellness presentations, and Bystander Intervention Certifications.
Michelle Sponholz. Participants at our conference will get the opportunity to visit the facility. What should they expect and what will they learn while there?
Mary Bohlig. I hope they will learn two things, particularly:
Design details matter and can make the difference between simply a showpiece versus a welcoming atmosphere. Rather than place access control turnstiles near the entrances, we intentionally left the entry level open, with comfortable seating and views into recreation areas. This allows the entire university community to join us for lunch, find a place to study, rent our outdoor gear for the weekend adventure, or find somewhere to meet up with friends between classes.
Aside from the bricks and mortar, even the most well-designed facilities won't succeed without strong operations that provide a seamless experience. For us, this is our front-line personnel of student staff, the Crimson Crew. Our hiring process emulates real world conditions and requires resumes, interviews, and extensive training.
Following this briefing on our mission and goals, we hope that the guest experience in our facility will be the best part of the conference participants' day.
Michelle Sponholz. Thank you, Mary! I'm excited to visit the facility in April at Designing a 21st Century Recreation and Wellness Facility conference.