Share this article with colleagues.
Rebel Smith
Assistant Dean for Undergraduate Programs,
John Chambers College of Business and Economics, West Virginia University

A. Graham Peace
Associate Dean for Undergraduate Programs and Academic Affairs,
John Chambers College of Business and Economics, West Virginia University
---
We oversee an undergraduate program consisting of approximately 2700 students in a typical college of business at a large, public land-grant institution. Being a business school, we constantly look for ways to adapt to the changing environment and to find opportunities to make our operations more efficient and effective. Applying these basic business principles to academia is becoming more necessary in an environment of declining student populations and increasing costs. The Covid-19 pandemic caused a major disruption in the way academia operates, and such disruptions often lead to fundamental changes in the environment in which an organization exists. Those that adapt quickly have an opportunity to take advantage of these changes, but those that assume things will "return to normal" are often left behind. You don't want to be the shop renting videotapes in the era of the internet, and you don't want to be the school focusing primarily on classes held in brick-and-mortar facilities when many of your students have spent a year taking courses online.
We were certain that the disruptions caused by the pandemic, especially a year of almost fully online instruction, would lead to changes in the educational desires of our student population, and that identifying these changes could provide opportunities to better serve our students while also delivering their education more efficiently and cost-effectively. Consequently, we surveyed our students at West Virginia University to determine their updated preferences for online vs face-to-face (F2F) education. The results of our survey indicate that on-campus students want more online synchronous options in future semesters in the business core courses, but they still prefer face-to-face options in their majors. These findings will impact the mix of face-to-face and online offerings from our college once the pandemic crisis has passed, as we attempt to provide more convenience and flexibility to our student population. We believe this is an opportunity to improve student satisfaction and gain a competitive advantage in the marketplace, while using college resources more efficiently.
We would like to share several of our survey findings with you (and describe how those findings have influenced our decisions for undergraduate programming), as you might find them useful. We urge you to consider conducting a similar survey of your own undergraduate populations. There's a risk in assuming that our students want what students in recent years have "always" wanted, or that what they think a return to "normalcy" may look like matches what decision-makers at your institution think it may look like. It's critical to ask the students and be responsive to their answers.
The disruption we've experienced over the past year
Even prior to the pandemic, more and more on-campus students were requesting asynchronous online courses (currently offered for our online majors). These options provide the ability for students to spend less time on campus, or to work more hours during the day while maintaining full-time status. Students greatly appreciate the option of attending an online class or two, along with their more traditional F2F courses. Then came the pandemic, and all classes moved online – suddenly and, in some cases, badly. The response from students was swift and brutal, but we weathered the storm and hung on for the remainder of the semester. Your institution probably faced a similar experience. During the Summer of 2020, our IT department worked tirelessly to provide training for our faculty in preparation for a fully online semester in Fall. While the Fall 2020 and Spring 2021 semesters saw improvements, there were still difficulties for both faculty and students.
Online teaching is not new to our college, but a fully online undergraduate program was a disruptive experience. We have three fully online majors at the undergraduate level, and multiple online graduate programs. However, we did not anticipate the differences in the learning experiences between students who choose to be online, and F2F students who were taking online classes against their wishes. Our fully online students need flexibility; their courses are taught asynchronously and in 8-week sessions. Given our familiarity with this format, we scheduled the majority of the Fall 2020 courses for our on-campus students to be 16-weeks in length and asynchronous. Not long after the semester started, we began to receive complaints from parents and students about their online course experience. For example:
Displeasure over paying nonresident tuition for online courses,

Frustration over "teaching ourselves,"

Lack of interaction with faculty, including response time to emails and the time it took to grade and to post grades, and
Inability to find information in our online learning system.
We listened and made changes for Spring 2021. Most classes that would have been F2F were taught in synchronous, 16-week online sessions. The adjustment was effective; we received significantly fewer complaints concerning the issues listed above, and our on-campus students appeared to be much happier with the synchronous courses.
Seniors began registering for Fall 2021 on March 22nd. Our institution decided that the Fall 2021 schedule will revert to F2F classes for on-campus students, with online classes reserved for our online-only students. However, since the majority of our students have been online for over a year, many have become comfortable with the online format, and our Undergraduate Programs office has received countless requests for online sections. Many students have also left the area and do not wish to return to campus. This has proven to be quite challenging, as there are not enough seats in our online sections for our fully online students plus our on-campus students who wish to stay online.
If the past year was disruptive for us (and for you), it has been doubly so for our students. We now realize that we need to embrace the disruption and create a new "normal," rather than keep trying to return to the way things were before Covid. As a school of business, we should be ahead of the curve in terms of innovation; we should be thinking outside of the box. If our F2F students want one or two online classes each semester, we should do what we can to meet that need.
Surveying our students to learn how their preferences have changed
In order to gain a better understanding of what our students want and of the impact of the online year, we distributed a survey via email to 2,578 on-campus undergraduate students. The survey was left open for three weeks, and 669 responses were received (a 25.95% response rate). The number of responses in each major was generally comparable to our student population, and seniors filled in the largest percentage of questionnaires, followed by juniors, sophomores and freshmen. The response rates were biased towards our better students, with almost 50% of respondents self-reporting a GPA of over 3.5, and only 20% self-reporting a GPA under 3.0. It is not surprising that the more successful students completed the survey, as they tend to be the individuals who take advantage of opportunities outside of the classroom and who participate in college events.
Our pre-business curriculum consists of eight or nine courses (depending on major); six are business (accounting, economics, and business computer applications) while the others are composition courses and applied calculus. These courses are typically completed during the first three semesters. When asked if they wanted to take pre-business courses online, the results were evenly split, with 287 responding "YES" and 287 responding "NO" (89 said "MAYBE").
Would you prefer to take some of your pre-business courses online?

However, we saw a different response when asking students about their business core courses (the typical courses taken by all students in the college and covering the major areas of finance, marketing, management, information systems, supply chain management, etc.). A clear majority of 54% responded "YES" when asked if they would prefer these courses online, with only 35% indicating that they would not. 11% were undecided.
Would you prefer to take some of your BCOR courses online?

Interestingly, we saw yet a different response when we asked about courses specific to their majors and minors, with a slim majority stating that that they would not want these courses to be online (43% "YES," 45% "NO," 12% "MAYBE").
Would you prefer to take some of your major/minor courses online?

When asked how many of their courses in a semester they would like to take online, 61% indicated 1-2 courses as their preference, with the remainder selecting a preference for an even higher number of online courses. Interestingly, almost a quarter of the students surveyed preferred to have all of their courses in an online format.
How many of your classes would you like to take online?

Finally, when it comes to the format of online courses, the majority (56%) prefer synchronous versions of their online courses, with only 35% preferring asynchronous formats. This is in line with anecdotal data received during the academic year.
Would you prefer synchronous (set day and time class meetings) or asynchronous (no set class meetings) online classes?

The findings confirmed some of our suspicions, but surprised us in other ways. While we originally thought that students would prefer asynchronous options, it was clear from our Fall 2020 experience that synchronous was what the majority wanted. This is borne out in the data. However, we felt that there would be more of a dichotomy between those students that wanted all classes online, and those that would want all courses face-to-face. This clearly does not exist. The majority of students want some courses online but not all. They still want an in-person experience, and the survey indicates that they want this in their major, not in the typical mass lecture core courses. While every school's student body is different, there are likely similar or other surprises in what your students would share with you, if you ask the questions.
These results provide guidance for increasing student satisfaction, and possibly performance and retention, in future semesters. Now that students have experienced various online options and formats out of necessity rather than choice, we will use these experiences to better tailor our offerings for students in the future. At West Virginia University, we plan to provide more online options for our on-campus students in coming semesters, starting where we can in Fall 2021, but in a more significant fashion in Spring 2022. These online courses will be 16 weeks and synchronous. Since more students would like to take business core courses online, this is a good place for us to start. The fact that there are usually more sections of these courses also makes it an easier area in which to experiment.
It should be noted that the pandemic also disrupted the working life of our faculty and staff. Employees have been working from home for over a year, and many faculty now wish to work remotely for at least some of the semester. By increasing the number of online offerings, we are also meeting the needs of our faculty and staff, as these classes can obviously be taught from anywhere. By moving to a hybrid work format, we are improving the satisfaction of employees, while also reducing the demand for physical space in our buildings.
In closing
While the last year has been more than difficult, one silver lining is the experience gained by both institutions and students regarding online learning and flexibility in course formats. We would be remiss if we did not, as educators and academics, take the opportunity to properly study what has taken place and adjust our future offerings in an effort to make the educational experience more rewarding and convenient for our students. Disruptions can be painful in the short term, but can also be areas of opportunity for forward-looking organizations that are willing to adapt.
In closing, we plan to follow-up with surveys in coming semesters, to further gather the views of students and their educational preferences. While this survey was a good starting point, we wish we had asked more detailed questions on the specific type of courses the students would prefer to take online. For example, were the core courses preferred due to the material? The class format (usually a mass lecture)? The days and times of classes? We also wish we would have asked about preferences for online course days and times. Most students prefer synchronous courses, but in the early mornings? Evenings? Online courses are not limited by classroom availability, and faculty have more flexibility in their location while teaching, so the opportunity exists to determine ideal times for these courses. Finally, we need to further study the actual learning outcomes in these courses. Meeting student preferences is ideal, but are we meeting our obligations when it comes to student learning? Convenience cannot trump our mission to educate.
As you begin the Fall 2021 semester, we would urge you to talk to your students and gather information on their preferences. For example, what is their preference, when it comes to the online/face-to-face mix? Do they have preferences in respect to the types of classes they want to take online, and do they prefer asynchronous or synchronous? It is also important to ask your faculty and administration about their capabilities in meeting these student preferences, and ensuring that learning goals are met. Education is changing, and meeting student needs will be a key factor in the success of your organization.
---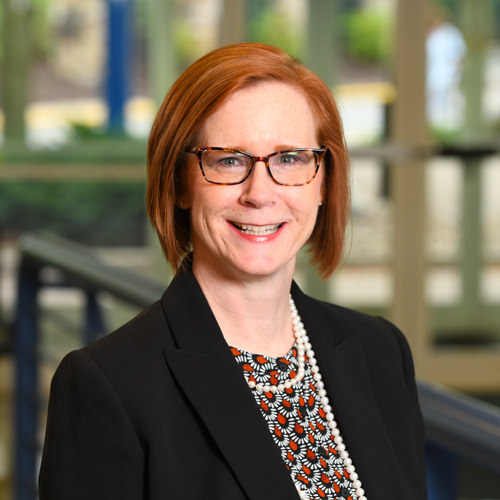 Rebel Smith is currently Assistant Dean for Undergraduate Programs for the John Chambers College of Business and Economics at West Virginia University. She is passionate about student success and focuses on recruitment and retention.
A. Graham Peace is currently Chair of the Department of Management Information Systems and an Associate Professor of MIS in the John Chambers College of Business and Economics at West Virginia University. He previously served as the Associate Dean for Undergraduate Programs and Academic Affairs, where he focused on improving the undergraduate student experience. He currently teaches and performs research in Information Ethics.