Share this article with colleagues.
By John W. Miller Jr., Ph.D., Dean of Curriculum and Senior Diversity Officer
St. Norbert College
---
This article is intended for faculty and administrators in higher education who have sought mentorship or serve as mentors to others. Specifically, I write to encourage any faculty member who has felt undervalued, overlooked, or flatly dismissed despite their talent, accomplishments, or potential. It has been well chronicled that faculty members from historically marginalized groups (people of color, women, etc.) face unique challenges (Azhar & Deloach McCutcheon; Endo). Issues of gender equity, LGBTQIA rights, and systemic racism make the path to success in the academy fraught with difficulty. Because of this reality, many aspiring leaders do not advance to leadership roles. Some are so discouraged by the internal challenges of the profession that they choose to take alternative career paths or decide to forgo any potential leadership opportunities. I write to encourage all people who may have experienced any of these challenges. Additionally, this essay is for potential allies who want to do more to help their colleagues who are experiencing difficulties but may not know how to help. Like many other big problems, my advice and encouragement for you is to consider the time you take to read the remainder of this essay a small, but important first step. As the old African proverb posits, "working together, the ants ultimately ate the elephant."
My academic career journey began in the fall of 1997. I entered college as a first-generation student excited about my future and grateful to leave my small hometown of Moncks Corner, South Carolina I was determined to do something—anything to make a difference in this world. I vividly remember how smart I thought I was and how unprepared I was for the challenges of going into the exciting, but mysterious world of higher education. Fast-forward the clock twenty-four years to 2021 and today I serve St. Norbert College (De Pere, Wisconsin) as Dean of Curriculum, Senior Diversity Officer, and Professor of Social Work. This truly has been the ride of a lifetime that's far from over, and that is what is most amazing to me. The geographic distance from Moncks Corner, SC to De Pere, WI is far, but the figurative distance is much farther than you may imagine. It is that distance I will address in this article, on how I fell upward from where I was to where I am today.
Lighting the Spark
My desire to be a leader was sparked during my first semester as a graduate student. As a Master of Social Work student at the University of South Carolina, I was thrilled to be in a class for the first time in my life that was led by someone who looked like me—an African American man. One day I mustered up the courage to express frustration to him with how I felt I was being perceived by my peers. He gave me advice that would resonate throughout the rest of my career. His advice was to "accept and harness the power of your presence." I had never had a professor or an instructor, look me in my eyes and tell me something so powerful and direct. While we did not maintain a connection beyond the one course he taught me, that professor sparked something in me that another well-positioned young, African American Assistant Professor fanned into flame. She insisted that I would apply to at least one doctoral program because "the social work community needs you." These two individuals did things for me that were not a part of any curriculum map, student success program, or special initiative that enhanced the pool of minority candidates for future faculty roles. They both affirmed me as a scholar with potential, and I will forever be grateful to them for that.
Practical Tip #1 for Allies: You can help your future colleagues fall-up into academic leadership roles by doing for your students (or junior faculty) what my mentors did for me. See them as your future replacements and affirm them as valuable and needed partners. Every student won't receive it, as I know that from my efforts to help uplift others, but those who do accept the affirmation will have an intense spark of passion flare within them that is essential for their future growth and development. This is especially important when they inevitably run into closed doors, discouragement, and in some cases, flat-out obstruction to their academic leadership aspirations. In your teaching, create assignments that allow students to speak about their career goals. Then, be intentional in giving specific and encouraging feedback to all your students that affirms the legitimacy of their ideas but also offers new ideas that may broaden their horizons and move them to an even higher level. This advice is for all faculty, not just BIPOC faculty, but I want to specifically encourage non-BIPOC faculty allies to consider these examples as tangible ways you can support students and colleagues. By telling students, for example, "I am excited about your job prospects and hope you will also consider graduate studies" could be a simple line that lets someone know you see their potential. Gentle encouragement to faculty, such as, "I admire the courage you have to share a new perspective to our department during faculty meetings; have you ever considered serving as the department chairperson?" may seem small but can have a mighty impact!
Encouragement and Action Tip for Faculty #1: Something or someone sparked your desire to move into this work, so challenge yourself to speak into the futures of others. Maximize your time with students you work closely with as well as those you have limited interactions with from class or advising. Similarly, thank your junior colleagues through emails or notes for the work they are doing to contribute to your discipline. Such a small act of kindness might, unbeknownst to you, come at a moment when they desperately need confirmation that they are at the right place at the right time (Thompson & Louque). It hurts to be seen but not heard or be "in-place" but somehow "out-of-the-loop" when decisions are made about a host of typical departmental duties that all junior faculty must navigate. If reading this reality is depressing, then imagine how it may feel to people within your network who experience it. No matter your faculty rank, embrace mentoring loops to keep your spirits up while intentionally pouring into others. Think of mentoring loops as a mechanism by which an individual provides mentoring to someone they have more experience than while also receiving mentoring from someone with more experience than them. Establishing mentoring relationships with others who are both ahead of you and behind you will allow you to simultaneously water others while being replenished yourself.
Why that "spark" matters.
My current role as Dean of Curriculum and Senior Diversity Officer covers a wide breadth of responsibilities on my campus. One initiative I am currently leading is the creation of a faculty development/cohort hiring process to recruit and retain faculty who have demonstrated a commitment to equity, diversity, inclusion, and belonging (EDIB) within their areas of expertise. Several studies have demonstrated that having a more diverse faculty leads to increased recruitment and retention of not only more diverse students but also other diverse faculty (Collins & Kritsonis; Stout et. al). This domino effect seems obvious, but despite many efforts over the past two decades to improve diversity on college campuses, wide gaps remain among white and nonwhite students and faculty (Snyder, et al.). In short, colleges and universities would be well advised to be more intentional in efforts to ensure that their campus profile is more representative of 2022 U.S. demographics. For this reason, efforts that move students into the pipeline to become future faculty members and provide mentorship and support for early-career faculty (regardless of race, ethnicity, gender, or creed) are important. Given the challenges of EDIB related issues on our campuses, it is imperative that those who are a part of any historically marginalized community receive support. As I mentioned previously, you never know how much impact seemingly small encouragements can have on the lives of our future leaders.
What Does it Mean to Fall Up?
I consider the shifts in my career as fall ups because the catalyst for each new transition was prompted by the reluctance of institutions to promote me. Growth opportunities were only presented by leaving institutions that were unwilling to invest in me; I fell up from doctoral student to Assistant Professor, from Associate Professor to Department Chair, and lastly from Department Chair to Dean. That was a painful sentence to write. And while I'm grateful for the advancements, each transition has come at great psychological, physical, and monetary costs. Before deciding to apply for positions elsewhere I had to overcome the psychological pain and self-doubt that come from being rejected for advancement by the institutions that saw my work firsthand.
Encouragement and Action Tip for Faculty #2: Invisible costs are expensive; knowing this ahead of time will help you overcome the sticker shock that you may feel whenever you ponder leaving one institution in pursuit of another opportunity. These invisible costs include: 1) losing close relationships with the local community once you move to another city, 2) having to consistently re-establish roots at new locales via finding new places of worship, schools for children, etc., and 3) the impact of your career move on the life of your partner– especially if they are also employed as a faculty member. As I mentioned earlier, there were so many times when I felt overlooked despite my best effort and production. When I faced rejection, it felt like I was the cause of my demise. I had to manage the feelings of not being selected with the concern that somehow, I had offended my colleagues by even believing that I could serve as a leader. It was hard to not internalize that because of my "package" (identity, skills, perspective, etc.) I was too out of place to advance into leadership positions. Transition and advancement are important accomplishments, but they may produce scars, repeat trauma, and require sacrifices. It is easy for people to feel as if they have failed to advance but transitioning to the next opportunity does not indicate failure. For example, if I would have gotten what I set out to get when I began my career, I would be in my 16th year in the city where I honed my skills and established roots, not my first year in a new city, in a new region of the country, and my third stop along the academic career journey.
Practical Tip #2 for Allies: Your encouragement and engagement can help people "fall-up" into academic leadership. Proteges and junior faculty need your support to bounce back in the face of disappointment and/or resist the temptation to remain in situations that grow toxic over time. This is especially true if the person you seek to guide is in their first post-graduate school role as an Assistant Professor. For example, if you notice that some of your departmental colleagues, or in some cases administrators, publicly take credit for ideas generated by colleagues you are mentoring/supporting without citing them as the source, be sure to speak up. Not to oversimplify, but it is akin to the general "see something, say something" campaigns that we use to thwart terrorism. Encouragement by law enforcement and government officials that urge citizens to "say something if they see something" that may be suspicious or potentially harmful by reporting it to the authorities build trust by encouraging the spirit of "we're all in this together." By demonstrating to your colleague that you recognize their work and others should as well, you may embolden them to continue sharing ideas instead of remaining unseen. Here are more examples: 1) Be willing to say out loud that a particular practice or disappointing decision was informed by racist or sexist or ageist ideologies rather than defending why they were not. For example, instead of explaining away why your department lacks diversity because there is "not enough qualified minority candidates" or because "they wouldn't fit it" with our departmental culture, be bold and challenge your colleagues to expand efforts to help create the department that you all want to serve and lead in the future, 2) Advocate behind the scenes to ensure that resources are distributed equitably throughout the department, especially when new responsibilities are a part of your colleagues' assignment, and 3) Remember that encouragement can mean standing in agreement, offering encouraging words, as well as providing tangible and needed resources. This might sound like: "I know you are disappointed this new position that came without administrative support; I will work to have my assistant assigned to you for part-time work while we advocate together for your role."
Encouragement and Action Tip #3 for Faculty: Many faculty are at risk of losing the idealism, dedication, and passion it took to earn their credentials early in their careers, so fight against the natural inclination to agree with those who say, "well, that's just the way it is." This is especially important when you are starting your career. Yes, you may feel like you are learning the rules of a game that has no winners, but there might be a different way of approaching your circumstance. Instead of thinking about your first three years as a time to jumpstart your career, invert that thinking. Realize that your first few years may be the time you have the most inspiration, vigor, and motivation to chase your dreams the hardest. This is a precious stage of your development, so do not waste time or allow others to discourage you. Many recording artists say that their first album is the best, regardless of how many records they sell, because their first album did not take the six weeks or six months they were in the studio. Rather it took the totality of their lives to make the first album. Some artists do not make it to the stage of their career when someone is backing them to record an album until after they have spent decades honing their craft to be prepared when their number is called. This should sound familiar to anyone who has earned a terminal degree. It didn't take you getting through your dissertation to earn your credentials; it took your whole life and the lives of all those within your village of supporters to prepare you to land that first tenure-track job. Don't take it for granted; go after your goals wholeheartedly.
Overcoming Narratives
Often, junior faculty are taught to be quiet and stay in their place or face banishment, ridicule, or outright bullying by their tenured colleagues. Tenured faculty, unfortunately, may have either been bullied themselves or benefit mightily by the status quo, which often is represented by a white heterosexual male-dominant hierarchy that holds much of the power in the academe. While this isn't true for everyone, it is especially true for historically marginalized and oppressed groups. The sting of being denied tenure, internal advancement, insider/outsider politics that often exclude faculty members from grant partnership opportunities, happens everywhere, and in many ways, it is just a part of the professional world that is higher education. However, what is often unacknowledged are the preconceived narratives steeped in stereotypes (about work ethic, attitude, availability, etc.) that are often untrue and deeply rooted in the systematic classism and institutionalism (in the forms of racism, sexism, etc.) that, unfortunately, are deeply rooted within the ethos of higher education.
Early in my professorial career, I had a colleague who belittled me at every turn and dismissed my scholarship. Even though I had graduated from an R1 school, landed the Assistant Professor job, published in respected disciplinary journals, and was establishing myself within my institution as student-centered and helpful, he went out of his way to tell colleagues, "Stay away from him" because "he is an angry Black man." The narrative was false, but it signaled what was to eventually come to light years later when I was a strong candidate for internal promotion and my candidacy was undermined. While my former colleague may have been the person to start the whisper campaign, he only felt comfortable doing so because he knew the ins and outs of the institutional racism that I would ultimately face and any attempts to fight back would only reinforce the false narrative that I was an "angry Black man." Therefore, I made the difficult decision to resign and walk away from the tenure and Associate Professor status I had earned ten years into my career. If I had not experienced success in a variety of avenues other than my professor role, I would not have had the confidence to know that my skills, value, and expertise were transferrable, and my professional worth was valued outside this institution. The harsh reality of the rejection I faced from colleagues I trusted at an institution I had served loyally for a decade taught me an important lesson: I didn't fail, but rather I had fallen into what would be my next opportunity.
Practical Tip #3 for Allies: Use your voice to change evaluation standards so that outside leadership experiences are valued in tenure and promotion decisions as well as during searches. Bonus tip: Be an active part of helping new faculty build their network in new communities. Tangible examples of how to do this range from nominating your junior colleague for community board of director positions that match their research interests, highlighting their work by nominating them for awards, and purposefully connecting them with community groups. Such advocacy will have a tremendous impact on the perceived support of your new colleague and their future success in your department, division, college, or university.
Encouragement and Action Tip for Faculty #4: Create community. What I have found over my years in the academy is that we value the freedom we have as faculty members to create dynamic change in our disciplines. At some point in each of our careers we have all shared similar dreams of making our mark on our chosen field of expertise by inspiring students through incredible teaching, dynamic research portfolios, and by modeling the joys of service to our academic, local, state, and national communities. While this is great, we must acknowledge that we also tend to value the not-so-great traditions of building silos, maintaining the status quo, and protecting the "good ol' boys and girls" networks that are often non-inclusive at best and steeped in racism, sexism, and bigotry at worst. Fight against this instinct with all your might and challenge yourself to develop authentic relationships with peers, mentors, and supporters to help you grow and develop as you chase your career goals.
The community you create will be there for you when your institution is not and may provide perspectives that can serve as "fresh air" during the inevitable times of doubt and controversy that many of us run into throughout our careers (conflict with departmental peers, frustrations with administration, complaints from students, etc.). You can "fall up" at all stages of your development by expanding your job capacity through building your expertise in areas outside of higher education. From serving on nonprofit boards of directors to starting your small independent practice or consulting firm, having proven leadership skills provides a buffer that will allow you flexibility in the face of rejection from a system that is equal parts beautiful and brutal. I have been blessed to have many lifelong relationships with professional colleagues outside of higher education who have made me a better administrator within higher education because it freed me from some of the internal damage that may have occurred within my soul in the face of the evils of some of the racism and lost opportunities that I've faced and thankfully have overcome. For example, I spent roughly seven years as a board member for a multimillion-dollar grant-funded nonprofit organization. During that time, I learned the inner workings of a different industry that showed me: direct and subtle nuances of effective grant writing, the importance of collaborating with a wide variety of stakeholders from across the political spectrum, and perhaps most importantly, I grew relationships with people who identified me as a member of the local community that was outside of my association with the institution where I was employed. It helped me learn different leadership and communication styles that I could use in a variety of contexts. In short, the experience was amazing because it led me to other opportunities to grow, and it strengthened my self-esteem that I was more than my academic rank or title. I highly recommend that faculty and allies at all levels expand their professional development to include work outside of traditional academic spaces. Not only will it enhance your professional growth, but research also demonstrates that having community connections outside of your institution is good for your self-care (Nicol and Yee; Miller, et al.).
Recognizing the "Off-Ramps": Many Roads can Lead to Success (with the right perspective)
What I hope you take away from my experience can be summed up in a motto I learned during my doctoral studies from a faculty member who gave me some "gentle discouragement" by dismissing my concern over a grade discrepancy. They quickly told me to "chase the learning, not the grade." Ever since that moment I have been determined to never allow the thoughts of others to control my emotions so strongly. I was extremely frustrated at the time, but in hindsight, the professor taught me an important life lesson. If you look at every situation you encounter along your academic career journey – as a student, junior faculty member, or a distinguished full professor – as a learning opportunity, the grade (or opinion, promotion, or decisions of others) does not matter in the end. Your power lies in what you know because you dedicated the time necessary to read, write, study, and produce scholarly works. If you are reading this and have earned your doctorate, I want to salute you for doing something so difficult that few ever accomplish. Please take a moment to know that your success is not based on the opinions of those who may or may not support you, rather it may be healthier to posit that your success can be measured by the impact you have on the lives of the students and all you reach through your life of chasing the learning, not the grade.
Encouragement and Action Tip for Faculty #5: Recognize the off-ramps when you see them. Decide to "fall upward" into your next career opportunity. There are a few signs that both aspiring faculty leaders and allies should be aware of that may indicate it is time to move on to the next stop on the career journey. We know that there are a variety of leadership opportunities (chairing of committees, requests to develop new programming for the department, accreditation involvement, assessment reporting, etc.) that would add value in tenure and promotion portfolios and are also valued by other institutions. If you notice that you or the faculty you are supporting are not receiving these opportunities, even after expressing interest, this is a red flag. If you or the colleague you are supporting have expressed an interest in collaborating with your departmental colleagues but are not included in grant applications or discussions about pursuing them, this is another red flag. Lastly, speaking up but not being heard is also a red flag. This is another painful sentence to write, but pay attention when you, or the colleague you are supporting, give recommendations that are not received favorably in meetings in live time. If those same ideas are received favorably weeks later when another person repackages the idea, that is also a potential sign of an off-ramp.
Practical Tip for Allies #4: Address what is toxic in your departmental/institutional culture, be a part of the solution, and be a loud voice of support and change when others decide to leave. Use your voice to advocate when you see the signs indicated above occurring around you.
When I originally set out to pen this piece my instinct was to title this work "failing-upward" because at every crucial moment of my career, what I now recognize as a blessing, felt like a failure. I didn't "get the job." "The people rejected me." "Am I good enough?" and "Why did this not work out?" Looking back, all those questions were invalid because I did not fail (and neither have you). I got other jobs that advanced me forward (and so shall you). I needed to be rejected at one stop to get me on the road to my next stop which was ultimately necessary for advancement (and you may be on the same road too). Alas, I didn't fail at all…I fell into my destiny (and you will too).

---
References
Azhar, Sameena, and Kendra P. DeLoach McCutcheon. "How Racism Against BIPOC Women
Faculty Operates in Social Work Academia." Advances in Social Work, vol. 21., no. 2/3,
2021, pp. 396-420.
Collins, Crystal J. and William A. Kritsonis. "National Viewpoint: The Importance of Hiring a
Diverse Faculty." National Journal for Publishing and Mentoring Doctoral Student
Research, vol. 3, no. 1, 2006, pp. 1-7.
Endo, Rachel. "Retaining and Supporting Faculty Who Are Black, Indigenous, and People of
Color: The Promise of a Multi-Leveled Mentoring-Partnership Model." Multicultural Perspectives, vol. 22, no. 4, 2020, pp. 169-177.
Miller, J. Jay, et al. "Investigating the Self-care Practices of Social Work Faculty: An Exploratory
Study." Social Work Education, vol. 37, no.8, Dec. 2018, pp. 1044-1059. EBSCO, DOI: 10.1080/02615479.2018.1470618
Nicol, Donna J. and Jennifer A. Yee. "'Reclaiming Our Time': Women of Color Faculty and
Radical Self-Care in the Academy." Feminist Teacher, vol. 27, no. 2-3, 2017, pp. 133-156. JSTOR, doi.org/10.5406/femteacher.27.2-3.0133.
Snyder, Thomas D., et al. Digest of Education Statistics 2017, NCES 2018-070. 53rd ed,
National Center for Education Statistics, 2019.
Stout, Rebecca, et al. "The Relationship between Faculty Diversity and Graduation Rates in
Higher Education." Intercultural Education, vol. 29, no. 3, 2018, pp. 399-417.
Thompson, Gail L., and Angela Louque. Exposing the "Culture of Arrogance" in the Academy:
A Blueprint for Increasing Black Faculty Satisfaction in Higher Education. Stylus, 2005.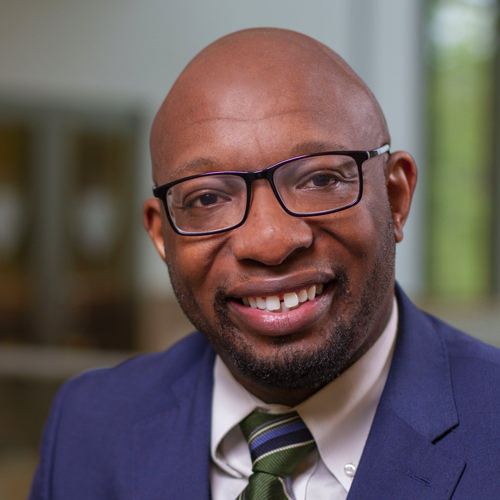 Prior to becoming Dean, Dr. Miller served as Department Chair and Professor of Social Work at Benedict College and as an Associate Professor of Social Work at the University of Arkansas at Little Rock. His current research interests explore: the relationship between racism and Adverse Childhood Experiences among African Americans, Diversity, Equity, Access, and Inclusion issues within Social Work, and faculty mentoring. Notably, in 2017, Dr. Miller was selected as the Arkansas Social Worker of the Year by the Arkansas Chapter of the National Association of Social Workers.