America's higher education enterprise is facing multiple challenges -- increasing demands from students and government; changing demographics; structural fiscal challenges; and technologies that are disrupting how information and education is delivered. Not to mention an aging workforce and an uneven track record for developing leaders.
Without investing in identifying and developing the right talent at all levels of an institution, a college or university will be ill-prepared to thrive in an environment of increasingly complex and high-stakes challenges and rapid change.
Let's take a closer look at the challenges academic institutions face, and what's needed to move forward.
How Prepared Is Your Institution?
In April 2010, Academic Impressions conducted a survey of senior and mid-level managers in higher education across an array of public and private institutions; 176 administrators responded to the survey. The findings emphasize the extent to which higher education is under-prepared for replacing a rapidly retiring leadership.
Perhaps the starkest finding from our survey, 48 percent of respondents graded their institution with a C, D, or F letter grade when assessing the level of commitment they felt their institution has toward their development as a leader.
We also asked respondents to identify ways that their institutions currently support leadership development: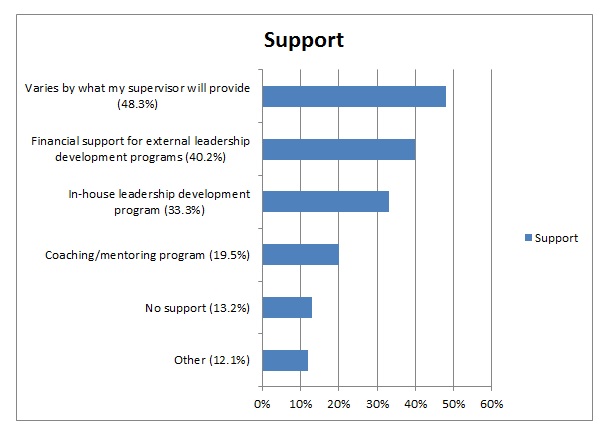 The most common response was that support for leadership development varies dependent on an individual supervisor; this speaks to the lack of a coordinated or coherent strategy at most institutions for intentionally developing future leaders. Fewer than 20 percent of institutions offer a formal coaching/mentoring program, and only one-third offer any kind of in-house leadership development program.
The survey also asked the open-ended question, "How is your institution responding to the waves of faculty and administrators who will be retiring in the next five years?" 40 percent of the respondents indicated that their institutions were, to their knowledge, not doing anything at all. They offered responses such as:
"No institution-wide strategy"
"Not doing anything"
"Seat-of-pants approach"
"Hoping problem goes away"
Perhaps the most troubling finding from the survey: 10 percent of respondents replied that their institution is welcoming the retirement wave as a means of bridging budget shortfalls. Amit Mrig, president of Academic Impressions, notes, "What these results indicate is that the majority of institutions are not planning for the future -- a situation that will leave colleges and universities open to considerable risk."
Not Just New Leaders, but New Kinds of Leaders
Complicating the issue, not all of the leadership development programs and mentoring programs currently in place in higher education are equally effective. Programs that emphasize traditional leadership skills may be inadequate to prepare higher ed professionals for the leadership challenges of the next 10 to 20 years. As the rate of change in higher education policy and practice has accelerated, the challenges higher ed leaders will face in future years are likely to be more complex and multifaceted than the more tactical problems with which most leaders are familiar.
In The Practice of Adaptive Leadership (Harvard Business Press, 2009), Ronald Heifetz and Marty Linsky, co-founders and principals of Cambridge Leadership Associates, suggested that increasingly, leaders in all industries face adaptive rather than just technical challenges. Adaptive challenges, as opposed to technical ones, require deep-rooted behavioral changes to solve a problem, not simply the application of existing tools. A skilled surgeon can treat a heart patient's clogged arteries with existing skills, tools, and technologies. But to improve the patient's long-term health, the patient must fundamentally change the behaviors and practices that led them to this point.
Higher education today is rife with adaptive challenges. Pressure on college completion rates that don't have unintended consequences on access will require innovative and "outside-the-box" solutions, including new collaborations between colleges and school districts. The rising costs of delivering a post-secondary education coinciding with a crisis in state funding will require public institutions particularly to adapt and re-evaluate who they serve and how -- looking, for example, to collaborations with other institutions, new markets to serve, and new ways of delivering education.
These are just a few examples; any college president could name 10 more. Ensuring that your institution not only survives but thrives in a rapidly changing environment requires that you build a strong bench of leaders with adaptive skills
Four Questions to Answer
Developing your next generation of leaders requires a strategic approach and is essential to the future health and competitiveness of your institution. To build an effective talent bench and ensure adequate leadership capacity to meet future challenges, every institution will need to address four questions:
What skill sets will our future leaders need?
How do we identify the staff within our organization who already exemplify these skills?
What programs and practices will assist us in developing these leadership skills in our staff?
How do we systematize our leadership development efforts across all divisions and at all levels of our institution?
In this issue of Higher Ed Impact: Monthly Diagnostic, we've interviewed past provosts and chief financial officers, together with leadership development experts from both higher education and from the corporate sector, to bring you practical tips to help you answer these four critical questions.