Share this article with colleagues.
Jennifer Bonds-Raacke
Provost & Vice President of Academic Affairs, St. Norbert College
Billy Korinko
(Content Expert), Director of Cassandra Voss Center, St. Norbert College
---
Introduction
The need to reevaluate our Diversity, Equity, Inclusion and Belonging (DEIB) work at St. Norbert College came into focus as systemic racism, violence and outrage led to devastated cities, communities, families and lives all around us in 2020. For some, these events were an overwhelming representation of their lived experiences while for others, headline after tragic headline revealed our collective failure to advance equitable opportunities for all people.
In response—just as many organizations and communities have done over the past year—we at St. Norbert have begun to take an honest look within and around these issues. In partnership with our newly formed Faculty and Staff Coalition of Color (FSCC), we are asking ourselves tough questions and engaging in dialogue in new ways. We're challenging our current programs and practices and putting new cultural, strategic, operational, and educational practices in place to help redefine the future of DEIB for our students, faculty, and staff.
As we're actively exploring these questions, it occurs to us that the answers we're finding may be all too common in higher education. While our DEIB work at St. Norbert has progressed over the years, it hasn't been enough: it wasn't structured for institution-wide success, and it wasn't creating the outcomes we had intended. We also recognize that many of our colleagues across higher education are in similar situations. It is for this reason that we chose to write this article: in sharing examples of the questions, we are considering and steps we are taking to put DEIB training into practice, we hope to be of service to other institutions that find themselves on a similar journey.
About St. Norbert College Sidebar
Motto: Docere verbo et exemplo, To teach by word and example
Founded: 1898
Traditions: Catholic, Norbertine, Liberal Arts
Location: De Pere, Wisconsin
Enrollment: 2,000 undergraduate and graduate
Curriculum: 80 programs of study
First-year retention: 80%
Four-year completion rate: 70%
Establishing Our Framework
Our work to redefine DEIB at St. Norbert College builds upon our founding traditions and decades of tireless work by faculty, staff and students serving as social justice advocates on our campus, many of whom are helping us carry this work forward in new and inspiring ways. We're using a framework that includes our cultural, strategic, operational, and educational practices and considers how we need to improve each of them in the near- and long-term. The four elements of this framework must evolve and work together as a system to achieve our DEIB mission.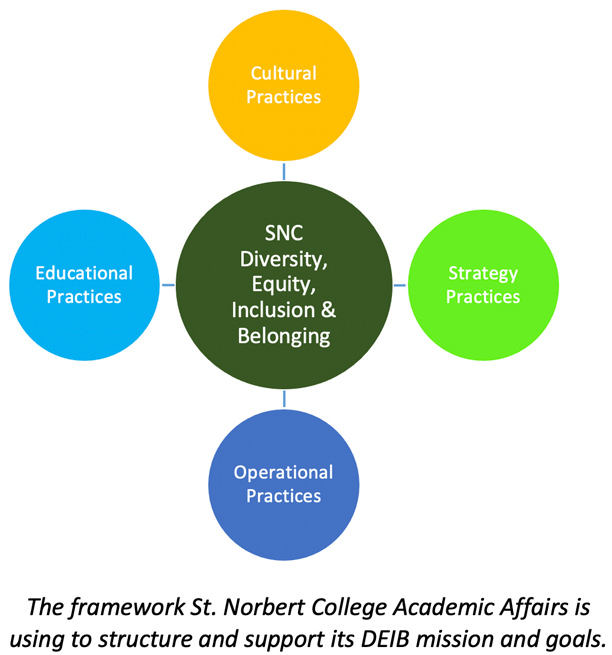 As the leader of Academic Affairs, I'm working to understand the concerns, aspirations, and goals of many people and groups at the college: staff, faculty, students, administrators, and board members. I'm focused on bringing people together, creating understanding and a shared lexicon, and aligning strategies and plans to address the four elements of our DEIB framework.
One of our initial challenges has been balancing the need for urgency with the need for thoughtful, integrated strategies for long-term, sustainable improvement. This balance comes from working together at the board, cabinet, division, and department levels toward common goals, and also by involving many of our colleagues to contribute to our immediate objectives.
I personally felt a great deal of urgency to engage with the FSCC and deepen my understanding of our DEIB landscape at the college. But looking back, I spent too much time discerning the situation and trying to figure out "the right way" to get started. I was worried I'd make a mistake or seem unprepared. However, when I started reaching out to our FSCC in an authentic and empathetic way, things started coming into focus. I accepted that it was okay to be vulnerable, and--being relatively new to St. Norbert—that I'd need to rely on our FSCC members and others to guide me. I now know that I didn't have to arrive at our first meeting with a perfect plan in hand to fix it all: it's something we needed to accomplish and arrive at together.
The remainder of this article is structured according to the four prongs of our DEIB framework: Cultural Practices, Strategy Practices, Educational Practices, and Operational Practices. For each one, I offer some questions for consideration and a description of what St. Norbert has put in place or is working on implementing to help achieve our DEIB goals from lessons we have learned along the way.
Cultural Practices & Questions to Ponder
What are the pervasive cultural traditions and practices at your college or university?
In our DEIB efforts at St. Norbert College, we're able to draw upon our Catholic, Norbertine, and liberal arts traditions. There's a prevailing cultural ideal and spirit that shapes the work of the college called communio, which stems from the practices of the Norbertine Order that founded the college in 1898. Communio is practiced through open dialogue, consultation, and collaboration. When combined with the Catholic tradition of upholding the sacred dignity of every person and the liberal arts tradition of creating dialogue that reflects diverse cultures, perspectives, and beliefs, we have the guiding principles for our approach to DEIB.
Can you assess your cultural practices and their impact on your DEIB landscape? Do your cultural practices help to create safe spaces for DEIB dialogue?
While communio is often deeply held and lived by many faculty, staff, students and alumni, our FSCC members have told us that it is not a lived experienced for everyone in our community. In this way it has become clear that we cannot imagine communio as something that we have perfectly achieved, but rather as an ideal toward which we aspire. Striving toward this ideal and everything it stands for is foundational in creating spaces for all DEIB advocates and FSCC members to gather together, share their aspirations, voice their concerns, and present their views to college leadership.
In July 2020, I reached out to invite FSCC members within Academic Affairs to start a dialogue about racial and social injustice. Our dialogue has continued ever since. I am listening, learning, and growing from each and every discussion with the FSCC, and more often than not, we find ourselves brainstorming and collaborating toward our shared goals. I see our formal and informal safe spaces growing as more members of our faculty and staff share the very personal and often very painful experiences they've had resulting from racial and social injustice.
How can you best prepare for and facilitate productive discussions around difficult, emotional topics?
I routinely reflect on the ideal of communio and the life's work of our patron saint as I prepare for DEIB-related forums, with the goal of giving people in our college community the courage and confidence they need to speak out and pursue their goals. However, I've learned that creating safe, collaborative spaces is not always easy. Engaging people in discussion around difficult and emotional topics and facilitating respectful dialogue and debate doesn't always go as planned. But I've found these forums to be absolutely necessary in order to genuinely move forward together.
To help ensure the readiness of a group to dialogue on racial issues, I like to provide assigned readings and introspective activities in advance. This allows individuals to engage with the content and reflect individually before sharing with a group. I also include reminders throughout the dialogue about how we can be respectful of diverse ideas and experiences.
Can you identify DEIB topics that you feel particularly equipped to engage with, and can you identify topics that reflect an area of growth?
As a psychologist by training, there are some topics that I feel comfortable engaging, based on my academic training. However, I am by far not an expert on everything. I have found it beneficial to consider resources within the college (e.g., can I learn from the research of a faculty member at SNC?), within my academic network (e.g., do I have colleagues in the broader field of psychology or administration who can help me grow?), and within my community (e.g., are there local organizations which offer training opportunities?). Not only is this an opportunity for self-growth, but it is also a chance to involve more allies in the work.
Sidebar: Preparing for DEIB Meetings
Self-Scouting: Reflect on your identities and positionality, including how your role at your institution impacts the role you play in this work
Researching: Understand the issues, perspectives and hot topics before the meeting
Climate Setting: Share a case study, best practice or article as a pre-read
Planning: Lay the groundwork by communicating the meeting objective and agenda well in advance
Facilitating: Plan to engage all participants and ensure all voices are heard (resist the temptation to create an overloaded agenda that does not allow time for this!)
Following Through: Document decisions, questions and actions to build momentum and accountability
Strategy Practices & Questions to Ponder
Is DEIB part of your college or university's strategic plan? Do you have roles with the right scope, expertise, and authority to lead DEIB strategies and programs?
Advancing DEIB at St. Norbert College involves everyone: all divisions, departments, and roles in a concert of collaboration. In Summer 2020, St. Norbert College President Brian Bruess communicated that working to achieve racial and social justice is a moral issue for each of us and for our college community as a whole and acknowledged that we need to do more and take action in accordance with our Catholic, Norbertine, and liberal arts traditions.
This communication set in motion a college-wide initiative, Working for Racial Justice at SNC: Vision, Strategy and Commitment, and six clearly defined action steps for the 2020-21 academic year and beyond. These steps were:
Ensure diversity, equity, inclusion, and belonging content is integrated into the curriculum and co-curriculum.
Improve our efforts to recruit, develop, and retain students, faculty, and staff of diverse backgrounds.
Address our campus climate to improve the lived experience of our community members of color.
Ensure St. Norbert College's values of radical hospitality extend to the equity, inclusion, and sense of belonging experienced by everyone on campus.
Partner with local community leaders to promote equity, inclusion, and belonging in the wider community.
Ensure the sustainability of the essential and transformative work of diversity, equity, inclusion, and belonging.
The initiative was shared with full transparency on the college website and each deliverable bore the name of someone in the President's Cabinet who was responsible for its outcome.
Does your Board of Trustees have the level of transparency, opportunities for education, and information they need to effectively do their part?
Two members of the FSCC (one faculty and one staff member) spoke to the Academic Committee of the Board of Trustees in February 2021. They bravely shared examples of discrimination they faced at our college. Through their openness, committee members were able to be vulnerable in considering ways we can make changes at the college. As a result of this dialogue, members of committee, FSCC, and the academic leadership team have cultivated a commitment to work together to build an anti-racist future aligned with our mission.
Educational Practices & Questions to Ponder
Are DEIB experiences formally part of your curriculum?
If you're not sure where to start your DEIB journey, I recommend engaging faculty and staff to integrate DEIB into all aspects of student learning—curriculum, co-curriculum, pedagogy, and programming. As educators, we already believe in the power of education and we are deeply committed to shaping the future in ways no other profession can. In the 2019-20 academic year, our DEIB-based academic coursework was primarily provided through women and gender studies, honors offerings, and Academic Service Learning.
Can you leverage faculty and staff expertise to provide educational opportunities for others?
Throughout the 2020-21 academic year, faculty across disciplines participated in programming, events and training to share and build their DEIB expertise. One of the primary offices leading this work was our Cassandra Voss Center (CVC), a nationally recognized center that fosters conversation around issues of identity and inclusion through an integrated educational approach that connects theory, research, experiential learning, and co-curricular development to members of St. Norbert College and the wider community. The CVC partnered with The Privilege Institute (a national organization based in Green Bay that hosts the annual White Privilege Conference) to develop a six-part virtual anti-racism workshop that engaged faculty, staff and students on the following topics:
The historical production of whiteness
White fragility and intersectionality
How racism shapes institutions of higher education
Over the course of the 2020-21 academic year the CVC engaged nearly 350 students, faculty, and staff in this six-part virtual anti-racism workshop. As a continuing education opportunity, it also launched a collaborative faculty/staff development series in partnership with our Center for Global Engagement, and Multicultural Services, entitled "Injustice On Campus." This series engaged over 130 St. Norbert faculty and staff and, through monthly discussions, highlighted the work of national experts on creating inclusive campuses. In addition to these more episodic educational programs, the CVC also created and offered an Intergroup Dialogue and Equity faculty cohort which engaged a small group of faculty in monthly conversations about equitable pedagogy strategies. This helped participating faculty develop their skill sets for facilitating dialogue around issues related to race and identity.
Can DEIB work lead to pedagogical innovation?
Looking ahead to 2021-22, our faculty have combined their passion for their field with a commitment to advancing DEIB to evolve our students' learning experiences, from adding new courses to student mentoring to testing techniques that account for bias. I'm thrilled with the novel ideas and approaches that our faculty have developed, not only in the Humanities and Social Sciences but in areas like Mathematics, Natural Sciences and Business as well. In fact, every department has brought forth ideas to help our students understand the racial and social injustices of our time and learn how to develop solutions for addressing them.
How can co-curricular support curricular experiences?
To complement coursework, our faculty and staff in Academic and Student Affairs provided an array of co-curricular educational programming and events. For example, beyond their anti-racism workshop, and faculty/staff development offerings, the Cassandra Voss Center also facilitated innovative programming featuring national experts that examined issues of identity and inclusion. Additional DEIB-centered educational programming included Students Taking Academic Responsibility (STAR); Proud to Be First; Men of Distinction; Coming Out Week; Black History Month; and more.
Operational Practices & Questions to Ponder
What insights can you glean from information readily available to you?
When we started considering the realm of operational practices, the sheer breadth of possibilities for improving DEIB was daunting: it included everything from hiring to goal setting to pedagogy to policies.
To get started, we relied heavily on what we'd learned about 1) our FSCC members' lived experiences and 2) historical performance data to guide us. We used our primary data as well as secondary industry data to assess our gaps and benchmark against our peers and aspirants. For example, we studied The National Survey of Student Engagement data, which showed us that we are behind our peers with regard to diverse encounters on campus. Comparing our historical performance data to our DEIB goals helped us prioritize and focus on root cause issues such as recruitment, retention, training and development, promotion practices, and tenure policies within Academic Affairs.
What policies or positions will be needed to move operations forward?
As a result of the insights we've gained from listening, analyzing data, and benchmarking, we are implementing both proven industry practices and a progression of new roles and approaches to achieve our DEIB goals:
We hired a consultant in 2019 to evaluate our tenure and promotion policies, which were updated and implemented in August 2020.
We added a new Associate Vice President (AVP) of Human Resources position in 2020 to support our recruitment, retention, training and development, promotion, and tenure practices according to more equitable policies.
We developed a new position, the Dean of Curriculum and Senior Diversity Officer, that is responsible for gaining alignment across several academic and policy committees to ensure DEIB is woven into our curriculum and pedagogy.
We developed a new two-year post-doctoral Diversity Fellowship in April 2021, and our new colleague will join us in January 2022.
Our data showed black students were the most at risk for not being retained, prompting us to hire a black student success coordinator.
How can you work across campus to enhance operations?
Working together, Academic Affairs--with support from Human Resources and the Office of Institutional Effectiveness--has set forth the following primary objectives:
Recruiting faculty from a diversity of backgrounds to the college
Developing, promoting, and retaining faculty with a diversity of backgrounds
Infusing DEIB into our first-year student seminar and overall curriculum
Understanding and addressing DEIB issues related to student success and retention
Measuring and communicating our performance, outcomes, and continuously improving to achieve our long-term DEIB goals
Conclusion
I consider our work thus far to be beginning of a long journey. I anticipate there will be joyful successes, painful setbacks, and insightful lessons along the way. Nonetheless, I have faith in our mission and traditions, our people, and our commitment to deliberately and steadily achieve our DEIB goals.
In the past, while our intentions were good, there was tireless effort from only a committed few. We lacked the insights, strategy, framework, and resources to effectively drive meaningful DEIB improvements on our campus. Working with the FSCC and giving them a platform to be heard has brought overdue attention to DEIB issues and has created inspiring opportunities to involve many more people to make things better.
I consider the DEIB framework we've put in place to be a map that guides journey. All four elements of the framework—cultural, strategy, educational, and operational practices—need to work together seamlessly to improve our measured performance and the lived experiences of every person on our campus.
If you, too, are in a formal leadership position and looking to push forward your own institution's DEIB efforts on campus, it is my hope that the practices and questions to ponder that are interwoven throughout have given you a more concrete starting point from which to form your own map. They are summarized below in a more visual format for easy reference. Making our campuses more diverse, inclusive, and equitable places is not easy work, nor is it quick: this has taken and will continue to take years of ongoing work and commitment. But having some kind of roadmap to follow to help chart your path forward and benchmark your own progress institutionally helps a great deal.
Questions for university leaders to consider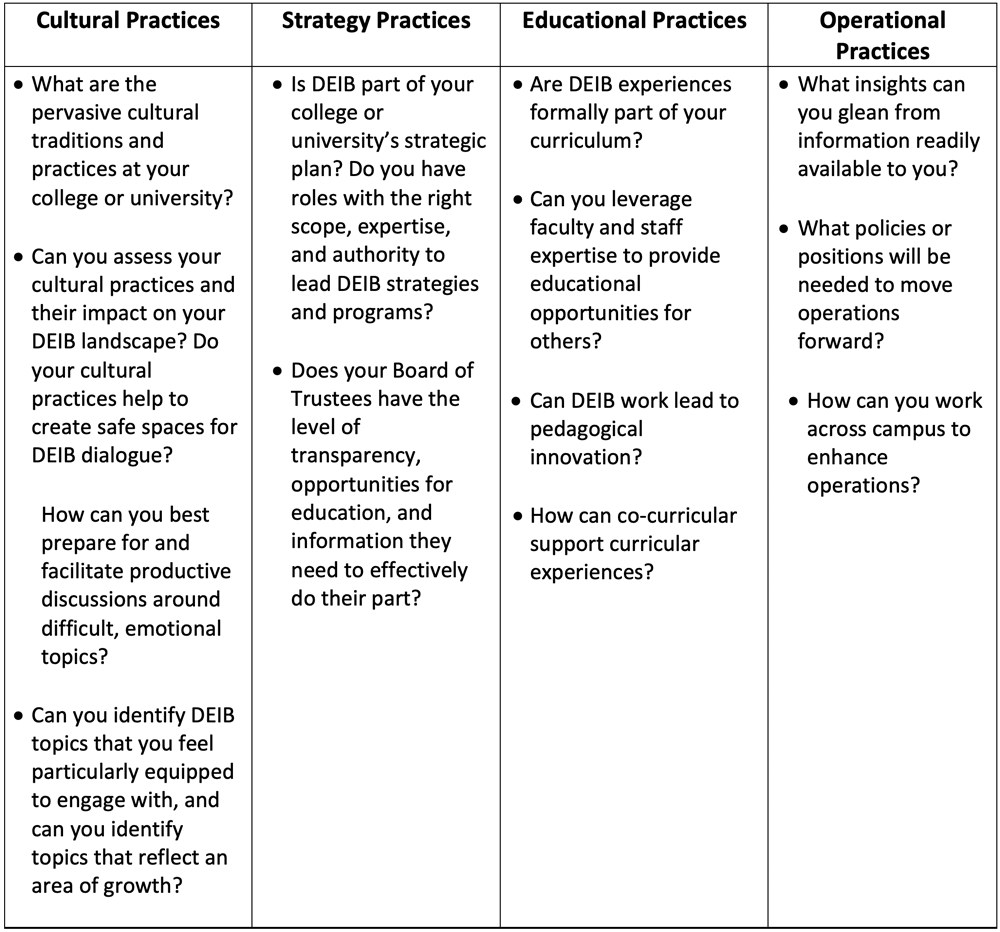 ---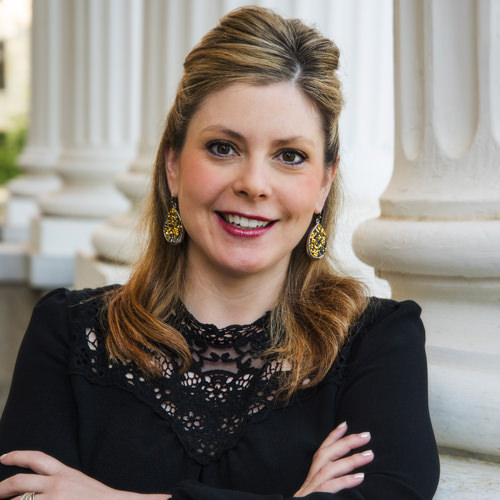 Jennifer M. Bonds-Raacke, Ph.D., is the first woman provost and vice president for academic affairs at St. Norbert College. Dr. Bonds-Raacke has extensive higher education administrative experience, including her previous role as the dean of the Graduate School and Office of Scholarship and Sponsored Projects at Fort Hays State University. In her role as VPAA, Dr. Bonds-Raacke is the senior academic architect of a student-centered institution committed to innovation and inclusive excellence. During her time as VPAA, Dr. Bonds-Raacke has worked with partners in Academic Affairs to revise the tenure and promotion process at St. Norbert, to increase resources and support of faculty development, and to launch a Data Analytics major, which is the first new major created on campus in a decade. As a faculty member, Dr. Bonds-Raacke built a reputation for experiential student learning, by fostering undergraduate research and study abroad experiences across the curriculum.