2017 Update: Following up on this research, we have published our findings and our best current thinking in the paper "The Skills Future Higher-Ed Leaders Need to Succeed."
by Amit Mrig and Daniel Fusch, Academic Impressions
In Denver, CO this March, Academic Impressions convened a select group of forty academic and administrative leaders from diverse colleges and universities to address the question: What are the skills and qualities that leaders in the future need to have in order to thrive?
Why this Conversation is So Critical Now
Leadership matters. As program facilitator Pat Sanaghan remarked, an institution "cannot rise above its leadership."
The circumstances colleges find themselves in today -- whether those circumstances are productive or disastrous -- are a product of the decisions and actions (or inaction) of past leaders. If your own institution's outlook isn't bright, that's a leadership issue.
In a time of significant change and stress in the industry, we need to rethink the kind of leadership we need.
How We Pursued this Conversation
No one sage has the answers to this complex question. That's why we called together 40 people from all across an institution's organizational chart and from diverse types of institutions. We had presidents, chiefs of staff, chief academic officers. We also had several faculty, and administrators from student affairs, HR, enrollment management, institutional advancement, campus safety, and other departments.
We convened this meeting using an "open space" format where the participants created the specific topics for discussion in service of the broader theme of the future of higher education leadership. We could not have predicted or prescribed what topics they suggested or how much interest a given topic would garner. The participants took ownership for creating and organizing the agenda.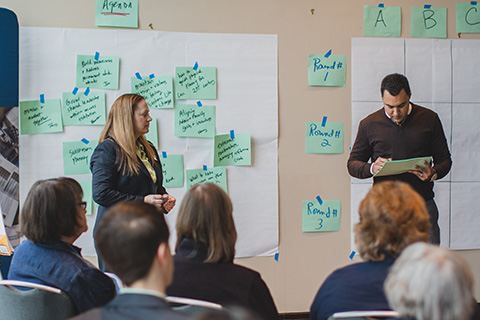 The agenda for an open space meeting is created in real time at the event, so that the most pressing questions and concerns participants bring to the meeting are in fact what we meet to discuss.
Over the course of a morning we have 25 different small-group discussions about different aspects of leadership including creativity, courageous decision making, breaking down silos, succession planning, disruptive innovation, trust, and many others.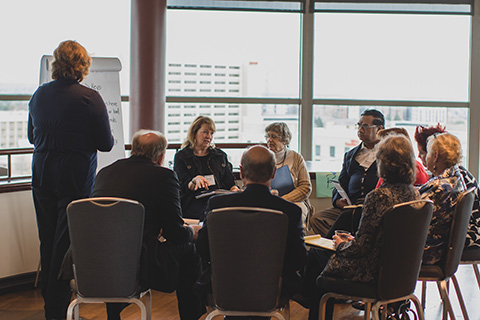 What We Discussed
In this case, the conversations higher-ed leaders most wanted to have were about how leaders can:
Inspire creativity, risk taking, and innovation
Inspire change and a sense of urgency -- without paralyzing people
Break down silos and build collaboration
Cultivate a culture of courageous decision making
Build trust and relational capital
Respond to changing student needs and expectations
Engage in succession planning
Ensure the success of leaders coming in from outside of higher education
What We Learned
At the halfway point of the day, we paused to ask everyone to share their key insights from the morning's small group discussions. Here is what the participants said:
"Most—if not all—of us are facing very similar challenges and issues. We are not alone. We're all trying to stay in the boat on that permanent whitewater."
"Fear of change is the big obstacle. 80% of people fear change, and 20% (the visionaries) look forward to it."
"We have a lot of smart people in higher ed. We <em
"We need partnerships with other institutions, other organizations: We don't have to lift it alone."
"We need to get better at actually executing our plans."
"Our environment is getting increasingly competitive. That means academic leaders need a more competitive mindset."
"Listen, don't just talk. 'Most leaders die with their mouths open.'"
"It's up to leaders to set the tone of the culture, to actively encourage creativity, risk taking, and active collaboration."
What We Designed: A Leadership Model for the Future
Following a morning full of dynamic conversations, the group worked together to build a leadership model for the future. To do this, we:
Shared typed transcripts of the morning sessions (which AI staff prepared during the lunch hour), so that the afternoon could begin with a careful review of 20+ pages of recorded discussion;
Worked together to identify key skills and qualities that leaders in the future will need to be successful -- beyond just the "givens" of compassion, integrity, etc.
Created a visual framework and hierarchy for those skills and qualities, categorizing them.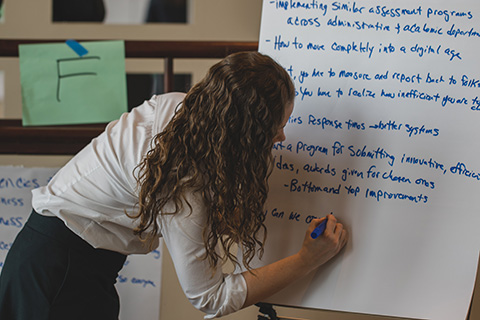 What emerged was a model for the skills and qualities that leaders need if their institutions are to not only survive but thrive in the future. The model focuses on six critical skills that our participants agreed higher-ed needs to both hire for ... and cultivate all levels of leadership within the institution.
Academic Impressions will be sharing this model in full in an upcoming report.
Next Steps
There was tremendous energy and excitement during the day. New relationships were formed and existing ones enhanced. Participants shared examples of leaders who model the proposed skillset and shared numerous resources on the various aspects of leadership. Academic Impressions is committed to devoting more research and resources to fleshing out the leadership model, identifying leaders who truly exemplify these attributes, and designing professional development opportunities to build and enhance these skills.
In fact, this effort is core to our mission, which is to contribute ideas, resources, and training to support a more sustainable model for higher education. Helping higher education identify and develop the twenty-first century leadership skill set is key to this. In the months ahead, we will be excited to share with you a deep exploration of the new leadership model the participants at our meeting have proposed.
If you:
Are interested in participating in the conversation,
Have a powerful example of leadership to share, or
Want to know about upcoming events and publications from AI on leadership issues,
...then contact Amit Mrig at amit@academicimpressions.com. We would love to continue this conversation with you.