Learn how to brand your career services department in ways that can increase visibility, relevance, and funding.
Learn to use an intentional branding effort to effectively communicate the creative and effective work of your career services office. During this training you will hear how the University of Miami's Toppel Career Center successfully branded themselves and will take away five strategies for developing and articulating your own brand. Through effective branding, you can increase your office's visibility, relevance, and even resources.
Highlighting the Toppel Career Center at the University of Miami
As a result of the center's branding efforts, two-thirds of the undergraduate population engages with the Toppel Career Center. At the University, the name "Toppel" is recognized campus-wide as the place to go for career guidance and support. Learn how to gain the same recognition for your career center.
Who Should Attend
This program is designed for career services departments that have begun to think differently about their role but are struggling to effectively communicate their work. You will leave with strategies and ideas for gaining recognition on campus for your great work. This may include professionals from:
Career services
Marketing
Enrollment management
Friday, October 6, 2017
1:00 - 2:15 p.m. EDT
Showing the Impact of Successful Branding: The Toppel Career Center
Five Things to Develop Your Branding Strategy

Creating "buzz" about your department on campus
Using social media to engage your campus and potential employers
Broadening your use of data
Building strategic internal partnerships
Building strategic external partnerships

Assessing Your Outcomes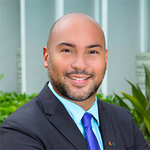 Christian Garcia
Associate Dean & Executive Director, Toppel Career Center
University of Miami
Christian Garcia is a higher education professional with 20 years of experience. He currently serves as the Associate Dean and Executive Director of the Toppel Career Center, where he is responsible for the management and strategic direction of one of the country's most innovative and dynamic career centers. Through Christian's leadership, the Center opened the doors to its brand new, state-of-the-art facility, which has helped to transform career services at the University. Prior to his current role, Christian served as Associate Director of Employer Relations at Toppel, responsible for creating and maintaining relationships with employers representing a wide range of industries.
In 2016, Christian was named Mentor of the Year by the National Association of Colleges and Employers (NACE). He has been awarded the Fulbright International Education Administrators (IEA) fellowship in Germany and also served on the Board of Directors for NACE. He is currently serving as a faculty member for NACE's Management Leadership Institute (MLI), where he teaches new and aspiring career center directors the importance of marketing and branding. An avid user of social media, Christian believes in the power of online social networking in helping connect career centers with students and other important stakeholders. Christian has presented on social media and other many other career-related topics at various professional conferences.

$525 through Sept 29
$600
Live Webcast Registration + Digital Recording
Access to the live webcast: Invite your team!
Links to all presentation materials and resources
Permanent digital recording of the live webcast
FREE for Members
This webcast is included for free for qualified online members.
Not a Member? Learn More
$350 through Sept 29
$425
Webcast registration
Presentation materials and resources
Access to webcast recording for 60 days (available 10 days after webcast)
$350
Presentation materials and resources
Permanent digital recording link delivered 10 days after webcast
Questions About the Event?
Elizabeth Ross Hubbell
Program Manager, Academic Impressions