Reimagine how you create and build your advancement team.
Overview
Advancement teams have changed. Some have changed minimally, while others have changed very drastically. All have gone through a period of reflection on their needs, how to achieve them, and what positions are required to be successful. Regardless of where your team stands, as we reenter the next workforce phase of the pandemic, it is time to ensure you have the ideal team for the institutional goals you want to achieve.
Join us for this virtual conference to learn what decisions you need to make to have the team you want. By diving deep into the processes of recruitment and retention, how they have changed, and how they should be managed moving forward, you will be able to understand how to build your ideal team and retain the staff you have in your shop. You will learn how to:
Assess your team for performance and needs.
Utilize creative resourcing to increase budget flexibility.
Recruit for the staff you need by collaborating with human resources.
Onboard new staff seamlessly and effectively.
Build out a diverse team that is reflective of your student body.
Develop career pathways that help retain staff.
Reskill roles that have changed over time.
Develop flexible work-life policies to attract and retain team members.
Ensure remote accountability using metrics.
Who Should Attend
Leaders of advancement teams from around the shop—from alumni relations and associations to annual giving and foundations—will benefit from this training.
Follow Through With Success Coaching
Have you ever gone to a training only to find that you came back with great ideas but don't have the time, support, or skills needed to make the changes?
Academic Impressions has produced thousands of trainings and we have learned that utilizing a coach after attending a conference helps provide accountability and bridges the training with the on-the-ground work of getting the job done.
As a result, we are now offering success coaching on select conferences.
Purchase this training + 3 one hour follow up success coaching calls
Work with an assigned coach who has extensive experience in higher ed.
Get individualized support to help you follow through on what you've learned.
Workshop your plans, run your ideas by someone and get additional help/practice.
To get success coaching, simply purchase the Conference + Success Coaching product below.
The Academic Impressions Online Learning Experience
Intentionally Designed
Online Learning
Our virtual trainings go far beyond just replicating PowerPoint presentations online: these experiences are intentionally designed to give you the kind of robust and dynamic learning experience you've come to expect from Academic Impressions. These trainings provide you with an active learning environment and an online space where you can explore ideas, get inspired by what your peers are doing, and understand the range of possibilities around a certain topic. You will leave these sessions with practical solutions that you can take back to your team or task force.
What you will get:
A dynamic, interactive, and high-touch virtual learning experience designed to engage and set you up for growth
Seamless online face-time, networking, group work, and Q&A opportunities from the comfort of your own workspace
Practical takeaways and hands-on knowledge
Guidance from vetted subject matter experts
See What Our Attendees are Saying
"The virtual design of this conference coupled with the amazing work of our program manager promoted a high level of engagement and sense of community among attendees. The speakers were knowledgeable and enthusiastic to share their experiences. It was a refreshing shift from long days of traditional meetings on Zoom!"
"This is the first time I've ever attended a virtual conference, and to be honest, I had low expectations. Well, I was wrong. I am very impressed with the platform used and the quality of the content shared. Oftentimes, these conferences only talk about ideas and what could work, but at this event, actual pathways and practical next steps were shared. Academic Impressions did a great job featuring quality speakers who were willing to share what they know."
"Although the workshop was online, it felt as if the presenters were right there with us. All presenters were knowledgeable and really related the content to real work experiences. They were so willing to answer questions and offer assistance—I learned so much that I can apply."
"Many conferences leave you with learning but not always sure how to turn that into action for your organization. There were actionable tips shared throughout the two days and tools provided to help move the learning into action. I am always impressed with Academic Impressions conferences and this virtual one did not disappoint."
"At first, I was skeptical that a virtual conference was capable of being both engaging and informational - but Academic Impressions has mastered it! The 3-day online event was structured in a creative way that all participants had multiple opportunities to interact with each other and the presenters. No one's questions went unheard or unanswered. Thank you for this great experience, it has changed my view of virtual conferences and I look forward to attending more in the future."
- Desiree Ford, Digital Communications Manager, Binghamton University
"The virtual conference has been amazing. The presenters have all been great and the information they've provided is going to help us better use our social media. Even though this conference had to be virtualized due to COVID-19, the online format has been set up in a way that we can all collaborate and share ideas. I'm very eager to take what I've learned back to campus and start implementing new ideas."
- Chris Forde, Coordinator of Marketing & Public Information, Lincoln Trail College
Day 1 - October 6
All times are Eastern
Welcome and Introductions
11:00 – 11:15 a.m. ET
---
Reflections on a Remote Year
11:15 a.m. – 12:00 p.m. ET
Change has come to most advancement shops due to the pandemic. This opening session will be a discussion to reflect on:
What you have gained from the remote year and how to preserve those gains?
What did you lose that you would like back?
What is up for negotiation that never has been before now?
---
Assessing Your Team
12:00 – 1:00 p.m. ET
How do you know where to begin when building your team? Knowing how to conduct a talent assessment when a team is coming together can help answer this question. Learn what it means to have a high-performing team and what skill sets you should look out for when building your advancement staff.
---
Long Break
1:00 – 1:30 p.m. ET
---
Creative Resourcing
1:30 – 2:30 p.m. ET
When a team member leaves, how do you frame the new position to be advantageous to your shop goals? How do you know when to outsource a position versus keeping it within your shop? How do these types of decisions affect retention or recruitment? By knowing answers to these questions and what the best use of every dollar is for your goals, you can enhance the talent in your shop and fill the gaps you may have.
---
Break
2:30 – 2:45 p.m. ET
---
Recruiting Diverse Team Members
2:45 – 3:45 p.m. ET
Hiring your team's next position requires working with your human resources department. While central human resources may not have as much of an understanding of the advancement market as your shop leaders have, you can bring together each side's complimentary skills if you leverage the relationship with HR. leveraging your relationship with them will bring together the complimenting skills of each. You'll learn how to approach the recruitment process by using a search advocate to create an inclusive process in your search.
---
Break
3:45 – 4:00 p.m. ET
---
Approaching Onboarding Effectively and Inclusively
4:00 – 5:00 p.m. ET
What elements of your shop's culture and processes do you want a new team member to understand? You will learn how the College of Saint Benedict has created a one-year onboarding process that is not only effective at retention, but at incorporating antiracist and antisexist principles into the curriculum.
---
Day 2 - October 7
All times are Eastern
Networking: Sharing Your Challenges
11:00 – 11:45 a.m. ET
---
Flexible Work-Life Policies
11:45 a.m. – 1:00 p.m. ET
After a year of remote work at most institutions, shops have transformed into a more flexible environment than before. We're seeing that this is helping to attract and retain top talent. However, a more flexible workforce also requires your attention on remote accountability. In this session, you'll learn how your shop can better track your remote employees while ensuring your work-life policies are up to speed in the competitive marketplace of advancement.
---
Long Break
1:00 – 1:45 p.m. ET
---
Developing Career Pathways for Your Staff
1:45 – 2:45 p.m. ET
Internal upward mobility can be slow, especially for smaller shops. As a result, developing career pathways becomes essential for retainment. Learn how you can improve the career pathways in your shop by working with your institution to create opportunities for team members.
---
Break
2:45 – 3:00 p.m. ET
---
Evaluating Your Team
3:00 – 4:00 p.m. ET
Knowing what success looks like and how you measure it can be completed in two ways: numerically using metrics and behaviorally using human characteristics such as whether your team member is focused on self-development or receiving critical feedback. You will learn both approaches in this final session.
Kim Julian Bowden
Vice President of Annual Giving, Georgia Tech Alumni Association
Kim is Vice President of Annual Giving with the Georgia Tech Alumni Association in Atlanta, GA.  She oversees Roll Call, Georgia Tech's annual fund, currently celebrating its landmark 75th year, as well as data analytics, gift processing, and stewardship. Prior to her time at Georgia Tech, Kim worked in Development and Alumni Relations at Emory University, as Executive Director of Annual Giving (2010-2019), Senior Director of Annual Giving (2004-2006), and Associate Director of Development and Alumni Relations for Emory's School of Nursing (2004-2006).   
Kathy Hansen
Vice President of Institutional Advancement at the College of Saint Benedict
Kathy joined the College of Saint Benedict in 2015 and is responsible for all institutional fundraising and alumnae engagement around the world. She led the successful Illuminating Lives campaign, the largest in the college's history, raising $113 million toward a $100 million goal. The campaign focused on growing the college's endowment—which doubled over the course of the campaign—and increased resources for financial aid for students. During her tenure, the college received its first-ever eight-figure gifts, significantly growing the number and size of major gifts supporting Saint Ben's mission.
Questions About the Event?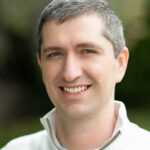 Nick Pettet
Program Manager, Academic Impressions