Meet a cohort of other Chief Diversity Officers to build your network, unpack common issues you face, share practices that are working, and build your leadership capacity.
Overview
Over the last several years, most colleges and universities have established offices of diversity and inclusion, headed by a cabinet-level official. These Chief Diversity Officers are often given a broad mandate to improve equity and inclusion across the institution but often with limited staff and resources. The CDO is expected to "fix" climate issues and address deeply-rooted inequities, often without clear or full support from the institution's leadership, resources, integration into the strategic plan, or buy-in from key stakeholders, and the access to integrate equity and inclusion philosophies within established systems, processes, and policies.
Compounding these challenges are the high stakes. Missteps are visible and costly and can often inflict more harm on a community. Without adequate support and a strategic vision, these challenges can paralyze or hinder efforts. Enter our CDO roundtable, which is designed to create a cohort of peers engaged in similar work to:
Share best practices and avoid pitfalls
Improve DEI strategy and decision making
Exchange ideas and co-create new approaches
Help CDOs stay current on trends, issues, and events
Assess campus climate dynamics
Build DEI institutional capacity
Develop strategies to accelerate the infusion of DEI practices throughout your Institution
Operationalize the work; take theories and ideas and help put them into practice
To preserve an intimate and productive experience, each roundtable will be capped at 10 attendees.
Can't attend all sessions?
No problem. We recommend participating in at least six sessions to get the most value out of this experience.
Who Should Attend
This group engagement is specifically designed for the senior-most diversity officer of a campus, who has both oversight and accountability for campus-wide diversity and inclusion efforts.
We welcome Chief Diversity Officers from both public and private institutions across all Carnegie levels.
The roundtable will be the most beneficial to CDOs who have been in their roles for five years or less.
How Roundtables Work
The goal of our Roundtables is to bring together a small cohort of peers for a comprehensive learning and networking experience. Through short, regular live meetings, you will come together with a maximum of nine other peers and our two experts to:
Build strong connections and expand your network
Try new tactics and approaches to improve your leadership
Share your own best practices and hear others'
Carve out time for self-reflection
Be part of a cohort-based support community
Contribute to the conversation with your own thought leadership
January 14 - April 22, 2022
Roundtable | 1:00 - 2:00 p.m. ET
January 14th to April 22nd, biweekly meetings on Fridays

January 14
January 28
February 11
February 25
March 11
March 25
April 8
April 22
May 6 - August 5, 2022
Roundtable | 1:00 - 2:00 p.m. ET
May 6th to August 5th, biweekly meetings on Fridays

May 6
May 20
June 3
June 17
July 8
July 22
August 5
September 9 - December 16, 2022
Roundtable | 1:00 - 2:00 p.m. ET
September 9th to December 16th, biweekly meetings on Fridays

September 9
September 23
October 7
October 21
November 4
November 18
December 2
December 16
To preserve an intimate and productive experience, each roundtable will be capped at 10 attendees.
Sample Topic Items
Each roundtable will be a customized experience with the agenda driven by the participants. Sample topics and issues that could arise include:
Understanding and Developing your Inclusive Excellence Ecosystem
Develop an inclusive approach
Strategic planning and partnerships
Introduce new initiatives
Establish a centralized and decentralized approach
Align within ethos of your campus
---
Inclusive Leadership
Maximize contribution of stakeholders (both internal and external)
High visibility and seen as a valued contributor
Responsibility for contributions
Unification of human capital and coalition building strategies
Inspire new ideas and innovative strategies from others
---
Increase your Institution's Cultural Intelligence
Promote community respect – everyone belongs here
Create an environment of support where all can thrive
Advocate of mechanisms to increase cultural intelligence of campus community
Reinforce inclusive excellence model
---
Culturally-Responsive Teaching
Establish the intellectual engine to support the success of all students
Maintain collaborative partnerships with faculty
Introduction to five culturally responsive teaching strategies
Integrate culturally responsive teaching in research, course development, classroom engagement, and instructional delivery
Affinity Groups
Define affinity groups and how to utilize them effectively
Provide advocacy and support for affinity groups
Improve campus climate through faculty/staff engagement
Leverage faculty/staff support to recruit and retain diverse talent
Empower faculty/staff and improve morale
Collect insights into diverse areas
---
Faculty and Staff Recruitment
Correlate to student performance and sense of belonging
Increase opportunities for all students to engage with diverse faculty
Promote experiences of diverse curriculum and programs
Develop strategic initiatives to attract excellent faculty and staff
Establish equity in the search process
---
Faculty and Staff Retention
Consider mentorship among students and faculty and staff
Provide varied curriculum and programs
Promote of an inclusive campus community
Consider strategies to retain faculty and staff (I.e., mentorship, awards, professional development, and campus climate)
Myron R. Anderson, Ph.D.
Vice President for Inclusive Excellence, The University of Texas at San Antonio
As a member of the president's senior leadership team, Myron is the inaugural Vice President for Inclusive Excellence and is responsible for building a division and integrate the Inclusive Excellence ecosystem throughout the University. Using inclusive leadership as the framework paralleled with an active leadership strategy, listen, co-create, harvest, and implement, he serves as the framework to articulate a vision and implement the ecosystem designed to improve campus climate and advance Inclusive Excellence.
Rabia Khan Harvey, M.Ed., MSHR
Senior Learning and Development Manager, Academic Impressions
Rabia is a Senior Learning and Development Manager for our Title IX Compliance and Diversity/Equity/Inclusion domains. She obtained her Bachelor's degree in Psychology from Elmhurst College and is a double-alum of Loyola University Chicago with a Master's in both Higher Education and Human Resources. She has over 20 years of professional experience in Student Affairs, primarily in student housing and Title IX.
CHIEF DIVERSITY OFFICER ROUNDTABLE
September 9 - December 16, 2022
Questions About the Event?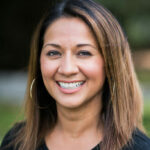 Rabia Khan Harvey
Senior Learning & Development Manager, Academic Impressions