Learn how to effectively lead crucial conversations that advance diversity, equity, and inclusion initiatives on your campus.
Critical communication skills are instrumental and indispensable in helping diversity, equity, and inclusion (DEI) professionals lead or facilitate the following scenarios:
One-on-one and group meetings with diverse opinions

Escalated campus incidents involving bias

Equitable hiring processes

Recruitment efforts for a diverse student and staff/faculty body

Diversity-related task forces

Strategic planning related to equity and inclusion

Policy reform
As the above list implies, situations DEI professionals are required to navigate are often complex and sometimes contentious. A "one-size-fits-all" solution rarely solves DEI-related campus scenarios; successful professionals in this field are constantly shifting and adapting their communication strategies depending on who they are speaking with or what issue is at stake.  
Join us for a hands-on and practical learning experience that will provide you with an increased confidence to handle an array of diverse DEI situations on your campus. This program is designed to provide leaders with hands-on practice to enhance their communication strategies so that they may build and sustain campus alliances while leading crucial conversations that advance diversity, equity, and inclusion initiatives.
Who Should Attend
Learning how to effectively communicate and support multiple viewpoints, while holding one's campus accountable for sustaining an inclusive climate, is ultimately the responsibility of senior diversity officers or other similar professionals or units assigned to this effort.
Mid to upper-level leaders from DEI areas who are looking for new communication strategies to more effectively advance necessary dialogues will benefit most from the content of this conference.
Leaders working outside of DEI matters will find this training particularly valuable if there has been resistance to a diversity-related issue on their campuses within the last year.
Bring your team and save!
Save over 15% when you register three or more colleagues.

Agenda
Day 1 | July 22, 2019
Registration, Welcome, and Introductions
---
Stage Setting
Our expert speaker will use this time to set the stage for the conference while developing shared hopes/expectations from participants regarding how their time together will be consumed and respected. Through this exercise, participants will receive a bird's eye view of the trending campus challenges that they are facing on their respective campuses regardless of their distinct roles on campus.  Participants will be able to explain the three overarching goals of this conference experience.
---
Advanced Unconscious Bias - Training
During this session, participants will define and explore unconscious bias while understanding its sources and how it influences interactions with others. Participants will also investigate their own social identities and how those identities impact communication received by others. Additionally, participants will consider and troubleshoot real-world examples of bias and exclusion in the workplace while identifying spaces to mitigate bias. Participants will be able to explain what unconscious bias is and identify at least one past campus incident where actual or perceived unconscious bias influenced a major decision.  
---
Advanced Unconscious Bias - Activity
In pairs, participants will have the opportunity to select a scenario (related to their own or someone else's bias) that they have directly experienced that has influenced decision making. Once the scenario is identified, participants will use it to practice the following: a) identify barriers to address bias, b) strategize ways to address bias and c) troubleshoot possible bias from a situation. After participants reflect and record their own triggers related to their own unconscious bias, they will then identify at least 3-5 critical steps to interrupt conversations when unconscious bias shows up.
---
Courageous Conversations
Many participants are likely to have already experienced "courageous" or rather contentious conversations across difference on their campus or are anticipating that difficult conversations are on the horizon when priorities shift and depending on the scenario (e.g., hiring search committee, policy revisions, student protest, etc.).  This session will provide participants with new skills on how to address and work through both active and passive resistance – while keeping in mind the audience type such as students, faculty/staff or campus leaders. Participants will be able to name at least 4-5 different strategies to address underlying issues of resistance while in communication with individuals or various groups.
---
Courageous Conversations Tabletop Exercise
Participants will practice having courageous conversations across difference via case studies and role plays.  After small group exercises and if time allows, participants will share and discuss their experience with the exercise with the large group.
---
Building the Case for DEI Initiatives
Our expert speaker will provide a broad overview of relevant, useful data resources and literature (provided in the conference binder) that participants can use to support and build the case to advance their diversity, equity, and inclusion initiatives for their campus. Examples of some of these initiatives may include recruiting/retaining diverse students and faculty, offering gender inclusive bathrooms or housing, updating policies or procedures that do not create disparate access to its students, or offering relevant diversity training programs that increase cultural competence.  By the end of this session, all participants will identify their primary campus initiatives (with members from their own campus or with a similar institution type) and we will generate a list of these initiatives for the exercises on the following day of the conference.
---
Networking Reception
---
Day 2 | July 23, 2019
Developing a Communication Plan to Counter Resistance
Now that participants have identified their primary campus initiatives including potential barriers that prevent the advancement of these efforts, participants will use a worksheet to strategize a communication plan to counter resistance to move efforts forward. Keeping their own institutional context in mind, including its mission, values, organizational structure, resources, and political/social climate, participants will examine and discuss challenges that hinder the advancement of DEI efforts. In small groups or in pairs, participants will identify at least two each of the following: data/literature resource, prospective campus collaborators, strategies to overcome resistance from individuals or groups, and any other resources to present the most effective communication plan back on their campus.
---
Communication Plan Small Group Presentations
In small groups, participants will take turns presenting their communication plan to solicit positive and refinement feedback from members in their group. Creative strategies will be encouraged.  Additionally, our expert speaker will provide real-time tips and advice on the effectiveness of their communication plan so that participants can feel more equipped and prepared to use these plans on their return to campus.
---
Group Observations and Closing Remarks
In closing, our expert speaker will provide participants with some helpful advice after all individuals and/or small groups presented their communication plans to advance DEI initiatives on their campus.  Speaker will close the conference by providing spontaneous and honest assessment of the participant strategies that were developed at the conference and address any participant blind spots related to their communication plans.  
---
Final Q&A and Evaluations

Speakers
Domonic Rollins, Ph.D.
Senior Diversity and Inclusion Officer, Harvard University
Domonic Rollins provides leadership and vision for advancing diversity, equity, and inclusion, in alignment with school-wide priorities. Rollins executes a broad range of strategic and tactical activities related to the identification, development, and delivery of diversity and inclusion initiatives for faculty, students, and staff. A hallmark of his work is translating big ideas about diversity and inclusion into practical solutions and considerations for organizations and interpersonal relationships. Read Dominic's full bio.
$1,395 through July 5
$1,495
Learn how to effectively lead crucial conversations that advance diversity, equity, and inclusion initiatives on your campus.

Team Discounts Available
1-2 registrations: full price
3-4 registrations: 15% off each conference registration
5-7 registrations: 20% off each conference registration
8 + registrations: 25% off each conference registration
$295
Purchase the conference binder, which includes all presentation slides, worksheets, action plans, and additional resources.
Note: Conference attendees do not need to purchase materials separately.
Questions About the Event?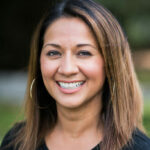 Rabia Khan Harvey
Senior Program Manager, Academic Impressions