Engage with a cohort of Deans to build community, explore common issues you face, and share your own thought leadership.
Overview
Deans are charged with advancing institutional initiatives and advocating for their college/division — work which requires them to navigate and negotiate a variety of power dynamics. Pervasive social norms, rooted in many different kinds of -isms, give unearned advantage to those in "dominant" identities regardless of position, title, or status. As a result, Deans who hold minoritized identities are likely to actively work against these power and privilege dynamics while also establishing themselves as leaders in academia.
With this exciting new roundtable series, you can join a group of deans from historically marginalized groups across higher education to discuss the common challenges you face, get support from experienced professionals, and build your network. You will:
Engage in discussion to examine the effects of your intersecting identities on your ability to be successful in your role.
Build community and get real support in a safe, trusted, and confidential setting from experts and peers.
Create space for meaningful self-reflection in a way that fits your demanding schedule.
Discuss your positioning to advance DEI efforts, including those that support faculty and students, from yours as well as other historically marginalized populations.
To preserve an intimate and productive experience, each roundtable will be capped at 10 attendees.
Who Should Attend
This group engagement is designed for Deans from historically marginalized groups.
Historically marginalized groups include both visible (e.g., ethnicity, gender) as well as invisible (e.g., sexual orientation, religious affiliation, class status) identities. Experiences may vary depending on the history and type of institution.
How Roundtables Work
The goal of our roundtable is to bring together a small cohort of peers for a comprehensive learning and networking experience. Through short, regular live meetings, you will come together with a maximum of nine other peers and our two experts in order to:
Build strong connections and expand your network.
Try new tactics and approaches to improve your leadership.
Share your best practices and learn from others.
Carve out time for self-reflection.
Be part of a cohort-based support community.
Contribute to the conversation with your own thought leadership.
What is the time commitment?
The cohort will meet seven times, on Fridays from September 23, 2022 to December 9, 2022. The first and last session will be 90 minutes in length, from 3:00 p.m. to 4:30 p.m. ET. All other sessions will be 60 minutes in length, from 3:00 p.m. – 4:00 p.m. ET. Participants may be asked to read light, relevant materials in advance of some sessions.
Can't attend all sessions?
No problem. However, we recommend participating in at least six sessions to get the most value out of this experience.
Session 1: September 23, 2022 | 3:00 p.m. – 4:30 p.m. ET
Session 2: October 7, 2022 | 3:00 p.m. – 4:00 p.m. ET
Session 3: October 21, 2022 |3:00 p.m. – 4:00 p.m. ET
Session 4: November 4, 2022 | 3:00 p.m. – 4:00 p.m. ET
Session 5: November 18, 2022 | 3:00 p.m. – 4:00 p.m. ET
Session 6: December 2, 2022 | 3:00 p.m. – 4:00 p.m. ET
Session 7: December 9, 2022 | 3:00 p.m. – 4:30 p.m. ET
During this series of roundtable sessions, you and your fellow attendees will drive the agenda based on common challenges such as the following:
Being Seen and Heard
How are you seen and heard within higher ed?

 

How do you give voice to the discomfort and emotional labor you may experience?

 

When and how do you make any invisible marginalized identities known?

 

How to handle when you are tokenized?


 
---
Cultivating Relationships
How do you build and maintain relationships with others who share salient identities and those who don't?
How do you generalize your understanding of your experiences to those of other marginalized groups?
How do you effectively develop allies?
---
Student Success
How are you approaching academic program mix and making sure your college/unit stays relevant and competitive, while also advancing an equitable and inclusive curricula?
How do you keep the focus on student success for yourself and others?
Championing Diversity, Equity, and Inclusion Initiatives
How do you best champion DEI initiatives that align with your known visible and invisible identities in a way that doesn't seem self-serving?
How do you best champion DEI initiatives that don't align with your visible and invisible identities?
How do you identify and engage in self-care needed to sustain DEI work long-term?
---
Faculty Success
How can you best support inclusive hiring?
In what ways can you support the professional development, succession planning and retention of faculty, given your and their various privileged and marginalized identities?
How do you support and advocate for faculty while advancing institutional goals, all within the context of shared governance?
---
Strategic Planning
How do your visible identities impact the process of strategic planning regarding equity and inclusion?
How do you decide how much focus to place on DEI compared to more generalized Dean-specific duties?
Maria Thompson, Ph.D.
President and CEO, Retired, Coppin State University
Maria is a career educator whose work experience spans a variety of institutional categories, including research universities, comprehensive universities, land-grant universities, urban located, rural located, HBCUs, and PWIs. She was president and CEO of Coppin State University (CSU), provost and vice president for academic affairs at the State University of New York (SUNY), and vice president for research and sponsored programs at Tennessee State University.
Susan C. Turell, Ph.D.
Former Provost, Marywood University
In higher education for 29 years, Susan brings a passion to her work for supporting people and designing and implementing effective processes. She served in leadership as a department chair, associate provost, dean, and provost. She brings those experiences, as well as her training and practice as a psychologist, to synthesize best practices and approaches in a new paradigm about what it means to be an effective leader in 21st century higher education.
Questions About the Event?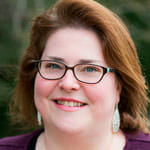 Lisa Lafflam
Senior Learning & Development Manager,
Academic Impressions