Your president is your institution's most powerful communicator — join us and ensure that this voice is both consistent and authentic.
As the chief spokesperson and representative for an institution, the president is the most powerful communicator and advocate for a college or university. Presidents must maintain an appropriate and consistent voice in communications with all constituents—a voice that is both authentic and representative of the institutional brand. But with so many channels, audiences, and ever-changing external circumstances to weigh, developing and maintaining that presidential voice is extremely difficult.
This hands-on program has been designed for institutional teams who are looking to partner with their president to develop and refine presidential voice. You will review a variety of practical examples of how other institutions have done this successfully, work with a team of expert instructors to identify opportunities to strengthen presidential voice at your individual institution and leave with a toolkit of strategies, templates, and resources for use in developing and refining how you approach presidential voice and communications at your institution.
Who Should Attend
This program has been specifically designed for institutional teams (including: marketing, communications, and/or public affairs professionals, Chiefs of Staff, and Presidents) who are looking to partner with their leadership to develop and refine presidential voice.

Agenda
Your registration for the event includes full access to all conference sessions and materials, breakfast, lunch, and the networking reception on Thursday, breakfast and lunch on Friday, as well as refreshments and snacks throughout the conference.
Day One
8:30 a.m. to 5:45 p.m.
Registration & Introductions
---
Setting the Stage: Presidential Voice State of Affairs
What does Presidential Voice mean to you? Presidential Voice varies greatly by institution and the unique personality of its president. During our opening session, our expert instructors will set the stage for our time together by each providing thoughts on what Presidential Voice means to them. Participants will complete an activity to help define the current voice of their institution's president and to craft an aspirational vision of what they would like it to be. You will also set your goals for this conference.
---
Your Role in Shaping Presidential Voice
It is critical that you gain buy-in and forge a communications partnership with your president. However, access to the president varies greatly depending on your role in the organization and institutional reporting structure. This session will allow you to take a closer look at where you stand with your president with your current president and the challenges you face moving forward; it will also provide strategies to help you capitalize on opportunities to strengthen your relationship and collaborate to develop a strong presidential voice for your institution.
---
The Pros and Cons of Presidential Social Media
Social media strategy should be tailored to your president and must align with their personality and your institutional needs. Is your president's personality and desire to engage in that medium? Does your team have the capacity to manage a social media presence? Explore different models for handling presidential social media and identify what would work best for your campus.
---
Interactive Session: Assessing your Current Presidential Voice
To what extent is your president's voice consistent, clear, and presidential? Does your president's current voice balance authenticity and personal brand with the institutional brand? Participants will be asked to bring samples of their own presidential communications in a variety of mediums (speeches, emails, social media, video, ect.) to use while assessing their president's existing voice.
---
Presidential Social Media Branding Strategy
Once you determine whether you will be moving forward with using social media for your president, it is critical to determine your plan of action. Putting a strategy down on paper, following it, measuring it, and tweaking it along the way can be difficult. This session will outline how one institution successfully built out their social media branding strategy provide key considerations as you begin this work within your unique institutional context.
---
Thought Leadership and Presidential Voice
Do all presidents need to be thought leaders? Our experts will provide an overview of what it means to be a thought leader, strategies to help elevate your president into this space, and tools to help you decide if this should be a priority for your president.
---
Networking Reception
Day Two
8:30 a.m. to 3:45 p.m.
Building your Strategy and Prioritizing Communication Channels
Which channels should your president prioritize for communication with which audiences? What subjects should the president discuss with various audiences? Which topics are off-limits, or should be handled differently? It is critical to have a firm understanding of your institution's strategic goals and a sense of your president's communication style and strive to find the intersection of presidential voice and institutional voice in order to amplify the institutional brand and goals through the president's unique style.
---
The Tough Stuff: Political Turmoil and Crises Communication
Presidents are being asked to comment on hot-button topics and political issues more than ever before. When it comes to sensitive topics what presidents say – or don't say – can cast a spotlight on the institution. This session will help you prepare for the unexpected.
---
Calendar Planning & Measuring Your Success
Once you have a firm grasp on your institutional needs, the personality and goals of your president, and your overarching communications strategy, the true planning can begin. Developing an editorial calendar is critical to ensure consistency across channels and to help your team understand where you are investing your capital. Creating metrics will allow you to evaluate and quantify your presidential strategy along the way.
---
The Return to Campus and Turning Plans into Action
Our final session will allow you to reflect on the key takeaways of the conference and finalize your action plan for your return to campus.
---
Evaluations and Conference Wrap-Up

Speakers
Louise Coburn
Social Media Strategist, Office of Communications, University of New England
Louise Coburn, who has served as the social media strategist for the University of New England for over five years, oversees the strategic direction of UNE President James Herbert's brand across social media, such as Twitter, Facebook, and Instagram.
Binti Harvey
Vice President for External Relations and Institutional Advancement
Binti's background in strategic communications, branding, and public affairs will help you craft and develop strategy that keeps marketing and branding aligned.
Teresa Valerio Parrot
Founder and Principal, TVP Communications
Teresa brings a wealth of experience working in higher education media, crisis communications, and marketing strategy.
$295
Purchase the conference binder, which includes all presentation slides, worksheets, action plans, and additional resources.
Note: Conference attendees do not need to purchase materials separately.
Questions About the Event?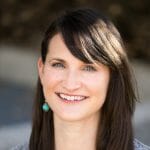 Kate Poisson
Program manager, Academic Impressions