Strengthen your relationships by improving how you connect, communicate, and collaborate with others.
Overview
The increasing levels of burnout in higher education are causing a significant impact on faculty and staff engagement, performance, and retention. The need to lead your department from an emotionally intelligent place—one that is aware of and effectively manages the impact of emotions on our interactions—is higher than ever. However, this can be challenging to do when you too are likely experiencing signs of burnout.
Join us online for a six-week program where you will learn how to boost your workplace emotional intelligence and become more self-aware, empathetic, and capable of recovering from challenging moments. This program will introduce you to the Genos International Emotional Intelligence model, which identifies the following six core competencies of emotionally intelligent leaders:
Self-Awareness
Awareness of Others
Authenticity
Emotional Reasoning
Self-Management
Inspiring Performance
You will begin the program with an assessment that helps you understand your approach to leadership relative to each of these areas. The assessment includes both a self-evaluation and an outside evaluation from colleagues who know your work as a leader. This kind of feedback and broader perspective on your leadership effectiveness is crucial to your development and success as Chair. You'll then meet with the instructor one on one early in the program to debrief your results. As each week progresses, you'll review the six competencies while learning and practicing new skills to help you to better connect, communicate and collaborate with others.
As a bonus, you'll be given the opportunity to retake the assessment 3-6 months after the program concludes in order to measure your progress and make sure you're translating the lessons learned during the program into your everyday leadership practice, so that you can continue to grow as an emotionally intelligent leader. You'll also walk away with a Genos International Applied EI Workbook and other practical resources that will help you apply and practice your emotional intelligence skills.
The Genos International Emotional Intelligence framework is one of the most reliable and validated in the world. The EI Leadership 180 assessments use a robust "self-and-other" rater model, surveying the importance of 42 workplace behaviors directly linked to emotional intelligence, as well as the levels of perceived demonstration of those behaviors. The feedback gained is consistently both pragmatic and insightful, offering valuable ways to understand and shift workplace dynamics.
A Highly Personalized Experience
Your registration for this bootcamp includes the Genos International Emotional Intelligence Leadership 180 Assessment and a one-on-one, 60-minute feedback session to debrief your assessment results. A hallmark of the Academic Impressions bootcamp experience, this focused and personalized attention will provide you with the space and time to identify how to grow your emotional intelligence skills. To preserve the intimate and interactive nature of this training, the bootcamp is limited to 20 participants. Register early to reserve your spot!
Who Should Attend
This program is designed for Department Chairs and Program Directors who want to grow their leadership effectiveness and enhance their relationship-building skills by learning how to better connect, communicate, and collaborate with others. We invite Chairs and Program Directors of all experience levels to attend.
Follow Through With Success Coaching
Have you ever gone to a training only to find that you came back with great ideas but don't have the time, support, or skills needed to make the changes?
Academic Impressions has produced thousands of trainings and we have learned that utilizing a coach after attending a conference helps provide accountability and bridges the training with the on-the-ground work of getting the job done.
As a result, we are now offering success coaching on select conferences.
Purchase this training + 3 one hour follow up success coaching calls
Work with an assigned coach who has extensive experience in higher ed.
Get individualized support to help you follow through on what you've learned.
Workshop your plans, run your ideas by someone and get additional help/practice.
To get success coaching, simply purchase the Bootcamp and add Success Coaching during registration.
Hear About the Bootcamp Experience
May 2 - June 6, 2023
Individual Sessions Dates: May 2, 9, 16, 23, 30, and June 6, 2023
Session 1: Self-Awareness
Tuesday, May 2, 2023 | 2:00 p.m. – 3:30 p.m. ET
Emotional Self-Awareness is the awareness of the way you feel, of how those feelings influence your behaviors, and of the impact of your behaviors on others. When you are aware of your own emotions, you have greater influence over your thoughts and behaviors, and you can then make better choices in how you show up in your leadership. In this opening session, you will:
Study the neuroscience of emotions and examine the role emotions play in your decisions, behavior, and performance as Department Chair.
Identify the types of events that trigger your emotions.
Use a three-step process to help you to make better choices in your decision making and behavior.
---
Session 2: Awareness of Others
Tuesday, May 9, 2023 | 2:00 p.m. – 3:30 p.m. ET
Awareness of others' emotions includes your ability to pay attention to the way others are feeling in the present moment and ensure that others feel valued. By having a greater understanding and appreciation of how others show up, you can be more empathetic and thus enhance your connections, communication, and influence with others both inside and outside your department. In this session, you will learn how to:
More accurately view situations from the perspectives of others.
More accurately anticipate responses or reactions from others.
Plan for your interactions with others and be more behaviorally agile and intentional in your approach with others.
---
Session 3: Authenticity
Tuesday, May 16, 2023 | 2:00 p.m. – 3:30 p.m. ET
Authenticity is about openly and effectively expressing oneself, honoring commitments, and encouraging this behavior in others. It is not about speaking your truth no matter the consequence. Instead, authenticity requires you to know when and how to appropriately express your emotions. When you are skilled in authenticity, you understand the finesse required to be genuine at the right time, to the right degree, and with the right people. Doing so has the impact of increasing psychological safety with others. When applied to your interactions with others in your department, high levels of authenticity will help you to build a culture of trust across the department, thereby fostering higher performance. In this session, you will:
Explore the power and finesse of expressing how you feel.
Identify effective ways of expressing how you feel.
Discuss and practice applying a model that will help you to facilitate challenging conversations with care.
---
Session 4: Emotional Reasoning
Tuesday, May 23, 2023 | 2:00 p.m. – 3:30 p.m. ET
Emotional reasoning is about using the information contained in feelings (from oneself and others) and combining it with other facts and information when making decisions. Emotions carry an inherent risk of getting in the way of making clear, unbiased decisions. However, when used effectively, emotions can also help you make expansive decisions—those that go beyond the limits of what you know. When you are skilled in emotional reasoning, you can more easily identify when, what, and how to communicate, when to listen, what questions to ask, and when to let others contribute their best thinking. In this session, you will:
Determine how you can surface emotional information when reasoning.
Explore how you can draw on your purpose and values to help guide your reasoning when decision-making.
Discover tools and techniques for generating new knowledge and ways of approaching novel problems.
---
Session 5: Self-Management
Tuesday, May 30, 2023 | 2:00 p.m. – 3:30 p.m. ET
Self-management is your capacity to effectively regulate and manage your emotions, both in the moment and over time. When you are skilled at doing so, you can more effectively manage your moods, stress levels, and workloads. Consequently, you become more resilient, making it easier to bounce back from the challenges life can present. In this session, you will:
Determine the things you are already doing to help manage emotions and be resilient.
Explore a range of proactive techniques for managing stress and bouncing back.
Identify behaviors you can stop or start that will encourage greater self-management.
---
Session 6: Inspiring Performance Through Positive Influence
Tuesday, June 6, 2023 | 2:00 p.m. – 3:30 p.m. ET
As Chair, whether you feel it or not, you have a high level of influence on others across your department. Have you ever imagined the impact you could have on your students, faculty, staff, and administration if you were only 2-3% better at having a positive influence on them? In this closing session, you will explore the notion of stretch, which will encourage you to go a little bit further in your relationships to empower others and inspire performance. You will also:
Explore ways you can boost the quality of your day-to-day social interactions.
Identify a professional relationship you would like to improve and actions you can take to do so.
Discover a coaching model for helping others to respond to their challenging situations effectively.
Peter Anderson, Ph.D., ACC
Leadership Coach
Peter is a leadership coach with over 20 years of experience in higher education and broad exposure to academic leadership and faculty governance. He specializes in strategies for a mindful approach to work, life, and a full engagement with work/life balance through emotional intelligence. His long practice in mindfulness is supplemented by modern research in leadership and mindfulness, as well as the understandings and practices of Stoic philosophy.
Questions About the Event?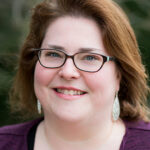 Lisa Lafflam
Senior Learning & Development Manager,
Academic Impressions