Hone the leadership skills you need to become a successful academic dean.
Overview
Leading as an academic dean requires a specific and often diverse skillset. You need to respond to competing priorities and communicate difficult decisions in a way that builds trust and inspires faculty, staff and students alike. You need to grow and innovate your unit in order to stay competitive and position your college for future success – all the while managing today's ever-changing higher ed landscape filled with unpredictability, scarce resources and pandemic-related crises. It becomes clear that being a leader in the current environment can test even the most seasoned leaders.
Join us online for this six-week bootcamp designed specifically for academic deans to discover or reconnect with the most effective ways to lead in a variety of situations and circumstances. We'll explore your leadership style and how it changes under stress, as well as how you can effectively build a culture of trust, collaboration, and innovation within your college. Through active dialogue with your peers and instructors, you'll discuss how to:
Communicate and align others with your vision and the university's strategic plan
Navigate shared governance and decision-making
Engage and empower faculty and staff
Inspire others around your vision as you lead your college through change
This bootcamp is also an opportunity to network and build relationships with your fellow deans from other institutions. Through small group breakouts and discussions, you'll share your perspective for how to successfully navigate your role and you'll walk away with insights from other academic deans.
A Highly Personalized Experience
Your registration for this bootcamp includes an individualized session with your instructors and a small group of peers, where you can seek guidance on how to navigate one of your toughest challenges. A hallmark of the Academic Impressions bootcamp experience, this session--tailored to your specific needs--will help you obtain feedback and apply best practices from the bootcamp. To preserve the intimate and interactive nature of this training, the bootcamp is limited to 30 participants. Register early to reserve your spot!
What to Expect
This online bootcamp consists of:
Six live online sessions, happening weekly. Each session is facilitated by our expert instructors to help you explore your leadership tendencies and give you key strategies to implement.
Short assignments that you may be asked to complete between meetings to practice and prepare for the next session (approximately 1-2 hours per week).
Participation in the 5 Paths to Leadership Self-Assessment to help you evaluate your effectiveness as a leader. This assessment will help you identify your strengths as a leader in both normal and stressful situations.
Small-group feedback sessions will be offered as an opportunity to share one of the toughest challenges you are facing, and workshop solutions with your instructors and a small group of peers.
Who Should Attend
Since this program focuses on leadership and not just the nuts and bolts of running your college, we invite academic deans of all experience levels to attend. If you're looking to grow both relationships and influence across your college, this bootcamp is for you.
Due to its highly experiential nature, this program is limited to just 30 participants to maintain a productive online learning environment. Register early to reserve your spot!
Follow Through With Success Coaching
Have you ever gone to a training only to find that you came back with great ideas but don't have the time, support, or skills needed to make the changes?
Academic Impressions has produced thousands of trainings and we have learned that utilizing a coach after attending a program helps provide accountability and bridges the training with the on-the-ground work of getting the job done.
As a result, we are now offering success coaching on select programs.
Purchase this training + 3 one hour follow up success coaching calls
Work with an assigned coach who has extensive experience in higher ed.
Get individualized support to help you follow through on what you've learned.
Workshop your plans, run your ideas by someone and get additional help/practice.
To get success coaching, simply purchase the Bootcamp and add Success Coaching during registration.
Hear About the Bootcamp Experience
November 4 – December 16, 2021
Session Dates: Nov. 4, 11, 18, Dec. 2, 9, 16
Session 1: Defining Your Leadership Approach
November 4, 2021 1:00 – 4:00 p.m. ET
In this opening session, you'll begin by briefly reviewing your varying roles and responsibilities as Dean and, more importantly, how you can establish a confident and collaborative presence. You'll discuss the advantages and disadvantages of having both an internal and external focus and how you can navigate both roles effectively.
Your effectiveness as a Dean develops from, and is informed by, your personal strengths as well as the challenges you face. To further explore this, you'll complete the 5 Paths to Leadership Self-Assessment, which sheds light on your strengths and potential blind spots by examining five key forms of intelligence including intellectual, emotional, intuitive, action, and spiritual. The assessment will help you understand ways of achieving greater balance among the five forms of intelligence, so that you can improve your overall effectiveness as a leader.
---
Session 2: Building a Culture of Trust
November 11, 2021 1:00 – 4:00 p.m. ET
Enacting a strategic plan and bringing others along with you in your vision requires a high level of trust, which is not easy to achieve in a rapidly changing environment. You need to both earn the trust of others so they understand and appreciate your goals and ambitions and learn who you can trust in return, so that your vision is realized.
In this session, you'll discuss and practice how to:
Dialogue with faculty and staff to identify and align preferences and priorities
Listen to learn what is not being said
Craft your message and communicate with transparency and accountability
Delegate in ways that allow you to stay "out of the weeds" and build trust with those to whom you have delegated
---
Session 3: Making Decisions in a Collaborative Way
November 18, 2021 1:00 – 4:00 p.m. ET
Navigating shared governance – which is also shared responsibility - can be tricky. If your constituents don't feel included or equipped to engage in the process, trust in your leadership can diminish quickly. Yet you know that including everyone all of the time is not feasible or sustainable long-term. How do you find the sweet spot between doing everything and nothing by committee?
In this session, you'll discuss how to:
Discern the right level of engagement, professional development and responsibility needed from others when it comes to making decisions about curriculum revision, teaching loads, faculty searches, etc.
Use data in meaningful ways to inform your decisions and connect others across the college
Communicate the risks and impact of your decisions with different groups of stakeholders
Make decisions that represent and support both university and college demands
Note: There will be no live session during the week of November 22, 2021 due to the national Thanksgiving Day holiday.
---
Session 4: Understanding and Navigating Through Conflict
December 2, 2021 1:00 – 4:00 p.m. ET
Understanding how to effectively navigate conflict is a vital skill for academic deans, but it can also be one of the most difficult and complicated skills to get right, especially when you're managing the often competing and changing expectations and needs of various stakeholders across the college.
In this session, you'll learn and practice how to:
Recognize and respond to six of the most common styles of unproductive conflict
Incorporate basic arbitration and mediation skills into your conflict resolution
Assess and make improvements to faculty and staff morale
---
Session 5: Lifting Up and Empowering Others
December 9, 2021 1:00 – 4:00 p.m. ET
Perhaps one of your most profound responsibilities as dean is to support and elevate others in your college. This can take many different forms including mentoring a long-term associate professor, creating equitable workloads and policies for your diverse and marginalized faculty, and/or succession planning for your associate dean.
In this session, you'll discuss and crowdsource ways to:
Create meaningful mentoring and professional development opportunities for faculty and staff in various situations
Build the capacity of other leaders throughout the college
Support the mental health of your faculty, staff, and students
---
Session 6: Serving as Catalyst for Innovation
December 16, 2021 1:00 – 4:00 p.m. ET
You are responsible for driving change throughout your unit in order to remain competitive and attract and retain the best talent amongst your students, faculty and staff. There is also an imperative to "future-proof" your college so you can combat the effects of the pandemic, weather enrollment challenges, and adapt to the other unforeseen circumstances that will arise.
In this closing session, you will discuss how to:
Assess the appetite for change within your college and university, both in terms of magnitude and tempo
Maintain and grow the most creative ideas and solutions you experienced during the pandemic
Inspire faculty and staff to lean into and/or contribute to innovation
Move quickly through change despite scarce or depleted people and resources
Sandra Richtermeyer, Ph.D
Dean of the Manning School of Business, University of Massachusetts Lowell
Dr. Richtermeyer has many years of experience in industry and 25+ years in higher education with over 15 years of continuous and progressive leadership roles. Prior to her current position, she was Associate Dean, Chair of Accountancy, Director and Professor of Accountancy at the Williams College of Business at Xavier University. She also served as the university Director of Faculty Programs for Mission and Identity at Xavier. Prior to her roles at Xavier, she as on the faculty at the University of Wyoming.
Wade Weast
Dean of the College of the Arts, Georgia State University
Bringing a wide range of experience in various areas of the music industry, Dr. Wade Weast became Dean of the College of the Arts at Georgia State University on July 1, 2016. Prior to his arrival at Georgia State University, he was Dean of the School of Music at the University of North Carolina School of the Arts and Director of the School of Music at the University of South Florida.
Questions About the Event?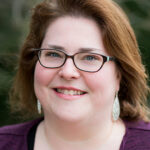 Lisa Lafflam
Learning & Development Manager,
Academic Impressions