READ THE FULL SERIES
1. Executive Summary: The Changing Shape of Student Life Facilities (this article)
2. Financing and Planning Student Life Facilities 
3. Best Practices in Student Housing Design
by Patrick Cain and Daniel Fusch (Academic Impressions)
Earlier this year, we conducted a study of how institutions are planning for the design and placement of student life facilities over the next 12 months. Our study included:
A survey of 123 housing directors and facilities managers at universities in the US and Canada
15 in-depth follow-up interviews with respondents
The design of our November program "Revitalizing Your Student Life Facilities" to further address issues raised by our respondents
We want to take this moment to share our findings with you. They're intriguing:
Finding 1: Student Life Facilities are Being Planned in Tandem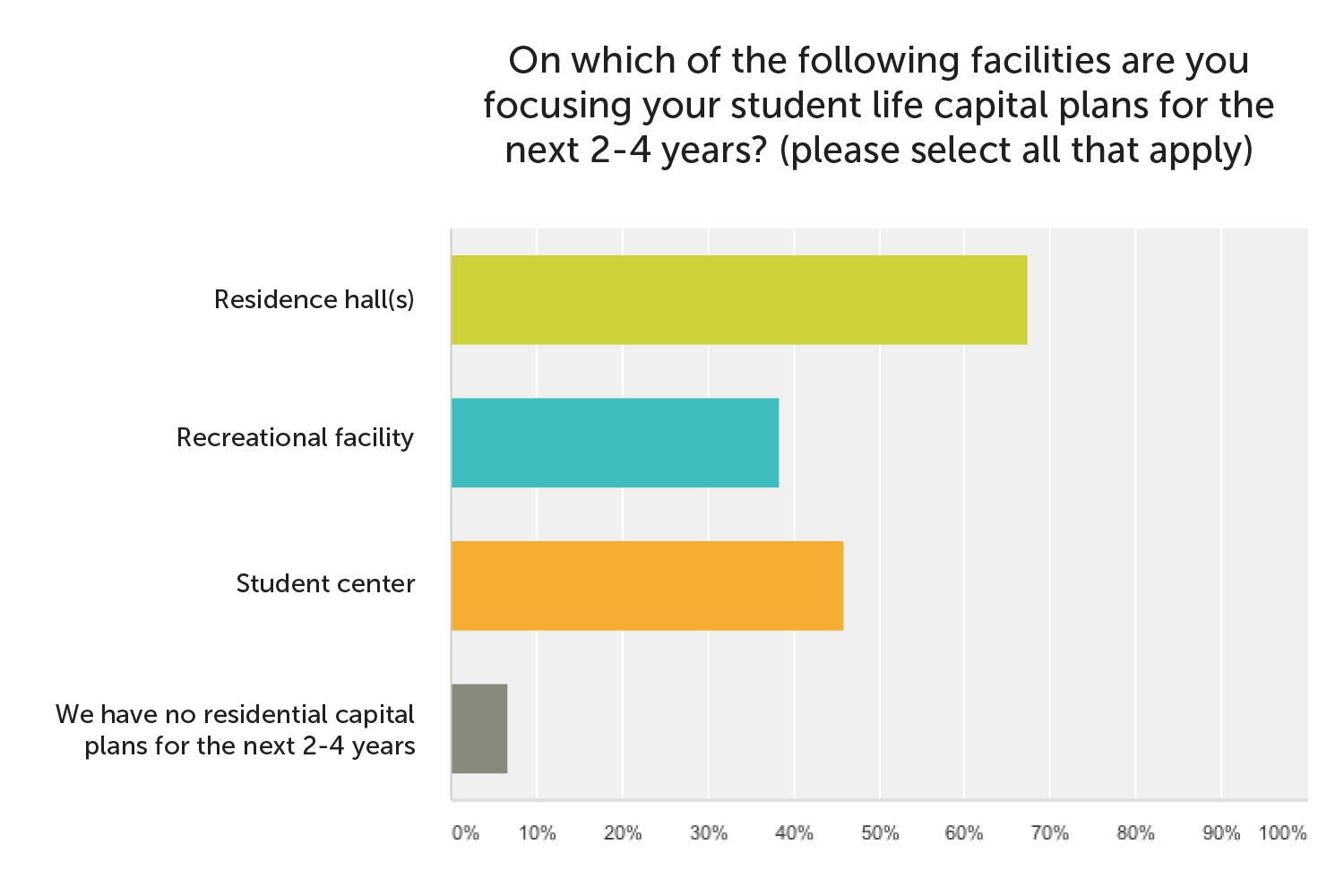 We were fascinated to learn that institutions are now thinking about core student facilities in conjunction with one another in ways that we haven't seen in the past. These are no longer isolated projects. In fact, 40% of institutions are planning all of these facilities in the next two years, and 50% are planning more than one.
FROM OUR INTERVIEWS
"Recreational facilities, residence halls, the student center: we used to think about these facilities independently, but student needs have forced us to think about them collectively. How can we think creatively about maximizing finite space in conjunction with student improvement goals? How can we create spaces for spontaneous student interaction and organic student programming?"
Respondent from a small women's college in the West
Finding 2: Institutions are Continuing to Push for More Intentionality in Design and Placement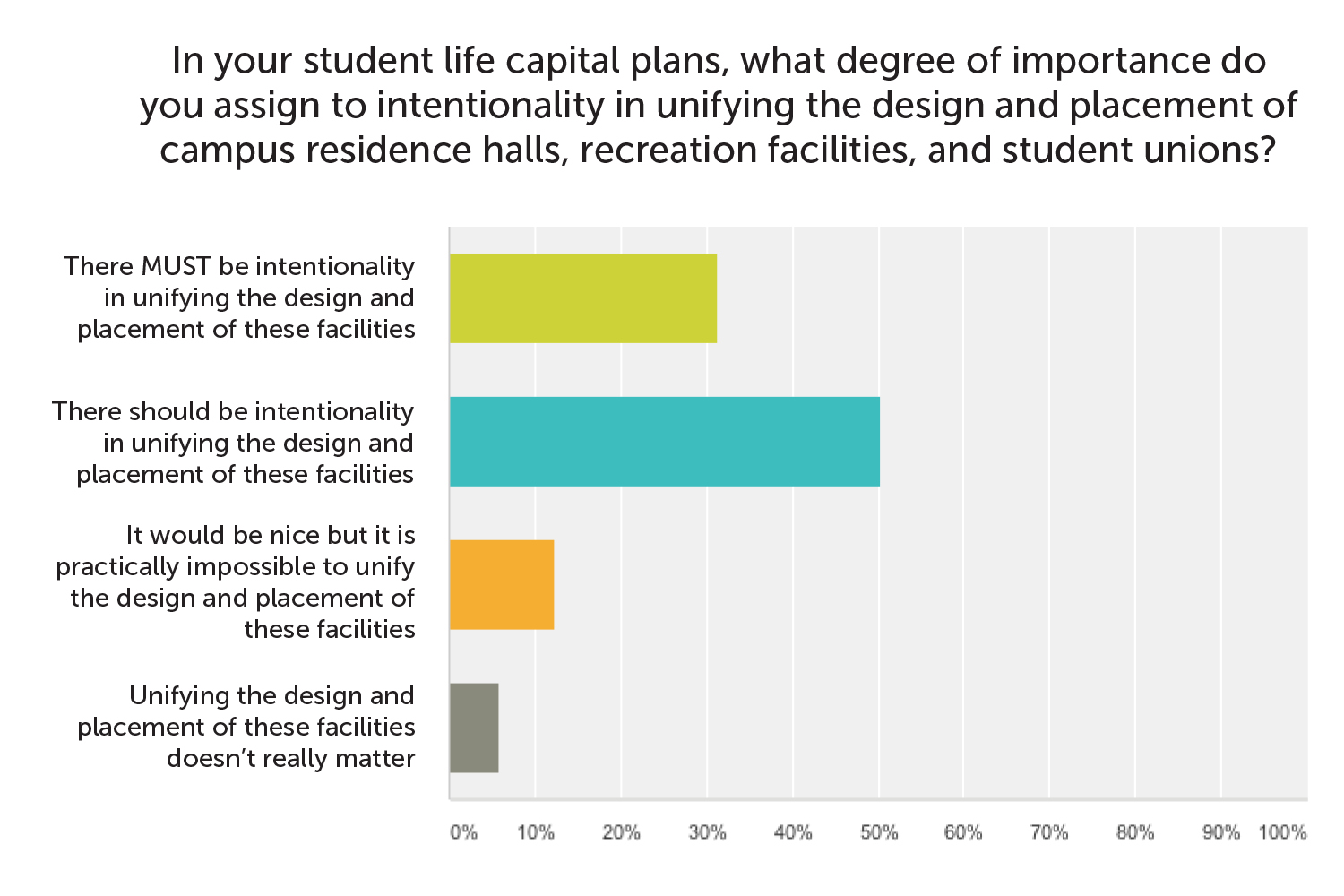 The survey validated that the push for a more intentional, unified approach to these facilities is a rising trend. When asked how important it was to unify the design and placement of student life facilities, 51% believed there must be intentional unity. Only 6% felt it didn't matter.
When asked why they felt this way, respondents ranked three critical outcomes that inform their student life capital plans as equally important:
Improving student retention
Creating a stronger campus community
Improving the institution's competitiveness
To achieve these outcomes, student life capital planning is often less siloed now in a single department; at institutions we interviewed, a wide array of stakeholders were involved in the planning: student life, faculty, facilities, the provost.
Increasingly, institutions are turning to the student life capital planning process as an opportunity to think holistically about how all facilities can support the student experience on campus. Respondents cite moves toward meshed programming (academic/residential, social/wellness) and a growing awareness that every space is a potential space for students to congregate, and thus all student life spaces represent opportunities for building community and encouraging collaborative learning.
Gone are the days when institutions designed student life facilities only with recruitment in mind. In addition to designing for competitiveness, colleges and universities that are preparing to meet the needs of 21st century students are thinking beyond "curb appeal" and are designing facilities intentionally to keep students engaged and academically successful.
Here are excerpts from a few of our follow-up conversations:
FROM OUR INTERVIEWS
"For many, these facilities have become part of the conversation around strategic planning. Student retention and increased competition for prospective students have brought them to the fore."
Small women's college in the West
"We are looking now for the right planning/organizational structures to ensure collaborative planning through this process. How can we make sure we're tapping into the full student experience when we plan these facilities?"
Private liberal arts college on the East Coast
"Students are becoming choosier."
Mid-sized Canadian institution
Finding 3: The Hurdles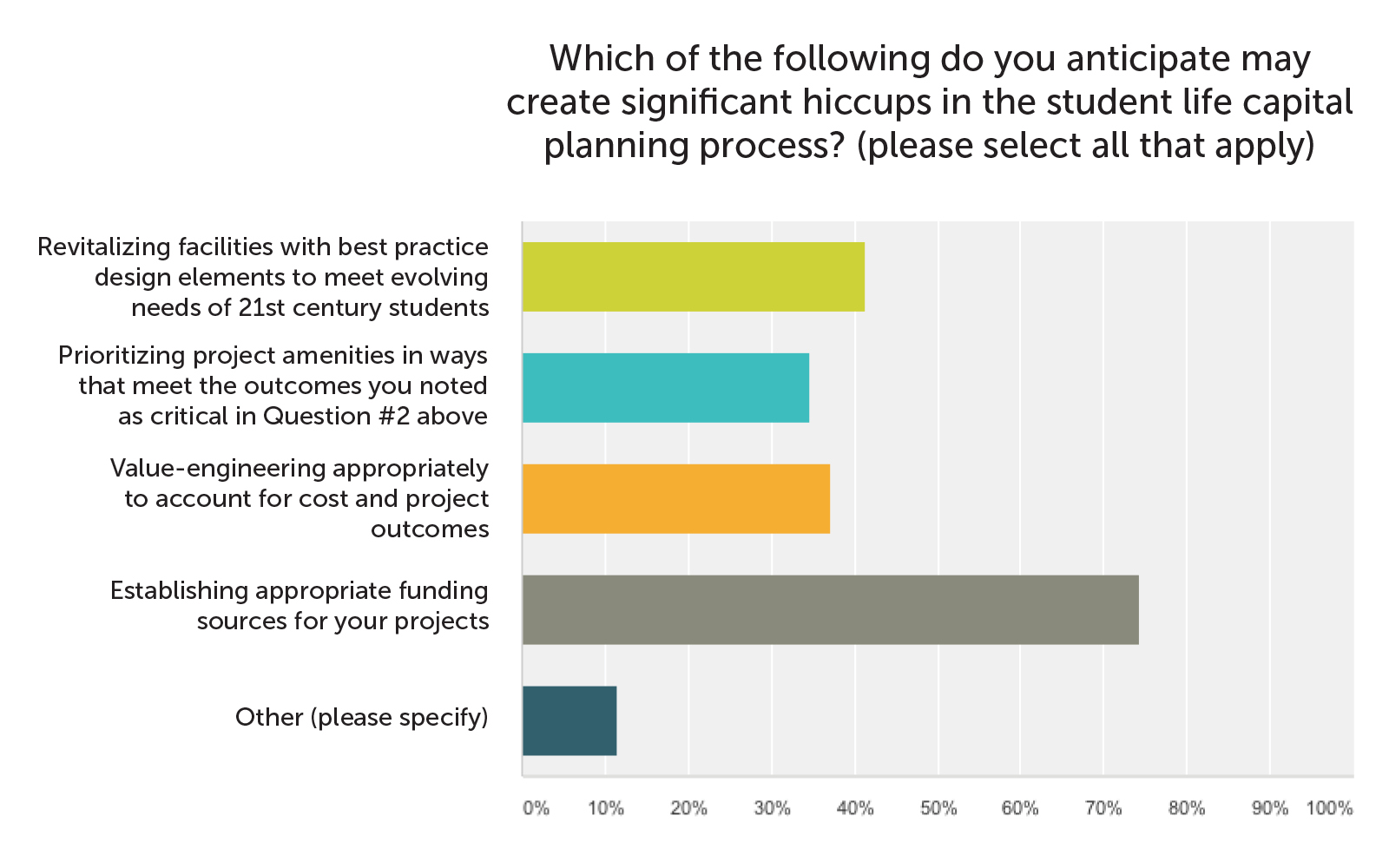 Overwhelmingly, respondents cited establishing sources of funding as the "most significant hiccup" anticipated in the student life capital planning process. The second largest anticipated challenge was identifying best practices in design to meet the needs of 21st century students.
Finite space availability is driving colleges to think more creatively about use of both existing and new space: Can you hold classes in your residence halls? Can you place the campus coffee shop in the recreation center? Increased demands on students are also driving colleges to think through how to create healthy outlets for them across student life facilities.
Even a few years ago, holistic approaches to student life capital planning would be regarded as forward-thinking; today, the holistic approach is the norm. Is your college thinking through this, or are you behind the curve?
FROM OUR INTERVIEWS
"Wellness is beneficial and should be applied to all student life facilities."
Small women's college in the West
"What do students want to see? Nice amenities (workout machines, technology-rich social centers), comfortable individual stations for work, and student connectivity (group social areas; booth seating)."
Regional public university in the West
"Student stress is higher than it has ever been. Are there outlets we can create through these facilities? Also, what is unique to your institution? How can you embed that into the planning process for these facilities?"
Decorated private college in the Northeast
Respondents to our survey this year asked probing questions such as:
What are the appropriate planning structures? Which stakeholders must be involved?
How can we create a sense of ongoing viability for these centers, making them useful many decades into the future?
What are appropriate funding models? (Many are looking to third parties because debt is at/near capacity and student fees are difficult models to structure)
How can we balance what students want with what we know they need?
How can we maximize programming possibilities with design? (Placement of facilities on campus, integrated function of facilities)
What's Next
We've developing this series of articles to help you dig deeper into these issues:
1. Executive Summary: The Changing Shape of Student Life Facilities (this article)
2. Financing and Planning Student Life Facilities 
3. Best Practices in Student Housing Design
_________________________