Restore and transform members of your campus community through this train-the-trainer program.
Overview
Given the heightened attention to interrogate racial inequities on our college campuses that have disenfranchised historically marginalized populations, there is an increased need for educators to facilitate racial equity intergroup dialogue circles for members of their campus community. Intergroup dialogue is a practice that can be used to talk about issues of social justice, power, race, and oppression with people who hold varied social identities and have differing views on these issues. Oftentimes, those who are tapped to guide these discussions may feel out of practice or ill-prepared to facilitate these critical conversations.
Join us for this online bootcamp, which is designed to provide facilitators with the tools to create restorative and transformational spaces of dialogue. You'll be guided through the bootcamp by Dr. Bridget Kelly, who has over 20 years of experience preparing socially-just educators and examining university campus cultures for racial, gender, and educational equity. To help you feel more prepared as an intergroup dialogue facilitator, you'll learn how to interrogate personal identity, respond to others' diverse perspectives and opinions in a respectful way, and critically examine social practices of power, privilege, and oppression. Through a mix of small group interaction and case studies, you'll:
Explore topics such as racism, power, privilege, and intersectionality in the context of higher education
Practice facilitation techniques such as active listening, multi-partiality, and managing "hot" or tense moments
Receive constructive and real-time feedback from your peers and the instructor
Analyze and reflect on what you're learning
This bootcamp experience provides you with an opportunity to develop a personalized and unique dialogue protocol with guiding questions centered around racial equity so that you feel more comfortable, confident, and prepared to facilitate your next intergroup dialogue experience.
A Highly Personalized Experience
Your registration for this bootcamp includes the opportunity to receive feedback from peers and instructors on your intergroup dialogue protocol, which you will also create during this bootcamp. To preserve the intimate and interactive nature of this training, the bootcamp is limited to 24 participants. Register early to reserve your spot!
What You Will Get
Six, 2-hour live online sessions with interactive discussions and activities with your instructors and peers.
Practice facilitating intergroup dialogues in small and large group circles with debriefing sessions afterwards.
A collection of worksheets and case studies to guide your reflection, discussion, and practice during and after the bootcamp.
A short hiatus during the program, which will provide you with the time and space to focus on creating your own protocol as an intergroup dialogue facilitator.
Feedback from instructors and peers to help you refine your facilitator protocol.
The opportunity to extend your network and dialogue with other intergroup dialogue facilitators who are experiencing similar challenges and opportunities.
Who Should Attend?
This six-week intensive bootcamp is for faculty and staff who are a) currently facilitating conversations on race, power, and oppression or b) aspiring to effectively engage in these critical conversations. While the bootcamp is grounded in race dynamics in the United States, participants from international countries are also invited. If you've been asking yourself any of the following questions, this bootcamp is for you:
What knowledge do I need to acquire both about myself and about issues of diversity, equity and inclusion in order to effectively facilitate an intergroup dialogue centered around race, power, and oppression?
Which skills, techniques, and communication strategies are most commonly used by facilitators, and how can I incorporate them into my own unique facilitation style?
How can I guide participants to share personal stories about their deeply held beliefs and experiences with privilege, oppression, and social justice?
What do I need to know about myself to remain partial to multiple people without being neutral or taking a monolithic approach?
Follow Through With Success Coaching
Have you ever gone to a training only to find that you came back with great ideas but don't have the time, support, or skills needed to make the changes?
Academic Impressions has produced thousands of trainings and we have learned that utilizing a coach after attending a program helps provide accountability and bridges the training with the on-the-ground work of getting the job done.
As a result, we are now offering success coaching on select programs.
Purchase this training + 3 one hour follow up success coaching calls
Work with an assigned coach who has extensive experience in higher ed.
Get individualized support to help you follow through on what you've learned.
Workshop your plans, run your ideas by someone and get additional help/practice.
To get success coaching, simply purchase the Bootcamp and add Success Coaching during registration.
Hear About the Bootcamp Experience
October 27 – December 15, 2021
Individual Dates: Oct. 27, Nov. 10, 17, Dec. 1, 8, 15
Session 1: The Art and Science of Facilitation
October 27, 2021 | 12:00 – 2:00 p.m. ET
Before you can facilitate a productive dialogue on race, power, and oppression, you must first understand the factors behind the "art and science" of facilitation, so that you know how to create a safe space for dialogue. In this opening session, you will learn key principles of dialogic pedagogy and you will explore how to:
Put people at ease and get them to open up
Recognize the importance and impact of your personal identity in facilitation
Identify your unique style of facilitation
Begin your capstone project
Note: There will be no live session on Wednesday, November 3rd.
---
Session 2: Foundational Intergroup Dialogue Skills
November 10, 2021 | 12:00 – 2:00 p.m. ET
In this session, you will begin translating pedagogy into practice by learning how to use the P.A.I.R.S. technique to prevent dialogue from getting derailed. In small groups, you will apply this technique to a case study and get feedback from your peers on how to:
Pay attention to the environment
Ask questions about a comment or behavior
Interrupt behavior
Relate to others
Share something about yourself
---
Session 3: Navigating Power and Oppression Dynamics
November 17, 2021 | 12:00 – 2:00 p.m. ET
Intergroup dialogue circles are designed to discuss and address topics such as racism, power, and privilege. To serve as an effective facilitator for complex topics such as these, you must understand the impact that individual, institutional, and cultural systems have on these dynamics across your college. To begin this exploration, you will practice how to:
Examine the intersection of racism with other -isms such as ableism, religious oppression, classism, heterosexism, genderism, etc.
Integrate intersectionality into your intergroup dialogue circles
You will also receive feedback on your working draft of your capstone project.
Note: There will be no live session on Wednesday, November 24th.
---
Session 4: Advanced Intergroup Dialogue Skills
December 1, 2021 | 12:00 – 2:00 p.m. ET
This session will continue to deepen your understanding and practice of effective intergroup dialogue skills learned in session 2. Since some people will show up with privilege and others will not, it is common for dialogue to become "heated" and for people, including yourself, to be charged. This session will explore how your personal identity – specifically your biases and prejudices – helps or hinders how you address these charged moments. In small groups, you will explore how to demonstrate engagement and validate everyone's experience by practicing:
Multipartiality (I.e., finding value in ideas and concepts you oppose)
Active listening
Individual and group modeling
You will receive feedback on your working draft of your capstone project.
---
Session 5: Bringing it All Together: Practicing the Art and Science of Facilitation
December 8, 2021 | 12:00 – 2:00 p.m. ET
As we begin to conclude this program, you'll have the opportunity to utilize and integrate the techniques and skills you've learned by facilitating and/or observing your own intergroup dialogue circle. This is your chance to put it all together, exchange ideas with members of your cohort and inform your capstone project. Through this experience, you'll focus on how to promote both transformative and restorative experiences on your own campus.
---
Session 6: Personal and Professional Power to Create Change
December 15, 2021 | 12:00 – 2:00 p.m. ET
In this last session, you will present your personal reflections and insights that you've discovered through the process of writing your dialogue protocol. You'll also explore your evolving role as an intergroup dialogue facilitator by discussing unique next steps for how you implement your protocol on campus.
Bridget Turner Kelly, Ph.D.
Associate Professor and Diversity Officer, College of Education, University of Maryland-College Park
Dr. Kelly is Associate Professor in the Higher Education, Student Affairs, and International Education Policy Program. Dr. Kelly is also Diversity Officer and Chair of the Council on Racial Equity and Justice in the College of Education at the University of Maryland. She earned her master's and Ph.D. degrees in Social Foundations of Education also from the University of Maryland.
ACADEMIC IMPRESSIONS MEMBERS
$3,095 $2,995
through October 13, 2021
Get access to THIS online bootcamp.
Get this + 100s more FREE with membership!
Interested in supplementing your experience with success coaching?
You will have the option to add 3 one-hour success coaching sessions during registration.
Questions About the Event?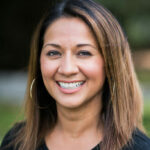 Rabia Khan Harvey
Senior Learning & Development Manager,
Academic Impressions