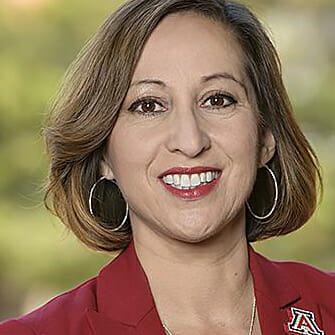 Vice Provost for Faculty Affairs, University of Arizona
Dr. Romero became the Vice Provost for Faculty Affairs in January 2019. She is the lead administrator on faculty matters related to professional development, career advancement, and support which include hiring, promotion, annual and five-year reviews, leadership development, and diversity initiatives for tenure-track, career-track, continuing status professionals, and academic administrators. She is co-owner of two initiatives in the Office of Strategic Initiatives: Our Best Work Environment and Hispanic-Serving Institution Faculty and Research Initiatives.
Dr. Romero's scholarly work has examined community-based participatory action research methods to end health disparities in underprivileged communities. In addition to authoring two books and publishing numerous research articles, her externally funded research agenda has looked to build community partnerships to help find solutions with the common goal of equity and social justice. She has received numerous awards for her leadership and service, including the Cesar Chavez Award, the Dr. Alfredo De Los Santos Award for Service and Teaching, Mujer en la Lucha Award, the Woman of the Year Award by the Hispanic Professional Action Committee, and the Richard Ruiz Diversity Leadership Faculty Award. She is currently President-Elect for the National Latinx Psychological Association. She was a member of the 2017-2018 Academic Leadership Institute cohort. Dr. Romero has founded and lead faculty organizations that support diversity initiatives and leadership development on campus.