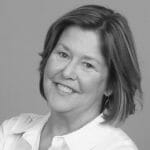 Communications and Marketing Executive for Higher Ed and Non-Profit, Anne Botteri and Associates LLC
Anne Botteri is a writer and communications consultant working in the higher education and nonprofit sector who specializes in fundraising and donor communications. She also provides executive communication support and counsel to university leaders and boards.
Prior to opening her practice, Anne was Vice President for Marketing and Communications at Embry-Riddle Aeronautical University in Daytona Beach, Florida; Prescott, Arizona; and the university's online division. Before that, she was Associate Vice President for Advancement Communications and Donor Relations at the University of Central Florida Foundation. Originally from New England, Anne was Assistant Vice President for Communications and Marketing at Saint Anselm College and Executive Director of the New Hampshire Institute of Politics. She has been a contributor and editor of numerous publications.
Prior to her work in higher education, she was chief of staff of a federal agency within the National Endowment for the Arts and Humanities.
She has a B.A. in English and an MFA in Creative Writing and is a regular speaker on and issues in higher education and advancement communications.