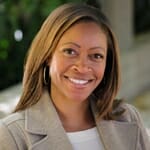 Vice President for External Relations and Institutional Advancement Scripps College
Ms. Harvey brings 20 years of experience in journalism, strategic communications, branding, public affairs, and organizational development to her role as vice president of marketing and communications at Scripps College, a prestigious women's and liberal arts institution and a member of the Claremont Colleges. She is responsible for stewarding Scripps' brand and increasing its visibility through strategies that incorporate marketing campaign development and execution, executive communications, public relations, and public programs. Prior to Scripps, she led the design and implementation of institutional branding and fundraising marketing strategies for the California Institute of Technology.
Ms. Harvey's career encompasses more than a decade of legislative affairs, public relations, and community engagement experience in political and governmental organizations. As a political aide, she led advocacy and strategic communications initiatives for the Mayor of Los Angeles and the Superintendents of the Los Angeles and Pasadena Unified School Districts. She began her career in journalism as a business reporter for CBS MarketWatch.