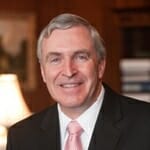 Provost, Saint Louis University
Appointed dean in April 2009, Chet previously served Georgetown University as Dean for Georgetown College and chair of the Department of Theology, then as interim dean, where he and his development team raised 172 million dollars. He is an expert on the U.S. Catholic Church, the history of Catholicism, the papacy, interfaith dialogue, and religious pluralism. Chet received the Excellence in Teaching Award from the Liberal Studies Program in 2005, and, as a member of the American Theological Society, he served on the Academic Relations Task Force of the American Academy of Religion.
Chet previously chaired the Arts and Humanities Committee for the Heinz Awards and the national Teaching Award Committee for the Association of Graduate Liberal Studies. He is co-editor of the Columbia University series on Religion and Politics and past editorial board member of Confluence: Journal of Graduate Liberal Studies. Frequently consulted by the media about contemporary issues in religion, Chet has appeared on Face the Nation, Meet the Press, NewsHour, Good Morning America, Nightline, and National Public Radio, among other outlets. He is also a contributor to the Washington Post/Newsweek website On Faith.