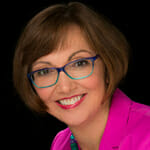 CEO of Christine J. Quinn, Inc. and Leadership Coach & Higher Education Success Partner
Christine J. Quinn, Ph.D. is a certified executive and team coach, a motivational speaker, a facilitator and organizational development expert. She has over 26 years of higher education leadership experience, thus bringing practical fresh perspectives to your organization. She will empower you and your team to unleash your talents and achieve success.
Christine's work is grounded in systems theory, positive psychology and appreciative inquiry. She supports teams to FOCUS and to get results while building strong relationships and shared leadership. Deep engagement is at the core of her work.
She entered academia as a faculty member and has since held a variety of leadership positions including Provost, Dean, Department Chair, and Associate Vice President at land-grant universities, public comprehensives and private institutions. She has also attended a wide range of leadership development programs offered by Harvard University, the American Council on Education, and other well-respected institutions. She is currently an ICF certified Team and Executive Coach. She is the CEO of Christine J. Quinn, Inc.