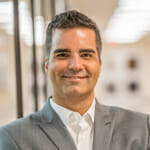 Dean of the College of Health Sciences, Texas Woman's University
As Dean of the College of Health Sciences at Texas Woman's University, Dr. Christopher T. Ray oversees five departments, two schools, and five on-site clinics across three campuses. He has spearheaded the expansion of research, enhanced clinical learning opportunities for students, and capitalized on the many synergies across programs. Most notably, his leadership has resulted in the launch of new innovative academic programs in occupational therapy, nutrition, and kinesiology and more than $2 million in advancement funds. Research productivity and external funding have doubled during his four years as Dean.
An innovative and trusted institutional leader, Christopher believes strongly in socio-economic neutral outcomes for students, especially those from underserved populations, and has dedicated much of his advancement efforts to securing student financial support. As a leading expert on geriatric health, his research focuses on the development of innovative rehabilitation programs aimed at reducing falls in older adults, increasing bone density, and lessening the impact of chronic disease. Christopher is active in professional associations, serves as a review panelist for the National Institutes of Health, and is a member of the 2018-19 Texas Governor's Executive Development Program.
Christopher formerly served as the associate dean for research in the College of Nursing and Health Innovation at the University of Texas at Arlington (UTA) where he also directed UTA's Postural Control Laboratory and Center for Healthy Living and Longevity. A champion of values-focused leadership, he has more than 20 years of leadership experience in research development and academic affairs. He holds a doctorate degree in movement studies from the University of Georgia and earned both a master's (in human performance and sport studies) and bachelor's degree (in exercise science) from the University of Tennessee, Knoxville. He conducted his post-doctoral fellowship work at the Veterans Administration Medical Center in Atlanta, which included a summer institute in epidemiology and biostatistics at the University of Washington.